Halting Islamic State's Nuclear Goals at Center of Obama Summit
by , , and
Obama says `these madmen' would use a nuclear bomb if possible

U.S. official says no sign yet the group has nuclear material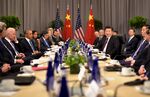 After a spate of terrorist attacks from Europe to Africa, President Barack Obama is attempting to rally international support during a summit in Washington for an effort to keep Islamic State and similar groups from obtaining nuclear material and other weapons of mass destruction.
Obama's session Friday at the Nuclear Security Summit comes after investigators into Islamic State's attacks last year in Paris found surveillance footage of a senior official at the Nuclear Research Center in Belgium, the nation where 32 victims were killed in another round of terrorist attacks on March 22. The group has used chlorine and possibly mustard gas in attacks in Iraq and Syria.
Islamic State leaders have the intent to use any weapon they can to murder or create fear, according to a U.S. official who spoke on condition of anonymity because of the matter's sensitivity. While the official said the group doesn't currently have the capability to deploy nuclear or radiological weapons, security experts say the detonation of a "dirty bomb" filled with radioactive material would require a costly cleanup even if fatalities were limited.
"There is no doubt that if these madmen ever got their hands on a nuclear bomb or nuclear material, they most certainly would use it to kill as many innocent people as possible," Obama told the summit on Friday.
'Nightmare Scenario'
More than 50 world leaders have gathered in Washington this week for the two-day summit, including the heads of state of China, India, Japan, South Korea, France and the U.K. Prominent no-shows at the meeting include Russia, which announced it wouldn't attend more than a year ago, and North Korea, which wasn't invited.
"Terrorists getting a dirty bomb or nuclear device is the nightmare scenario we've been worried about since 9/11," said Republican Representative Michael McCaul of Texas, who heads the House Committee on Homeland Security. "ISIS efforts to build and use chemical weapons already demonstrate the group's focus on weapons of mass destruction," he added, using an acronym for the terrorist group.
Obama said Thursday that the attacks in Belgium increased the urgency to secure materials that could be used for nuclear or radiological weapons.
Concerns about Islamic State obtaining a weapon of mass destruction spiked following discovery of the video footage in Belgium. Fueling worries further, Islamic State has tens of thousands of fighters with relationships and connections in other countries where obtaining nuclear or radiological material to make a dirty bomb may be easier.
"The terrorists we face today would like to kill as many people as they possibly could, using whatever materials they can get their hands on," U.K. Prime Minister David Cameron told reporters Thursday.
Universities, Hospitals
At least 130 countries have radiological material, stored at places such as universities, hospitals, companies and research centers, which could be used in a dirty bomb, said former U.S. Senator Sam Nunn, who heads the Nuclear Threat Initiative group in Washington. There is "little doubt" that ISIS would weaponize radiological materials if it could, said Representative Adam Schiff of California, the top Democrat on the House intelligence committee.
"It's not like a nuclear bomb that's going to kill a lot of people, but what it is going to do is contaminate where it explodes a fairly large area with radiation," said Kenneth Luongo, head of the Partnership for Global Security and a former U.S. Energy Department official. "It's really an economic weapon, because it makes an area uninhabitable until you can clean it up, and the cleanup is probably going to be in the billions of dollars."
Laura Holgate, the U.S. National Security Council's director for weapons of mass destruction and arms control, said the video found in Belgium suggested there was "at least some interest" by Islamic State in nuclear weapons. She cautioned, however, that there were no "indications that it was part of a broader planning to acquire nuclear materials, and we don't have any information that a broader plot exists."
Holgate said the U.S. has worked with Belgium to reduce the amount of highly enriched uranium at the site where the scientist worked, and that there was extensive cooperation between U.S. and Belgian officials on nuclear security issues.
Islamic State militants are much more likely to get their hands on chemical weapons than nuclear material, said James Lewis, a senior fellow focusing on strategic technologies at the Center for Strategic and International Studies in Washington.
"ISIS focuses more on chemical weapons," he told reporters Tuesday. "Surveillance of facilities has been observed, but it's been external surveillance."
Yet it's still crucial for countries to safeguard their nuclear materials, a primary theme of the summit this week, said Sharon Squassoni, a senior fellow focusing on nonproliferation at CSIS.
'Lit a Fire'
"Terrorist activity has highlighted and actually kind of lit a fire under Belgian officials to strengthen security at their nuclear facilities," she said. Its nuclear plants had no armed guards until late last year.
Beyond the threat of nuclear proliferation, attention will focus on the broader effort to destroy Islamic State, which maintains territory in Iraq and Syria while backing or inspiring attacks from Libya and Burkina Faso to Europe and the U.S.
The discussion will include deployment of U.S. foreign fighter "surge teams," which include officials from the Department of Homeland Security, State Department, FBI and intelligence agencies. The teams visit countries that have seen a spike in foreign fighters returning from the Middle East and consult on counterterrorism efforts. One such team visited Belgium in February, shortly before the attacks there.
Obama's decision to add a session focused on Islamic State to the nuclear summit was praised by Kenneth Brill, a former U.S. ambassador to the International Atomic Energy Agency.
"A lot of people lost sight of the fact that nuclear terrorism is a real, credible threat," Brill said in an interview. Still, he said, "much more remains to be done."
Before it's here, it's on the Bloomberg Terminal.
LEARN MORE