House Conservatives Balk at Early Draft of Puerto Rico Bill
by
Flores blasts `bankruptcy-style involuntary restructuring'

Democrats have said the measure is too tough on Puerto Rico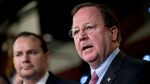 The leader of a key group of 170 House Republicans Wednesday blasted a committee's plan to help Puerto Rico with its $70 billion debt as "bankruptcy-style involuntary restructuring," casting doubt on how soon Congress can reach a deal.
The thumbs-down from Republican Study Committee Chairman Bill Flores of Texas echoes complaints from bondholders who oppose any debt restructuring plan for the island that would use the courts to force investors to accept losses. The RSC's members represent the broadly conservative wing of the party.
Already, the House Natural Resources Committee's draft plan had drawn the ire of House Democrats and Minority Leader Nancy Pelosi on another aspect of the measure released Tuesday -- the amount of power it would give a board to oversee management of the island's finances. She and others complained that the board, as outlined in the newly released draft bill, would exert undemocratic control over Puerto Rico's government and residents.
"In Congress, the prescription for Puerto Rico's financial problems is a new layer of colonial oversight from Washington through a control board," said Democratic Representative Luis Gutiérrez of Illinois, who is of Puerto Rican descent.
With the bill taking fire from both sides, it could suggest the House will struggle to reach a deal on something that can secure a majority of votes, even while the island is facing several fiscal crunch points this spring.
Cram-Down Mechanism
The drafters of the bill were trying to craft a compromise that avoids the taint of a bailout while imposing strong oversight of Puerto Rico's spending and management.
The forced restructuring provisions -- which amount to a "cram-down" mechanism -- that Flores objected to are likely to become one of the biggest focal points in internal House negotiations in upcoming weeks over a final version of the bill.
The Natural Resources Committee plans to formally introduce the measure, which could still be changed, on April 11 when the House returns from recess. 
Puerto Rico Governor Alejandro Garcia Padilla and other island officials have been pushing for something that goes beyond Chapter 9 protection under the U.S. Bankruptcy Code. Puerto Rico isn't eligible for federal bankruptcy protection, and many congressional Republicans oppose granting it. 
Bankruptcy Alternative
Flores complains the draft language that set out an alternative to a process under Chapter 9 of the U.S. Bankruptcy code would, essentially, achieve the same thing. As part of the plan, lawmakers are also considering safeguarding Puerto Rico from legal action by temporarily prohibiting creditor lawsuits.
"The discussion draft legislation regarding Puerto Rico's fiscal situation includes provisions that essentially provide for a federally forced restructuring the island's debt," said Flores in a statement. He added, "This approach is inconsistent with the Republican Study Committee's position on this issue."
Flores did praise some "positive, pro-growth policies to restore Puerto Rico's stagnant economy, such as reducing burdensome federal regulations." But he said work is needed to be done with committee chairman Rob Bishop of Utah and House leadership to prevent "a bankruptcy-style involuntary restructuring."
Bondholder Counter-Proposal
In fact, investors began working together Monday on their own broad proposal that would include the island's various types of debt during a meeting between advisers and lawyers for mutual funds, bond-insurance companies and hedge funds.
Speaker Paul Ryan had directed his members to draft legislation that would address Puerto Rico's finances by March 31. His office didn't immediately respond to the Flores statement.
On Tuesday, Ryan said in a statement, "This draft is thoughtful, comprehensive legislation that gives the U.S. territory the tools it needs to deal with its systemic fiscal and budgeting problems -- without a taxpayer bailout." 
Garcia Padilla has warned that the island may default May 1 on a $422 million debt payment unless the territory reaches an agreement with its creditors. Puerto Rico and its agencies face another $2 billion payment July 1.
Before it's here, it's on the Bloomberg Terminal.
LEARN MORE