Mandatory Union Fees Survive as U.S. Supreme Court Deadlocks
Greg Stohr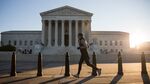 The U.S. Supreme Court deadlocked in one of its highest profile cases, issuing a 4-4 ruling that lets more than 20 states continue to require public-sector workers to help fund the unions that represent them.
Union opponents had looked to be on the brink of a watershed victory that would have given workers a First Amendment right to withhold fees. Justice Antonin Scalia's Feb. 13 death changed the dynamic, depriving that side of what probably would have been a fifth vote.
The case, which involved California teachers, could have affected as many as 5 million public-sector workers. The 4-4 split Tuesday leaves intact a 1977 ruling that said public-sector employees can be compelled to pay for representation as long as they don't have to cover the cost of political or ideological activities.
Arguments in January suggested the court's conservative wing was poised to overturn that precedent. Justice Anthony Kennedy, often the court's decisive vote, said that teachers were being forced to subsidize their union even when they disagree on such issues as merit pay and classroom size.
The court's one-sentence order Tuesday didn't reveal who voted on which side or give any reasoning.
The deadlock is the court's second since Scalia's death left the court with a vacancy that may last through the November election. President Barack Obama has nominated federal appeals court Judge Merrick Garland to succeed Scalia, but Senate Republican leaders say they won't hold hearings or put the nomination to a vote.
More Deadlocks
The justices may issue a number of 4-4 splits -- potentially involving voting rights, abortion, contraceptive coverage and immigration -- before their nine-month term ends in late June. Unlike with union fees, 4-4 rulings on abortion and immigration would represent victories for conservatives who won at the lower court level. Deadlocks uphold the lower court ruling without setting a nationwide precedent.
Unions, California Attorney General Kamala Harris and the Obama administration argued that mandatory fees prevent non-members from becoming "free riders" who receive pay raises and other benefits of collective bargaining without paying for the cost. They also argued that the Supreme Court has long given public employers the ability to limit the speech rights of employees to aid in managing the workplace.
Union advocates hailed the high court ruling, even as they acknowledged it didn't necessarily represent a final resolution of the issue.
"Today's decision was one for working people and for working families," Randi Weingarten, president of the American Federation of Teachers, told reporters. "What the court did was stop the onslaught of the right wing to just bust unions."
'Political Attack'
"They thought they could use the Supreme Court for political attack and they failed," said Lee Saunders, president of the American Federation of State, County and Municipal Employees.
Under California law, public workers in what are known as "agency shop" jobs must either become dues-paying union members or pay a fee to support the union's collective bargaining activities.
A group of teachers led by Rebecca Friedrichs argued that they were being forced to subsidize unions that don't represent their views or their interests.
For teachers, union dues often exceed $1,000 a year per employee, though people who don't want to pay for political activities get a refund of $350 to $400, according to the teachers who sued.
Returning Issue?
"Today's order means Rebecca Friedrichs' case probably won't be the one to finally free public servants from being forced to fund the activities of union bosses," Patrick Semmens, vice president of the National Right to Work Foundation, said in a statement. "But the issue is not going away and could return to the high court soon."
The justices had made their positions on the subject clear in a closely connected 2014 case. In that decision, the court's four Democratic appointees defended the 1977 ruling, while the five Republican appointees -- including Scalia -- expressed skepticism.
Michael Carvin, the lawyer who argued against mandatory fees, said in an interview that Tuesday's deadlock "was not unexpected after Justice Scalia's untimely passing."
Carvin said he planned to file a rehearing petition, which would ask the court not to finalize its ruling immediately and instead to hold the case until the nine-month term that starts in October. That potentially would keep the issue in front of the court until a ninth justice is seated. The high court rarely grants rehearing petitions.
Next Justice
The split may give more fuel to both sides in the debate over Garland's nomination. White House spokesman Josh Earnest said a shorthanded Supreme Court often won't be able to clear up lower court disagreements.
"It is not what our founders intended," he told reporters Tuesday. "It certainly isn't consistent with their notion of federalism when you have federal laws applied in different ways."
Carrie Severino, chief counsel of the Judicial Crisis Network and an opponent of the Garland nomination, said the Friedrichs decision "demonstrates just how much rides on the next justice confirmed to the Supreme Court."
The case is Friedrichs v. California Teachers Association, 14-915.
(Adds reaction starting in 10th paragraph.)
Before it's here, it's on the Bloomberg Terminal.
LEARN MORE