Sanders Says He's Seized Momentum After Crushing Caucus Wins
by and
Senator trounces Clinton in Washington state, Alaska, Hawaii

Former secretary of state still holds large delegate edge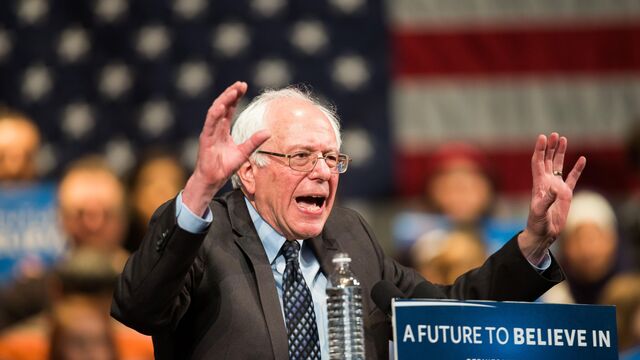 Bernie Sanders said he's seized the momentum in the race for the 2016 Democratic presidential nomination after trouncing Hillary Clinton in three caucuses.
The Vermont senator won Saturday in landslides. He received 73 percent of the vote in Washington state, the day's biggest prize in terms of delegates; 70 percent in Hawaii, and 82 percent in Alaska, the Associated Press reported. Those wins followed similarly lopsided results in Utah and Idaho on March 22.
"We've won the last five out of six contests, all of them with landslide victories," Sanders said Sunday on CNN's "State of the Union." "We're heading to the west coast, which is the most progressive part of America. We think we're going to do very well there."
Sanders' latest wins followed aggressive campaigning and advertising that significantly outpaced his opponent. The self-proclaimed Democratic socialist held five rallies across Washington state leading up to the vote and had the endorsement of the Seattle Times, the state's highest-circulation newspaper.
Outsized Wins
For the day, Sanders picked up 55 delegates to Clinton's 20, narrowing to 268 the former secretary of state's lead in the race to succeed President Barack Obama as the Democratic Party's standard-bearer. A candidate needs 2,383 for a first-ballot nomination at the party's national convention at Philadelphia in July.
Sanders' has argued his string of wins show that he shouldn't concede the race to Clinton as a way to unify the party for the general election, as some party leaders have hinted. He drove that point home at a rally in Madison, Wisconsin, on Saturday. Wisconsin will hold the next Democratic nominating contest, on April 5.
"We are making significant inroads in Secretary Clinton's lead, and we have, with your support in Wisconsin, a path towards victory," Sanders said in a speech heavy on his campaign's signature anti-Wall Street themes.
Uphill Battle
Sanders' quest to win the nomination outright remains an uphill battle, though, given his opponent's still-sizable lead in the delegate count and with several large states with diverse populations voting from late April onward.
The campaign's recent successes are of "modest" importance and may show Sanders' ideas will grow in prominence because they appeal to young voters, said Jamelle Bouie, chief political correspondent for Slate and a political analyst for CBS News.
"It sort of adds to the argument that Sanders' ideology, at least, represents the future of the where the Democratic Party is going," Bouie said on CBS's "Face the Nation." "The fact remains that Hillary Clinton came into Saturday with a 300-plus delegate lead that Bernie Sanders' huge wins" don't meaningfully diminish.
'Doing Better Now'
The best results for Sanders have come in states with a higher percentage of white voters. "We're doing better now that we're out of the South with the African American vote," Sanders said on CNN.
Sanders is also still far behind Clinton with superdelegates -- party elders such as sitting governors and members of Congress, who are free to support any candidate at the party's national convention rather than being bound to the outcome of their state's nominating contest. Clinton has 469 superdelegates in her column to Sanders' 29, according to the Associated Press.
Sanders said on ABC's "This Week" that he was still the "underdog" but that some superdelegates might switch support to him because of his potential strength in the November general election. "We, in poll after poll, are beating Donald Trump by much larger margins than is Secretary Clinton," he said of the Republican front-runner.
Either Democrat would defeat Trump were he to win his party's nod, according to poll results released by Quinnipiac University on March 23. Likely voters preferred Clinton to Trump by 46 percent to 40 percent and Sanders to Trump by 52 percent to 38 percent.
On to Wisconsin
While Clinton would defeat Texas Senator Ted Cruz by a slightly narrower margin, 45 percent to 42 percent, the Quinnipiac poll showed Clinton would lose to Ohio Governor John Kasich, 47 percent to 39 percent. Sanders would top Cruz 50 percent to 39 percent, according to Quinnipiac, while Kasich was projected to edge Sanders 45 percent to 44 percent.
The small amount of recent polling done in Wisconsin shows a tight Democratic race. A lone Emerson College survey taken March 20-22 showed Clinton up by 6 points, 50 percent to 44 percent, with 5 percent of voters undecided.
Clinton did little campaigning in Washington state, where her campaign manager predicted a loss in a memo earlier this month. In contrast, she'll spend at least two days stumping in Wisconsin this week, including two events at colleges and a forum on gun violence at a black church in Milwaukee.
Only four remaining contests offer more Democratic delegates than the 101 that were at stake in Washington state: New York, which Clinton represented in the U.S. Senate, on April 19; Pennsylvania on April 26; and California and New Jersey on June 7. Clinton leads in all four, according to an average of polls compiled by Real Clear Politics.
"We think we've got a real shot in New York. And then we go out to California. You go out to Oregon. That's the most progressive part of America. We think we're going to do very well there," Sanders said on ABC. "
In an appearance on NBC's "Meet the Press," Sanders, who was born in Brooklyn, challenged Clinton to a debate somewhere in New York state.
Before it's here, it's on the Bloomberg Terminal.
LEARN MORE