It's Personal
Cruz Calls Trump a 'Sniveling Coward' as War Over Wives Continues
The Texas senator continued to blast his Republican rival, saying Trump "doesn't like strong women."
by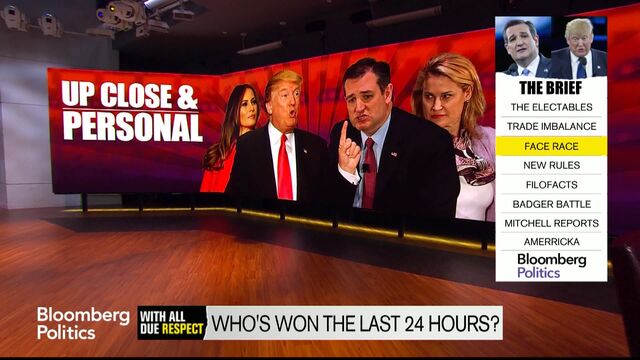 In the opening salvos of a two-week fight for Wisconsin, U.S. Senator Ted Cruz called Republican rival Donald Trump a coward after the billionaire threatened to "spill the beans" on the lawmaker's wife.
"It's not easy to tick me off. I don't get angry often. But you mess with my kids, you mess with my wife—that'll do it every time," Cruz told reporters on Thursday before touring a metal-fabrication plant in Dane, Wisconsin. "Donald, you're a sniveling coward and leave Heidi the hell alone."
In the race to amass the 1,237 delegates needed to secure the party's nomination, Trump leads Cruz by a margin of 739 to 465. Wisconsin, which holds its primary on April 5, will award 42 delegates, and a new Emerson College poll shows Cruz leading Trump there by a single point, with Ohio Governor John Kasich trailing both men by double digits. 
The race turned personal on Wednesday when a super-PAC backing Cruz used a photo of Trump's wife, Melania, naked in a magazine spread, prompting a sharp response from the front-runner.
"Lyin' Ted Cruz just used a picture of Melania from a G.Q. shoot in his ad. Be careful, Lyin' Ted, or I will spill the beans on your wife!" Trump said in a tweet.
Trump has so far refused to specify what specific information he was referring to, though he later tweeted out an unflattering picture of Heidi Cruz juxtaposed with one of his wife. 
For Trump, the dust-up resurrected concerns over his attitudes and statements towards women. In Wisconsin, Cruz said the latest shots at his wife belied those views.
"Donald does seem to have an issue with women," Cruz said Thursday. "Donald doesn't like strong women. They scare Donald."
Trump had entered the gutter with the attack, Cruz argued, though when asked if he still intends to support him if he gets the nomination, the Texan deflected by saying he planned to win. He pointed to Tuesday's victory in Utah's caucuses, saying it frightened Trump. 
"Donald didn't like that, so he began lashing out at my wife," he said. "Let me be absolutely clear: our spouses and our children are off bounds. It is not acceptable for a big, loud New York bully to attack my wife." 
Kay Nightengale, a retired union educator who attended Cruz 's rally in Janesville, said she followed the wife attacks "extensively," and that it detracted from more serious matters such as economic plans and a response to the recent terror attacks in Brussels. She also sided with Cruz in the spat. 
"I'm totally behind him. It was a political action committee that attacked and it had nothing to do with him. That's a very important piece of this," said Nightengale, who declined to give her age other than being a "senior citizen," before adding, "If anybody attacks someone in my family then I'm going to hit back. What these two men need to stop doing is attacking each other and go for Hillary." 
(
Corrects delegate majority number in third paragraph.
)
Before it's here, it's on the Bloomberg Terminal.
LEARN MORE