War of Words
Clinton Says Cruz and Trump Rhetoric 'Plays Into the Hands of Terrorists'
The Democratic front-runner takes aim at comments by her Republican rivals after the terrorism attacks in Belgium.
by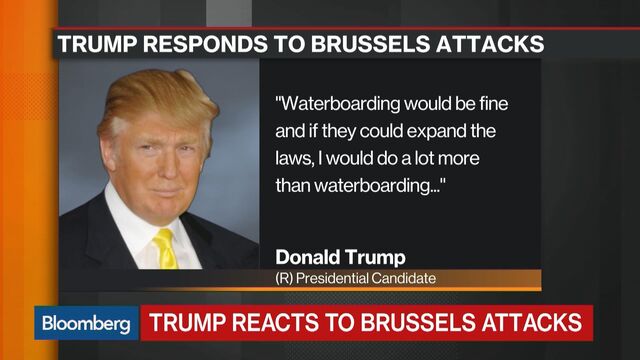 Hillary Clinton offered a rebuke Thursday of the anti-Muslim rhetoric coming from Donald Trump and Ted Cruz as she convened a discussion on how Muslim Americans are combating terrorism in their own communities.
"We like to say in my campaign that love trumps hate," Clinton said at the end of a roundtable discussion on the campus of the University of Southern California, invoking a slogan her campaign first used after Trump proposed barring Muslims from entering the United States.
At the meeting arranged after Tuesday's attacks in Brussels featuring Los Angeles Mayor Eric Garcetti and local counterterrorism and Muslim community leaders, Clinton pushed back on Cruz's calls for increased policing of Muslim neighborhoods. She did not call out either of the two Republican presidential candidates by name as she had done a day earlier during a speech at Stanford University. 
"I want to elevate what works because dividing us, engaging in hateful, discriminatory rhetoric does not work," she told reporters. "It plays into the hands of the terrorists. And I am not about to do anything that does that."
Trump this week accused Muslims in the U.S. and the U.K. of ignoring terror threats in their own communities. "They are absolutely not reporting it, and that's a big problem," he said Wednesday on ITV's Good Morning Britain.
Cruz said Tuesday that U.S. law enforcement officials need to be empowered "to patrol and secure Muslim neighborhoods before they become radicalized." His comments have drawn rebukes from President Barack Obama, New York Police Chief William Bratton and, on Wednesday, Clinton, who said "it's wrong, it's counterproductive, it's dangerous."
On Thursday, Clinton didn't directly reference what either of the leading Republican presidential candidates have said this week, but she did offer a critique of the media environment that's helped them thrive.
"We have so much information that is just swirling around us in ways that were unimaginable even a decade ago, it's become harder and harder for moderate, reasonable voices to be heard," she said. "Think about it: The way you get eyes or ears is to be provocative, even extreme, to say things that are going to draw attention, that will get you invited back or that will get you more responses to whatever you're posting."
It's up to leaders like her and Garcetti, she added, to help change the conversation.
"We've got to do a better job, which is one of the reasons why the mayor and I are here, and we thankfully have a lot of media here. We want to do a better job using our platform to elevate the voices and the views and the activities who are living this every single day," she said.
Campaigning on Thursday in Wisconsin, Cruz stood by his call for increased patrols in Muslim neighborhoods. 
"These are standard law enforcement tools. If you're focused on gang violence, naturally what you do to deal with gang violence is you direct law enforcement resources to communities that are plagued by gang violence," Cruz said at a factory in the town of Dane. "You work proactively and cooperatively with the community, and you get the gang members off the streets. That is common sense, effective law enforcement."
—With assistance from Terrence Dopp.
Before it's here, it's on the Bloomberg Terminal.
LEARN MORE