Paul Ryan's Call to Elevate Political Rhetoric Aimed at Trump
by
Speaker doesn't mention candidate in call for policy focus

Speech is response to Democratic effort to link party to Trump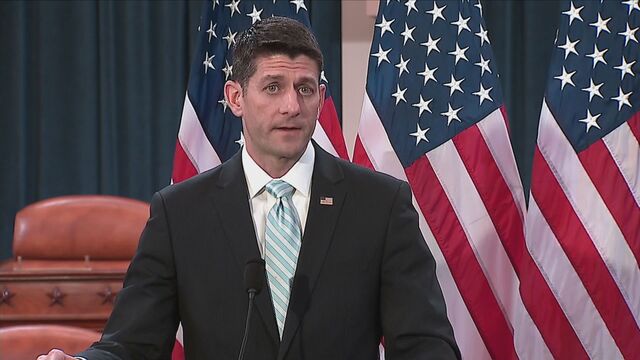 U.S. House Speaker Paul Ryan's call in a speech on Wednesday for elevating the political debate to inspire and unite Republicans carried a huge, unspoken subtext: Donald Trump.
Without mentioning the Republican presidential frontrunner by name, Ryan's speech was a clear rebuke to Trump's brand of politics.
"Instead of playing to your anxieties, we can appeal to your aspirations," Ryan said. "Instead of playing the identity politics of 'our base' and 'their base,' we unite people around ideas and principles."
"We shouldn't accept ugliness as the norm," he added. "We should demand better from ourselves and one another."
Risking Majority
Trump's rise has been alternately unnerving and alarming to many Republican leaders. It's also becoming potentially threatening for House leaders, with the prospect that the billionaire's divisive statements and manner could end up undercutting the size of Ryan's own House Republican majority in the November election.
The timing of Ryan's speech will certainly splash added fuel onto speculation that the party's 2012 vice presidential candidate is positioning himself as a potential default candidate for president. 
Ryan has repeatedly dismissed that possibility, though. He's also pointed out that as chairman of the Republican National Convention, he must remain as neutral as Switzerland on how the party picks his presidential nominee.
Still, Ryan has carefully weighed in a few times to criticize Trump comments -- including his suggestion last week there could be riots at the Republican convention if he is not a presidential nominee -- saying nobody should say such things. The Wisconsin Republican also has previously taken public exception to Trump's call to ban Muslims from entering the U.S. and his initial failure to denounce the Ku Klux Klan.
New Urgency
Yet there was a tinge of added political urgency in Ryan injecting himself again on Wednesday into the presidential race with a call for a higher, more inspirational level of political debate. 
"Politics can be a battle of ideas, not insults. It can be about solutions. It can be about making a difference. It can be about always striving to do better," Ryan said. "That's what it can be and what it should be."
Polling suggests that the fate of Ryan's majority rests less on who moves into the White House than Trump's potential negative impact as a Republican presidential nominee. Trump could also make it harder for Senate Republicans to hold onto their majority.
The current House breakdown is 246 Republicans, 188 Democrats and one vacancy -- the largest Republican majority since 1928.
House Democrats expecting to ride Hillary Clinton's coattails were already being projected to grab a net gain of as many as 7 to 10 added seats because of an anticipated large voter turnout in November. Until recently, few gave the Democrats any shot at swinging 30 seats to win back the majority. 
But the latest projections -- including one last week by the Cook Political Report -- suggest the possibility of potentially higher Democratic seat gains, as many as 15 seats, and even "larger gains possible if the top of the GOP ticket appears headed for a landslide defeat in November."
"In 2016, Democrats were already poised to bounce back amid higher presidential turnout, but the prospect of the broadly unpopular Donald Trump as the Republican nominee could put even more GOP seats in jeopardy," said the Cook Political Report.
Ryan, during a Capitol news conference on Wednesday, said he wasn't worried about the House majority flipping to Democrats as a result of this fall's elections. He said that's because House Republicans "are in control of our own actions." He emphasized House Republicans are developing their own agenda to take to voters.
Democratic Tactics
Against this backdrop, however, Democrats have already begun publicly taunting congressional Republican leaders to either defend Trump or denounce him. 
Last week, Senate Minority Leader Harry Reid accused Republicans of creating the conditions that led to Trump's rise and called on them to reject him. But they haven't rejected Trump, he said. "This is precisely the type of moral cowardice" that led to Trump's rise, said Reid.
There was no direct mention in Ryan's speech Wednesday of the bombastic New York billionaire, but the speaker did say that in looking at what's taking place in politics today, "it is easy to get disheartened."
"How many of you find yourself just shaking your head at what you see from both sides?" Ryan asked.
After the speech, responding to a question, Ryan said if Congress can't "raise our gaze" and "offer real solutions," then "how can we expect anyone else to do the same?"
Before it's here, it's on the Bloomberg Terminal.
LEARN MORE