Obama Says Republicans' Islamic State Tactics Would Be Folly
by and
President criticizes Ted Cruz's call for policing of Muslims

Proposals for more bombing raids aren't a strategy, Obama says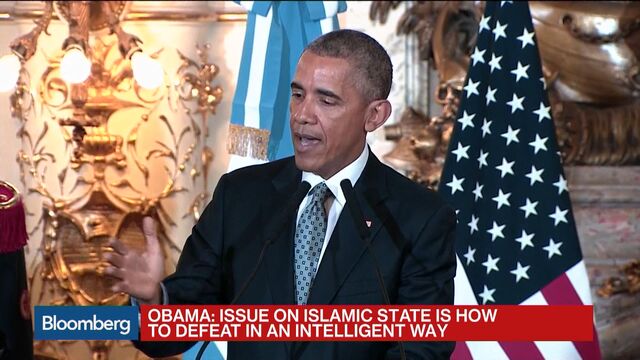 President Barack Obama said that defeating Islamic State is his "number one priority" and criticized proposals by the top two Republican presidential candidates to fight the terror group with extensive surveillance in the U.S. and wide-scale bombing abroad.
"I've got a lot of things on my plate but my top priority is to defeat ISIL and eliminate the scourge of this barbaric terrorism that's been taking place around the world," Obama said a day after the group took credit for bombings in Brussels that killed at least 31 people.
Yet he took pains to challenge Senator Ted Cruz and Republican front-runner Donald Trump over their own proposals to intensify the U.S. campaign against the group. "What we don't do and what we should not do is take approaches that would be counter-productive," Obama said at a news conference Wednesday in Buenos Aires with Argentina's president, Mauricio Macri.
Republicans have intensified their criticism of Obama's strategy to combat Islamic State after the attacks at the airport and a subway station in Brussels. Cruz said that police should "patrol and secure Muslim neighborhoods" in the U.S., following an earlier suggestion that areas held by Islamic State should be carpet-bombed. Trump said he would return to the use of harsh interrogation techniques considered torture by the United Nations, including water boarding, and in an interview with Bloomberg Politics set to air on Wednesday said he wouldn't rule out using nuclear weapons against Islamic State.
'Carpet Bomb'
"When I hear someone say we should carpet-bomb Iraq and Syria, not only is that inhumane, not only is that contrary to our values, but that would likely be an extra mechanism for ISIL to recruit more people willing to die and explode bombs in an airport or a metro station," Obama said. "That's not a smart strategy."
Obama continued his trip to Cuba and Argentina on Tuesday following the attacks, saying that to cancel his appearance at a baseball game or cut his trip short would represent a concession to terrorists. Republicans including Trump and Ohio Governor John Kasich criticized the decision.
Cruz's comments on policing Muslim neighborhoods were condemned by the New York Police Department. Obama said Wednesday that U.S. Muslim communities aren't dangerous and don't require additional policing because "they do not feel ghetto-ized, they do not feel isolated. Their children are our children's friends, going to the same schools. They are our colleagues in our workplaces, they are our men and women in uniform fighting for our freedom."
'Counterproductive' Approach
"Any approach that would single them out and target them for discrimination is not only wrong and un-American, but it would also be counterproductive," Obama said. "As far as the notion of having surveillance of neighborhoods where Muslims are present, I just left a country that engages in that kind of neighborhood surveillance, which, by the way, the father of Senator Cruz escaped for America, the land of the free." Cruz's father, Rafael Cruz, was born in Cuba and left the country in 1957.
The U.S. responded to the blasts in Brussels, which also injured at least 270 people, by raising its terror alert and deploying additional federal, state and local security at airports and rail and transit stations across the country. The Department of Homeland Security announced heightened security after the Brussels attacks even as it said there was no credible intelligence suggesting similar attacks were planned against the U.S.
U.S. Support
Deputy Attorney General Sally Yates on Wednesday emphasized the importance of cultivating good relations with Muslims in the U.S. "The Muslim community is one of our greatest partners in our fight against terrorism and public safety generally," Yates told reporters in Washington. "'We do not believe that we need to step up patrols of Muslim communities."
Obama, speaking twice in Havana on Tuesday, decried the terrorist bombings and pledged his full support to help Belgium investigate and bring to justice the perpetrators. He also spoke with Belgian Prime Minister Charles Michel by phone shortly after the attacks.
Obama in November visited the sites of coordinated attacks in Paris at a theater and restaurants. He plans to be in Europe in April for a trade show in Germany.
The synchronized Brussels explosions occurred four days after Belgian police arrested Salah Abdeslam, the alleged mastermind of the Paris attack. Frustration mounted in Belgium during the government's four-month search for the suspect.
Belgium, as a member of the European Union, is part of the coalition Obama assembled to fight Islamic State. Obama said in an interview with ESPN on Tuesday that the coalition is "pounding ISIL and going after them."
Obama arrived overnight for a two-day visit to Argentina following the election last year of Macri as its new president, replacing a succession of Argentine leaders antagonistic toward the U.S.
Before it's here, it's on the Bloomberg Terminal.
LEARN MORE