Obama Contraceptive Rule Gets Mixed Reception at Supreme Court
Greg Stohr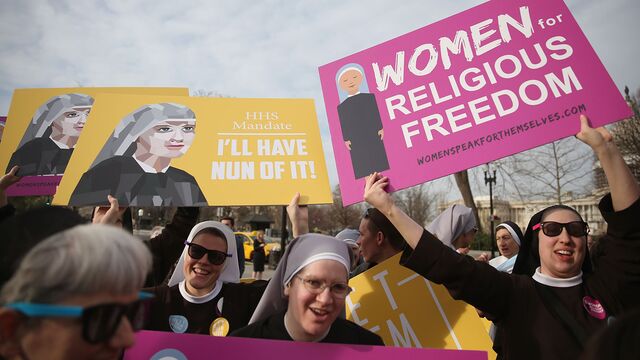 The Obama administration got a mixed reception at the U.S. Supreme Court in a clash with religious groups that say Obamacare is forcing them to help provide what they regard as immoral insurance coverage for contraceptives.
The justices signaled they will be divided, perhaps evenly, as they heard arguments on the health-care law for the fourth time since 2012. The issue is whether the administration is violating religious rights in its push to make birth control a standard, cost-free part of health insurance.
The dispute stems from the requirement that contraceptive coverage be included in employee and student health plans. The court's four liberal justices suggested Wednesday that the administration had adequately accommodated faith-based employers and universities by letting them opt out and have their insurer provide the required birth-control coverage.
But the potential fifth vote for the administration, Justice Anthony Kennedy, aimed skeptical questions at a government lawyer, opening the possibility of a 4-4 deadlock that would leave the law in an uncertain state.
At one point, Kennedy said the administration's approach would "hijack the plans." At another, he suggested women could get birth control coverage elsewhere.
"If it's so easy to provide, if it's so free, why can't they just get it through another plan?" Kennedy asked.
Eight of the nine federal appeals courts that have ruled on the issue have said the administration is adequately protecting religious rights. A 4-4 split would leave those decisions in place for the time being. The court could also hold the case and schedule a new argument after a ninth justice is confirmed.
Hobby Lobby
The case will determine how far government officials must go in allowing exceptions for people who say their religious principles prevent them from following the law. It may affect thousands of universities, hospitals and religious orders.
Many of those organizations have sued, including the Little Sisters of the Poor, an order of Catholic nuns whose appeal is among those the Supreme Court is considering. The groups cite a federal religious-freedom law.
The religious groups are at a disadvantage after the death of Justice Antonin Scalia last month. Scalia was in the majority in a 2014 case involving the craft-store chain Hobby Lobby, when the court said closely held corporations can refuse to provide birth control coverage to employees. The current case involves religious nonprofits, rather than for-profit companies.
Although Kennedy backed Hobby Lobby, he suggested at the time that the administration could fix the problem by adopting the type of approach it is using with religious groups. He wrote that those rules provide "an existing, recognized, workable and already-implemented framework to provide coverage."
Two Choices
The administration gives objecting nonprofits two options: They can shift responsibility onto their insurer by providing it with a "self-certification" form, or they can notify the U.S. Department of Health and Human Services of their objection and provide contact information for their insurer.
Either way, the federal government reimburses the insurer for the cost of the coverage.
Religious groups, represented by Washington lawyers Paul Clement and Noel Francisco, say they shouldn't have to play any role in the administration's birth-control program. They say they face tens of millions of dollars in fines if they don't comply.
'Terrible' Things
Their stance seemed to go too far for the court's four Democratic appointees Wednesday.
"Sometimes when a religious person who's not a hermit or a monk is a member of society, he does have to accept all kinds of things that are just terrible for him," Justice Stephen Breyer said.
Francisco and Clement argued that the administration had undermined its own case by granting religious exemptions to churches themselves and by letting employers continue to offer pre-existing health plans without birth control.
Justice Elena Kagan said that argument could prove counterproductive for religious rights.
"If you're saying that every time Congress gives an exemption to churches and synagogues and mosques, that they have to open that up to all religious people, then the effect of that is that Congress just decides not to give an exemption at all," she said.
U.S. Solicitor General Donald Verrilli said the government wasn't imposing the type of "substantial burden" on religion that triggers protection under the U.S. Religious Freedom Restoration Act. The administration contends that the rights of religious groups aren't affected just because the government requires the insurer or plan administrator to provide the coverage.
Roberts Unconvinced
Chief Justice John Roberts and Justice Samuel Alito weren't convinced. Roberts said the issue wasn't whether the government could ensure the availability of contraception but whether it could do so through the groups' plans.
"It seems to me you can't say that what you're trying to do is make sure everybody has this coverage," Roberts said. "You want to make sure they have it through the program set up by the Little Sisters, and that's what they object to."
Alito asked why the administration couldn't arrange for women to acquire stand-alone contraceptive policies on the insurance exchanges Obamacare set up.
"So she'll have two insurance cards instead of one," Alito said.
Among the groups pressing appeals are Priests for Life, an anti-abortion advocacy group; Geneva College in Beaver Falls, Pennsylvania; Bishop David Zubik of Pittsburgh; East Texas Baptist University in Marshall, Texas; and Southern Nazarene University in Bethany, Oklahoma.
The lead case is Zubik v. Burwell, 14-1418.
(Updates with excerpts from argument starting in sixth paragraph.)
Before it's here, it's on the Bloomberg Terminal.
LEARN MORE