With GOP in Disarray, Super-PACs Target Congress
Outside groups have already spent $34.1 million on races for Senate and House seats, up 85 percent from the same period in 2012.
by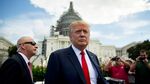 Super-PACs and political non-profits have opened the spending spigot on congressional elections spurred by fears the bruising Republican presidential primary has put the party's majorities on Capitol Hill up for grabs. 
Outside groups from both parties have already spent a combined $34.1 million on races for seats in the Senate and House of Representatives, according to a Bloomberg News analysis of Federal Election Commission data. That's a 85 percent increase from the $18.4 million that had been spent by the same time in the 2012 elections.   
For Republicans, an already challenging year -- 24 Republican senators are up for re-election compared with ten Democrats -- has been made more difficult by the division over the rise of Donald Trump and efforts by some of the party's biggest donors to block him. Concerns that a weakened candidate at the top of the ticket could harm candidates down the ballot have GOP strategists and donors worried about losing majorities in the Senate, the House and in some state legislatures.
"There's going to be a lot of Republicans who lose," said Jay Williams, founder of Alpharetta, Georgia-based Stoneridge Group, a consulting firm that worked for Right to Rise USA, the super-PAC that supported Jeb Bush. Williams, whose firm has worked for both establishment incumbents and tea party insurgents, said that regardless of who becomes the nominee, the battle to choose that person has already damaged the party's prospects.
Of the Republican Senate seats up for re-election, the Cook Political Report rates four -- Illinois, New Hampshire, Wisconsin and Florida -- as toss-ups, and three others -- Ohio, Pennsylvania and North Carolina as leaning Republican. Democrats would need to pick up five seats to take a majority.
Though big money has been a bust so far in the presidential primaries -- the three biggest spending super-PACs backed Bush, Marco Rubio and Chris Christie -- it's just getting started in legislative races. Many of the same donors who backed failed presidential candidates are also channeling their wealth to help Republican incumbents in Congress. Republican groups have brought in $62.5 million so far, while Democratic groups have pulled in about $20 million.
In addition to super-PAC spending, groups that aren't required to disclose their donors are also spending big. Trade associations like the U.S. Chamber of Commerce and non-profits including Americans for Prosperity, the advocacy group linked to billionaires Charles and David Koch, have spent a combined $15.5. million in 2016 on congressional races so far, according to data from Kantar Media.
This time around, the money is more concentrated among fewer groups. The four biggest super-PACs backing Republican congressional candidates have raised $30 million so far in the current election cycle, up from the $8 million the four largest had amassed over the same period two years ago. GOP donors have already made 60 contributions of $100,000 or more to the groups and 13 of $1 million or more.
Incumbent Senator Rob Portman, an Ohio Republican, faces a tough battle against Democrat Ted Strickland, former governor of the state, who is currently slightly ahead in the polls. The Sierra Club has spent $971,000 on ads critical of Portman's record on carbon emissions and pollution, according to Kantar Media, which estimates spending on political ads.
Strickland, however, faces pressure from outside groups, too. Freedom Partners Action Fund, the super-PAC arm of the donor network of libertarian billionaires Charles and David Koch, spent $1.86 million attacking Strickland in the run-up to Ohio's March 15 primary, highlighting job losses the state suffered while he was governor. Portman also has another ally, the Fighting for Ohio Fund, which raised $2.3 million through the end of 2015, including $250,000 each from hedge fund managers Paul Singer and Kenneth Griffin and another $100,000 from ESA Fund, a super-PAC started by Ameritrade founder Joe Ricketts.
ESA Fund is also wading into the New Hampshire race, where Republican Senator Kelly Ayotte will face the state's Democratic governor, Maggie Hassan, in the fall. ESA Fund has already spent $1.2 million on the race, most of it in support of Ayotte, who is generally considered one of the most vulnerable Republicans in the Senate. The Senate Majority PAC, a super-PAC that supports Democratic candidates, has spent $1.3 million attacking her.
Ayotte, who endorsed Mitt Romney in November 2011, well ahead of the state's Republican primary, has remained neutral in the 2016 presidential contest.
Senator Pat Toomey of Pennsylvania is also up for re-election after having won his seat in the Republican wave in 2010. Before his election, Toomey led Club for Growth, a collection of nonprofits and political organizations that often spends as much attacking moderate Republicans as it does Democrats. Since taking office, he's toed a more moderate line, including partnering with West Virginia Democrat Joe Manchin on a compromise measure to require more background checks for gun purchasers after the 2012 shooting at Sandy Hook Elementary School.
Toomey's opponent in November won't be clear until the Democratic primary on April 26. Outside help for Toomey is already lining up: super-PAC Prosperity for Pennsylvania raised $1.2 million in 2015, much of it coming from donors who also support Club for Growth, including Warren Stephens, Walter Buckley, Lance Shaner and Jeff Yass, who each gave $100,000.
The super-PAC Grow NC Strong already spent $50,000 for radio spots to support North Carolina Senator Richard Burr, who is running against Deborah Ross, a Democrat who was previously the majority whip in the state house. The group, which had raised about $51,000 through the end of 2015, is one of more than 26 super-PACs identified by Center for Responsive Politics as supporting a single congressional candidate.
In Wisconsin, former Senator Russell Feingold is challenging Republican Senator Ron Johnson, who beat him in 2010. A former aide to Johnson started a super-PAC last August and raised $388,000 through the end of 2015. And Club for Growth Action, the super-PAC arm of Club for Growth, has already spent $692,000 on ads attacking Feingold, the co-author of a law that aimed to limit outside spending on elections. A court challenge to a provision in that law led to the Citizens United Supreme Court ruling, which paved the way for unbridled spending by outside groups on politics.
(
An earlier version of this story incorrectly said in the 13th paragraph that Senator Joe Manchin represents the state of Virginia. He is from West Virginia.
)
Before it's here, it's on the Bloomberg Terminal.
LEARN MORE