Dissident Group to Give Obama Cuban Political Prisoner List
by
Prisoners jailed for crimes including `social dangerousness'

U.S. reporter challenged Cuba leader Castro on human rights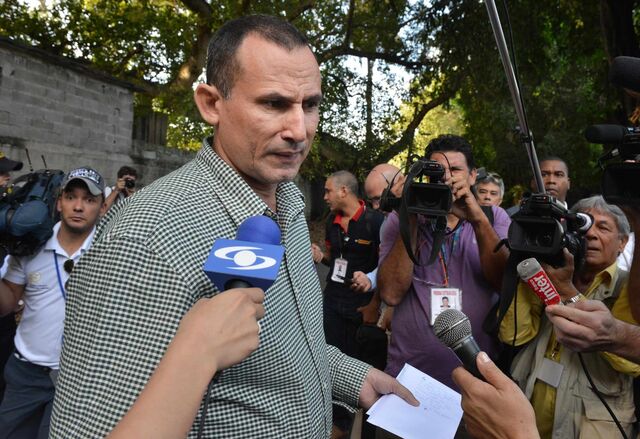 A dissident group said it would provide names of political prisoners held in Cuba after the island nation's president said he'd release them if he's provided a list.
Jose Daniel Ferrer, leader of the Patriotic Union of Cuba, said he'd provide names of at least 19 people to Barack Obama on Tuesday when the group meets with the U.S. president during his visit to the island.
"There are political prisoners from across the island," Ferrer said.
Obama is meeting with the dissident organization as he faces criticism from Republican lawmakers over easing relations with a country that they say doesn't respect freedom and democratic principles.
White House national security adviser Ben Rhodes told reporters in Havana that the Obama administration has provided lists of political prisoners to the Cuban government, and some have been released. Castro sees the prisoners as violators of the law rather than political prisoners, he said.
The question of prisoners was raised by a reporter at a joint news conference with Obama and Cuban leader Raul Castro.
"Give me a list of political prisoners and I will release them immediately," Castro said.
The prisoners on the list were jailed for offenses that include "social dangerousness,", "public disorder" and non-payment of fines, according to the Patriotic Union, one of the country's largest dissident groups.
The group knows of 19 political prisoners but is working with other dissident organizations to identify more, Ferrer said, adding that the total may be as high as 80.
Obama, the first sitting U.S. president to visit the island in nearly nine decades, is trying to defrost relations between the countries, and repeated his call for Congress to lift the economic embargo.
"The arrests of opponents is not going to get better and it's not going to get worse because of the visit," Ferrer said. "We will continue our pro-democracy activism."
The group also plans to discuss with Obama "how U.S. technology can help to expand the access to Internet for more Cubans," he said in an interview.
Before it's here, it's on the Bloomberg Terminal.
LEARN MORE