Trump, Cruz See Hunting Market as 40 Million Votes to Bag
by and
Cabela's and Bass Pro Shops defined a political demographic

Candidates make the quadrennial effort to look outdoorsy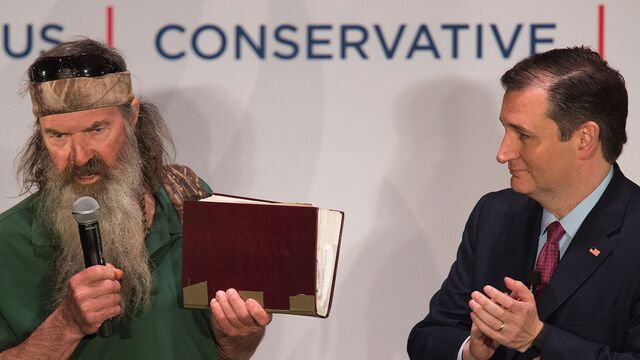 Donald Trump favors bespoke suits, jets, gilded New York towers and once declared on Twitter: "I'm not a hunter and don't approve of killing animals." Yet Sportsmen for Trump is rallying behind the confirmed urbanite.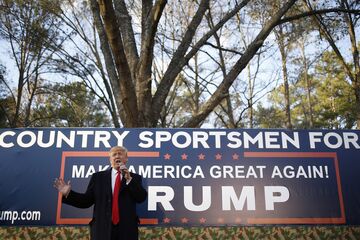 "He's not the typical picture of a politician who goes out on their first hunting trip to try to get the hunters' vote," said organizer Jason Hairston, founder of California-based outfitter Kuiu. Still: "We have a voice unlike which we've ever had for a long time -- maybe since Teddy Roosevelt."
This year's presidential race features a couple of indoorsy guys competing for the support of the most outdoorsy guys in America. They're trying to win the votes of 40 million sportsmen and sportswomen spanning 50 states with a track record of turning out for Republicans.
Trump, a real-estate magnate whose primary residence is on Fifth Avenue in Manhattan, is making the rounds at high-profile sporting events, giving interviews to magazines like Field & Stream and dispatching his trophy-hunting sons to campaign for him. Texas Senator Ted Cruz, who passed years in the Ivy League and U.S. Supreme Court chambers, is enlisting groups like Heroes Hunting, a veterans' nonprofit, and donning moss-colored face paint and camouflage with the bearded patriarch of "Duck Dynasty."
One in 10 Americans hunts or fishes every year, according to the U.S. Census Bureau. As the nation has become urbanized, what was a bucolic pastime has become a marketing opportunity. Gun sales are up, hunting shows draw crowds and superstore Cabela's Inc. is expanding while rival Bass Pro Shops has grown so large that its stores -- some the size of three football fields -- are tourist destinations in their own right.
Stores like these have created a thriving $90 billion market for everything from camouflage baby onesies to deer urine that masks human smells to auto-window decals that advertise the lifestyle and its accompanying brand allegiances. The market they made makes it easier for candidates to tap its force. As the general election gets under way, the National Shooting Sports Foundation will partner with mom-and-pop outfitters and corporate retailers to remind customers at the cash register to vote.
"These are the kind of people you would expect to show up and vote," said Keith Gaddie, chairman of the University of Oklahoma's political-science department. "Being a sportsman is not cheap. They usually come from strong families and the odds are they are more likely to go to a church. They have all the indicators of high-participation voters."
In 2014, when an initiative that sought to ban bear hunting appeared on Maine's ballot, 323,000 people turned out to vote against it, compared with just 294,000 who voted for Governor Paul LePage.
A 2012 National Wildlife Federation poll found that 42 percent of sportsmen are Republican, 32 percent independent and 18 percent Democrats. Half considered themselves conservative, and 60 percent said they vote in every election.
"The sportsmen's vote is a critical voting bloc," said Lawrence Keane, senior vice president at the National Shooting Sports Foundation, a Newtown, Connecticut, group that represents firearms owners, hunters and shooting-sports participants. "They are highly attuned to where candidates stand on issues and they tend to vote based on their passions."
Roaming Free
Sportsmen are paying close attention to Cruz's and Trump's very different positions on access to federal land, one of their most critical issues. Cruz has said he would sell millions of acres or transfer the land to the states. That's angered sportsmen who say that would jeopardize bird watching, hunting, camping and fishing. Trump has taken the opposite position.
"Ted Cruz's comments about selling off public lands did not have a good tone," said Kent Salazar, western vice chair of the National Wildlife Federation board of directors. "As a sportsman and a sportsmen's advocate, anyone who makes comments about selling our public lands is not getting my vote."
In addition to winning the endorsement of Phil Robertson, the hirsute doyen of "Duck Dynasty," Cruz has worked hard to burnish his hunting credentials. His Second Amendment Coalition, which is an outreach to gun-rights voters, has as a co-chairman Dave Funk, who is a past president of Iowa's Safari Club International chapter, as well as past Iowa chairman of Sportsmen for McCain and Sportsmen for Romney. He has gone pheasant hunting with the Cruz.
The senator purchased hunting licenses in 2006, 2007, 2013 and 2014, according to the Texas Parks & Wildlife Department.
Cruz "has always been a strong supporter of the Second Amendment," said his spokeswoman, Catherine Frazier. "He's enjoyed shooting, but I wouldn't say he's a regular hunter or sportsman."
Other candidates are well aware of the sporting bloc. Ohio Governor John Kasich, who is angling at the Republican nomination, made stops at hunting expos during his 2014 re-election campaign and reminded constituents how he brought the first Cabela's to the state.
On the campaign trail in 2008, Democrat Hillary Clinton told of shooting a duck in Arkansas, prompting her then-rival Barack Obama to call her "Annie Oakley." Vermont Senator Bernie Sanders has spent decades trying to balance the gun-owning interests of his hunting constituents with pressure in his party to restrict firearms ownership.
Trump's Trailer
For many politicians, the pressure to demonstrate a familiarity with shotguns, rods and reels requires special measures. Trump, who has acknowledged he's not a hunter, has deployed his outdoorsmen sons, who grew up hunting and fishing with their maternal grandfather in Czechoslovakia.
"This is something we love to do," Eric Trump said in a telephone interview. "Within the shooting and hunting community we know a lot of people and we have the support of a tremendous amount of people."
On a day in February, the elder Trump huddled in a motor home parked on Randy White's farm in Walterboro, South Carolina. Trump was getting ready to address a crowd of deer-and-turkey hunters. For 20 minutes, the farmer and the billionaire talked about the Second Amendment and hunting as a feast of barbecued hog awaited.
"He never really said whether he hunted or not," recalled White. "It mattered the fact that I didn't feel like he was against hunting."
Presidential politics has a long history of quadrennial sportsmen, and the National Rifle Association has even coined a term for them: "camouflage candidates."
In 2004, Democratic candidate John Kerry emerged from an Ohio field photo op in a borrowed camouflage jacket with a group of goose hunters. Kerry said everyone had made a kill, and he had blood smeared on his hands. However, only his companions were toting waterfowl corpses, raising suspicions he was trying to coddle goose-loving animal-rights activists.
"It pretty clearly was the determinative factor in 2004," Keane said. "We said at the time, 'That was the goose hunt that cooked his."'
Before it's here, it's on the Bloomberg Terminal.
LEARN MORE