Trump Faces a Contested Convention as Clinton Nears Nomination
by and
Billionaire warns of `riots' if denied nomination in Cleveland

Rubio suspends campaign after losing in his home state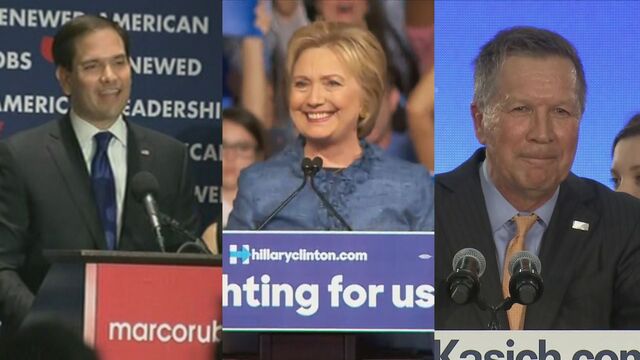 Donald Trump's road to securing the Republican presidential nomination got longer after Tuesday's primaries in five states. Democratic front-runner Hillary Clinton's got shorter. 
The Republican front-runner didn't get the sweep he wanted, losing Ohio to Governor John Kasich. Trump's latest political victim, Florida Senator Marco Rubio, was beaten badly by the billionaire in his home state and suspended his campaign.

The split decision on Trump in the two most critical states in Tuesday's voting increased the possibility that Republicans could be headed for a potentially chaotic national convention in Cleveland in July.
Trump said Wednesday on CNN that he thinks "you'd have riots" if he leads in pledged delegates heading into the convention but the party denies him the nomination. "I wouldn't lead it, but I think bad things would happen," he said, claiming the outcome would "disenfranchise" supporters.
The real estate mogul, who also won Illinois and North Carolina, remains the dominant front-runner. But the lack of a victory in Ohio, where all 66 delegates will go to Kasich, blocked him from the blowout that would have made him unstoppable.
Clinton turned her sights to the general election and Trump after decisive wins in Florida, Ohio and North Carolina and a close victory in Illinois.
With 99 percent of precincts counted in Missouri, she led Sanders by 1,531 votes out of more than 626,000 cast. The Associated Press said it wasn't declaring a winner there for now because it was so close. In a tweet, Clinton thanked voters in all five states, including Missouri.

The Republican side of the Missouri race also was tight, with Trump leading Senator Ted Cruz of Texas by 1,726 out of more than 935,000 total votes. Trump, too, thanked Missouri voters in a tweet.
Delegate Lead
Clinton's victories on one of the most delegate-rich nights of the Democratic presidential contest had her supporters confident that she would emerge from the latest round of voting with a virtually insurmountable delegate lead over Bernie Sanders.
As of early Wednesday, Clinton had 1,561 of the 2,383 delegates and super delegates needed to win, while Sanders had 800, Associated Press estimates showed.
The race next moves to March 22 primaries in Arizona and Utah for the Democrats and the Republicans, while the Democrats also have caucuses in Idaho on that day. After that, there are no big-state contests again on the Republican side until Wisconsin on April 5.
Candidates announced little in the way of public events on Wednesday after the past two-week sprint. Kasich was set to hold a town hall in Pennsylvania, where his ballot access is under challenge, ahead of its April 26 primary. Clinton plans to make a multistate fundraising swing in the coming days.
Seemingly moving past Sanders, Clinton used her victory speech to address a potential showdown with Trump in November.
Aiming at Trump
"It's clearer than ever this may be one of the most consequential elections of our lifetimes," she said at a rally in West Palm Beach. "Our commander-in-chief has to be able to defend our country, not embarrass it; engage our allies, not alienate them; defeat our adversaries, not embolden them."
Signalling the campaign is entering a new phase for her, Clinton explicitly targeted Trump, saying that the next president "has to bring our country together so we can all share in the promise of America."
Clinton victories will re-energize her campaign after a surprise loss to Sanders last week in Michigan. Her win in Ohio, especially, will help allay fears among Democrats that she couldn't win in states dominated by white, blue-collar voters where Sanders' populist, anti-free trade message has resonated.
Moving Ahead
In Arizona, which votes on March 22, Sanders delivered a spirited version of his standard stump speech and gave no indication he would slow his campaign. He criticized Clinton for accepting donations from corporate interests and giving paid speeches to Wall Street firms, and called on her to release the transcripts of those addresses.

"We cannot go forward unless we deal with the realities of American society today," Sanders said in Phoenix. "And that is what we're going to do."
Tuesday's primaries were the first tangible measure of Trump's standing since a melee broke out Friday night in Chicago, after he abruptly canceled a rally because of protests inside and outside the arena. The incident further heightened unease among establishment Republicans desperately seeking a way to stop him.
"There is great anger, believe me, there is great anger," Trump told supporters gathered at his Mar-A-Lago Club in Palm Beach, Florida, without specifically referencing the increasing protest and violence at his mega-rallies.
The billionaire, who has portrayed himself as a champion of the working class, also argued for the importance of wealth in America. "We need the rich in order to make our country great again," he said.
First Victory
Kasich, who secured his first victory after more than 20 states have voted, vowed to continue campaigning until the party's convention and beyond.
"We've got one more trip around Ohio this coming fall where we beat Hillary Clinton, and I will become president of the United States," he told supporters in Berea, Ohio, outside Cleveland, as red, white and blue confetti blew over the stage.

"I want to remind you again tonight that I will not take the low road to the highest office in the land," he said, drawing cheers. "I think we can rally the people in Washington. Before we're Republicans and Democrats, we're Americans."
Kasich, who had vowed to drop out of the race if he didn't win his home state, will now emerge as the Republican establishment's top candidate. But it's an open question where he can win next against a dominant campaigner like Trump.
New Advisers
After the Ohio win, his campaign announced it was adding as advisers Stu Spencer, who was chief political strategist for President Ronald Reagan; Charlie Black, who worked for presidents Reagan, George H.W. Bush and George W. Bush and advised Arizona Senator John McCain's presidential bid; former U.S. Representative Vin Weber of Minnesota; and Tennessee political consultant Tom Ingram.
Trump had 621 of the 1,237 delegates needed to win, according to Associated Press estimates early Wednesday. Cruz had 396, while Kasich was at 138.
"We continued to gain delegates and continued our march to 1,237," Cruz told supporters in Houston. "America now has a clear choice going forward."
"I congratulate John Kasich on winning his home state but it's mathematically
impossible for John Kasich to become the nominee at this point," Cruz said on CNN, adding, "Any candidate, if you don't have a clear path for winning, it doesn't make sense to stay in the race."
Without mentioning Trump after congratulating him on his victory, Rubio delivered an extended rebuke to the front-runner's message, saying a divisive campaign would compromise the nation's future.
"Do not give in to the fear," he said from his hometown of Miami. "Do not give in to the frustration."
Pointing to how far he's come as the son of immigrants, Rubio also pointed to a higher power in his decision to leave the race, saying it wasn't "God's plan that I be president in 2016, or maybe ever."

Rubio once was viewed as one of the party's rising stars, after winning his seat in Florida in 2010 as part of a Tea Party surge that year. Polling often showed him as a popular second-choice candidate for Republican primary voters, yet he struggled to record any wins in the early states. He finished fifth in New Hampshire's primary.
After finishing second in South Carolina and Nevada, he went after Trump more directly, first on the debate stage and then in a series of campaign stops. He questioned Trump's manhood, called the front-runner a "con artist" and mocked his "spray tan." Rubio has since said he regretted that change in his tone.
After former Florida Governor Jeb Bush dropped out of the race, establishment Republicans viewed Rubio as the best hope to stop the rise of Trump. Yet the one-term senator -- who Bush once mentored -- proved to be no match for the bombastic billionaire, who took to calling him "Little Marco" during debates.
It was in those debates that Rubio often shined, but he never could translate his lofty rhetoric on the campaign trail into votes. He won just three contests: Minnesota, the District of Columbia and Puerto Rico.
—With assistance from James Nash, Sahil Kapur, Mark Niquette, Kevin Cirilli, Terrence Dopp, Jennifer Epstein, Arit John, Elizabeth Wasserman, and Ben Brody.

Before it's here, it's on the Bloomberg Terminal.
LEARN MORE