Demographics
Hillary Clinton's Appalachian Problem
Beneath a night of triumph, signs of a persistent weakness—one she seemed to inherit from Barack Obama.
by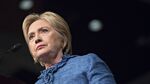 With a five-state sweep on Tuesday night, Democratic presidential candidate Hillary Clinton's advisers began telling reporters that she had an advantage of 300 delegates over Bernie Sanders, a larger margin than she had ever faced while lagging Barack Obama eight years ago. That leaves Clinton with an open path to her party's nomination, but if she claims it this summer she will do so with a very different coalition than the one that helped her put "18 million cracks" in the glass ceiling.
On Tuesday night, Clinton greatly increased her margins in urban areas where Obama triumphed during the 2008 primaries, increasing her vote share by more than 10 percent in the counties that include Cincinnati and Cleveland, St. Louis, Charlotte and Raleigh. Indeed, Clinton has fully integrated the non-white parts of the Obama coalition, both in big cities and rural areas with large African-American populations. Her biggest gains in North Carolina came, as they did across Dixie, in majority-black counties. In both Edgecomb and Hertford, in the northeastern part of the state where the Piedmont meets the Coastal Plain, Clinton saw a gain of 41 percentage points.

In three of the states that voted on Tuesday, those gains were offset by significant losses among voters Clinton until recently considered a bedrock part of her primary coalition. (We didn't include Florida, because candidates adhered to a Democratic National Committee boycott of the state's primary in 2008, or Illinois, where Obama was boosted by a favorite-son advantage.) Running against Sanders, Clinton is being abandoned by the voters Clinton infelicitously celebrated in May 2008 as "working, hard-working Americans, white Americans."
They kept her afloat in the waning months of the 2008 calendar. She racked up her biggest margins within the skein of Scots-Irish heritage that cuts from Pennsylvania and Ohio down to North Carolina and Tennessee, including landslide victories over Obama in the Kentucky and West Virginia primaries. "These are the people you have to win if you're a Democrat in sufficient numbers to actually win the election," she told USA Today that May. "Everybody knows that."
That turned out not to be quite true. What the New Yorker that fall diagnosed as "the Appalachian problem" was real. Nearly all the counties where Obama did significantly worse than the 2004 nominee, John Kerry, stretched contiguously across that economically depressed region, and yet despite that loss of support from rural whites Obama managed to carry Pennsylvania, Ohio, and North Carolina in his rout of John McCain. On Tuesday, that mountainous stretch handed Clinton some of her most staggering reversals: In Ohio's Galia County, along the West Virginia border, Clinton's share of the vote fell by 30 percentage points; by 33 in North Carolina's Graham County, abutting Tennessee.
This is all a reminder of how circumstantial Clinton's position as tribune of the white working class was during her first presidential campaign. (Thought exercises: what would Clinton's 2008 coalition have looked like had it been John Edwards, not Obama, who had won the Iowa caucuses that year? And what would it look this year if her liberal challenger were Deval Patrick instead of Sanders?) Perhaps now that she is no longer running against an African-American candidate—and has anointed herself a crusader against the "challenges of racism, of sexism, of discrimination against the LGBT community"—Clinton no longer has much of a connection with those "hard-working Americans."
Those results may give Sanders cause to be optimistic about his prospects in Pennsylvania—where Clinton won by nearly 10 points in 2008 even as Obama trounced her in Philadelphia—and Clinton a reason to worry about facing Donald Trump in the general election. This year, the Appalachian problem may be hers.
Before it's here, it's on the Bloomberg Terminal.
LEARN MORE