New York City Council to Require Affordable Units in Newly Zoned Housing
by
Seniors and the poor will be subsidized in taller buildings

Deal cements a key part of de Blasio affordable housing plan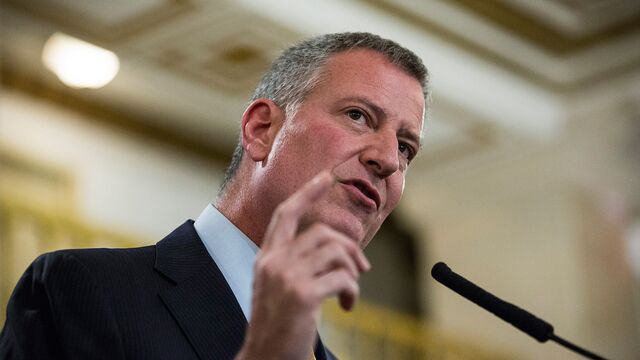 New York's City Council and Mayor Bill de Blasio reached an agreement to boost affordable housing that includes incentives for developers to set aside rental units for seniors and the poor at below-market rates.
The compromise, announced Monday by Council Speaker Melissa Mark-Viverito, hands a political victory to the mayor after his own proposal ran into opposition from local community boards and housing activists who said it didn't provide enough inexpensive housing.
"The scope and magnitude of these proposals cannot be understated," Mark-Viverito said during remarks in City Hall's rotunda Monday. "They will fundamentally change how our city approached affordable and senior housing production, and is one of the strongest affordable housing plans in the nation."
Under the compromise, a sliding scale for affordable housing includes an option for developers to reserve 20 percent of the units for families of three making $31,000 a year or less, at $775 a month rent. The scale rises to those making $93,000 for a household of three. In return, developers may gain exemptions on height, as well as low-interest financing and tax advantages.
"Years from now, we will look back on this as a watershed moment when we turned the tide to keep our city a place for everyone," de Blasio told a crowd Monday of more than 200 attending a Brooklyn town hall meeting on affordable housing. 
The appearance was part of a campaign De Blasio has waged to assuage the critics and promote his plan as crucial to the future of the city. He gathered support from civil rights activist Al Sharpton, the business-oriented Partnership for New York City and several city labor unions.
Before it's here, it's on the Bloomberg Terminal.
LEARN MORE