Obama Predicts Cuban Embargo Will Be Lifted Under His Successor
by
Support growing in Congress to end trade ban, president says

Obama departs March 20 for historic visit to island nation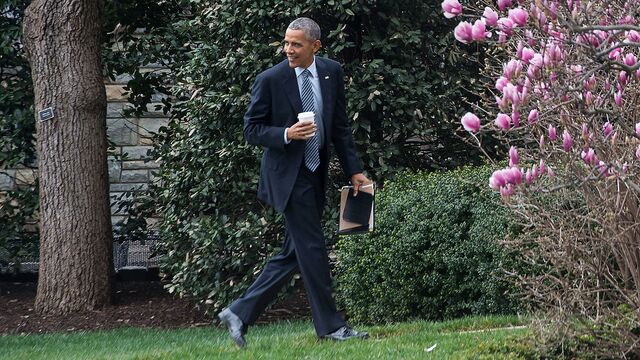 President Barack Obama said sentiment in Congress is building toward lifting the decades-old trade embargo with Cuba, but it's "not yet at a critical mass" and that the next big step in restoring relations with the island nation will be left for his successor.
In an interview with CNN en Espanol days before his historic visit to Cuba, Obama also said Cuban President Raul Castro will take part in his planned meeting with dissidents. "That was part of the deal for me to attend and have Raul Castro there as well," Obama said in the interview released Monday evening.
Obama defended his trip to Cuba on March 20, the first by a sitting U.S. president in 88 years, as a way to exert more U.S. influence on economic and political changes in Cuba. He said his administration is offering no concessions to the Castro regime.
"The more that U.S. businesses are engaged there, the more that we have people traveling there, the more Cuban-Americans are able to interact with family members that in some cases they haven't seen in decades, the more likely we are to see the kind of changes that all of us are hoping for," Obama said.
Latin America
He compared the developing relationship with Cuba to U.S. relations with other countries with which there are fundamental disagreements, such as China, Vietnam and Russia. The outreach more broadly also will improve U.S. relations in Latin America by removing "this one lingering irritant or perception that somehow the United States was trying to big-foot smaller countries in the region," Obama said.
In the CNN interview, Obama also praised President Mauricio Macri of Argentina, where he'll travel after Cuba, for a commitment to "openness, transparency, competitiveness, progress." Macri's election in December marked a shift in that nation's attitude toward the U.S.
Obama said the U.S. is concerned about the economy in Venezuela, which is suffering from triple-digit inflation and where the government remains antagonistic toward the U.S. "If Venezuela fails then that could have an impact on the economies of Colombia or Central America or Mexico, and that in turn can affect U.S. economies," he said in the interview.
Before it's here, it's on the Bloomberg Terminal.
LEARN MORE