'Hamilton' Comes to White House as Obama Enjoys Perks of Power
by
Lin-Manuel Miranda and cast perform highlights of hit musical

Tickets for tomorrow's show start at $1,200 on StubHub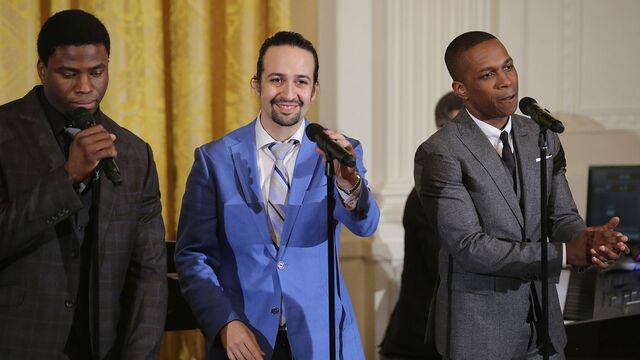 It'll cost you at least $1,200 on StubHub to get a ticket to the next show of Hamilton on Broadway. But when you're the U.S. president, you can hang out with the cast in your living room.
President Barack Obama and his family have already seen the sold-out hip-hop musical playing at New York's Richard Rodgers Theatre. Still, the first couple invited show creator and star Lin-Manuel Miranda to perform with his castmates at the White House on Monday.
"Hamilton, I'm pretty sure, is the only thing that Dick Cheney and I agree on," Obama said, referencing a former Republican vice president, before the cast performed highlights of the show in the White House East Room. "This show brings unlikely folks together. Lin-Manuel, if you have any ideas for a show about congress for example, we could use your help."
The cast performed two songs -- the opening "Alexander Hamilton" and "My Shot," which Hamilton sings about his chance to make it. The public was able to watch some of the performance online at Whitehouse.gov.
The unlikely musical hit features a diverse cast recounting the life of Alexander Hamilton, the U.S. founding father and first U.S. treasury secretary. The Obama family saw the show in July before it formally opened in August. Michelle Obama also attended the show off-Broadway last April. The musical hasn't toured yet, so most audiences in Washington and elsewhere will have to wait.
Hamilton is currently the top-grossing Broadway show, pulling in $1.8 million each of the past two weeks, according to the Broadway League, which compiles box office reports.
Miranda's visits to the White House bookend Obama's years as president. He first performed at the White House in 2009 at a poetry slam.
"He himself has discussed how that opportunity was a real breakthrough for him," White House press secretary Josh Earnest said earlier Monday. "At that performance, he displayed some of the skills and even some of the songwriting and creativity that has served as the basis for an award winning, record breaking show on Broadway. It's a special day."
If the president was excited, the Hamilton cast took it to another level. They made a social media hashtag -- #Bam4Ham -- and took to Twitter and Instagram to document their day in Washington, which started with a tour of the Treasury Department.
Before it's here, it's on the Bloomberg Terminal.
LEARN MORE