Cruz Changes Tune on Delegates Before Tuesday's Vital Contests
As Trump threatens to start collecting delegates more quickly, the Texas senator suggested that delegates could decide the nomination if no candidate has a majority.
by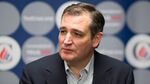 Maybe it wouldn't cause a "manifest uprising" after all to let party insiders have a crack at picking the Republican presidential nominee. 
A week after saying that it would be "illegitimate" and "wrong" for Washington insiders at the Republican National Convention to nominate a candidate against the wishes of most voters, Ted Cruz said Sunday it would actually be fine if the convention chose between him and Donald Trump as long neither had achieved the 1,237 delegates needed to secure the nomination automatically.
"If Donald and I both go into the convention and we've both got a big chunk of delegates but both of us are shy of 1,237, then the delegates will decide," the Texas senator told ABC's This Week With George Stephanopoulos. "That's how the process works and that's allowing democracy to operate."
Cruz's comments came days before a string of primary elections on March 15 that could solidify the look of the volatile 2016 Republican race. Florida, Ohio, and the Northern Mariana Islands hold winner-takes-all contests offering a total of 174 delegates,. Illinois offers 69 delegates in a winner-takes-most vote, while North Carolina and Missouri offer a total of 124 delegates doled out proportionally. 
Cruz, second to Trump in delegates pledged to him through caucus and primary results, said he would "welcome" supporters of Marco Rubio and John Kasich who want to switch allegiances. So far, Cruz said, he's the candidate who has most often bested Trump, the billionaire real estate mogul he portrayed as "a disaster for Republicans, for conservatives." 
"Neither one of them have any possibility of beating Donald Trump," Cruz said of his rivals. "If you don't want to see Donald Trump as the nominee, if you don't want to see Hillary Clinton as the president, then come join us."
Cruz had scoffed as recently as March 6 at the thought of "a bunch of Washington deal-makers and lobbyists who want to parachute in their preferred candidate because they don't like what the voters are doing." Yet he seemed to soften ahead of Tuesday's contests in which, for the first time, all delegates in a given state will pledge to support that state's winner rather than splitting up to reflect vote share.
The new structure would allow Trump, or one of his challengers, to collect delegates more quickly and potentially achieve an insurmountable advantage before the convention in July.
Others, including 2012 Republican presidential nominee Mitt Romney, had suggested that Trump could lose the nomination even if he entered the convention with a plurality of delegates pledged to him. Delegates need not stay pledged to a candidate in subsequent votes if no one wins the first vote with a majority.
While Cruz said convention delegates could choose between candidates "who are neck-in-neck," he repeated it "would be an absolute disaster" if "there's a deadlock and the Washington deal-makers come in and pick their favorite candidate who wasn't even part of the mix."
On Friday, Rubio, a Florida senator, said his supporters in Ohio should vote for Kasich, who is the state's governor, as a way to stop Trump—a strategy that could help deny Trump an outright majority. Kasich didn't reciprocate by suggesting his supporters vote for Rubio in Florida, where the senator lags Trump by about 20 percent points. 
"I'm going to win in Ohio," Kasich said Sunday on the same program, one of five talk-show appearances before his state's primary. "I believe there is a good chance I could into the convention with the most amount of delegates."
The latest surveys show Kasich may be getting a home-state advantage. The NBC News/Wall Street Journal/Marist poll for Ohio released on Sunday showed the governor leading Trump by 6 percentage points, 39 percent to 33 percent, outside the margin of error.
That trend hasn't gone unnoticed by the New Yorker, who on Saturday called the former congressman "a baby" with '"too many problems." In a series of tweets on Sunday, Trump slammed Kasich for his support of the North American Free Trade Agreement, his backing of the Common Core educational initiative, and for only watching the Golf Channel.  
Kasich declined to answer on This Week when asked if Trump was fit to be president, yet said he wouldn't "wallow in the mud" with the former host of TV's The Apprentice. 
—With assistance from Jesse Westbrook.

Before it's here, it's on the Bloomberg Terminal.
LEARN MORE