Trump Calls Off Chicago Campaign Rally After Large Protests
by , , and
Cruz blames front-runner for encouraging `physical violence'

Supporters and opponents push, taunt each other inside arena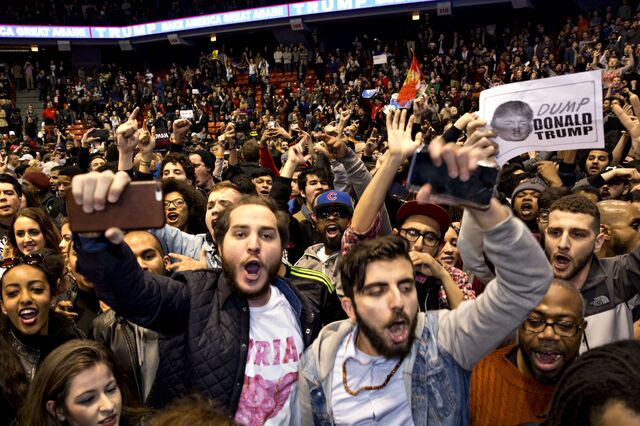 Donald Trump's rowdy campaign boiled over Friday when he postponed a Chicago rally in the face of furious protests, setting off a melee of shoving and taunting between supporters and opponents.
The clashes climaxed weeks of racially charged anger surrounding the Republican front-runner's bid for the presidential nomination. Protesters have become a fixture at rallies held by the New York real-estate mogul and reality television star, who has said abuse directed at them can't be stopped due to the anger of his supporters.
Trump said the cancellation was a blow to the rights of thousands who had gathered in an arena at the University of Illinois at Chicago.
"You can't have a rally in a major city in this country without violence or the threat of violence," he said in an interview on MSNBC. "Whatever happened to free speech?"
He said he stopped the rally on the advice of law enforcement, though the Chicago Police Department was not contacted or involved in the decision, said spokesman Anthony Guglielmi.
His chief rival, Texas Senator Ted Cruz, said before addressing a suburban Chicago dinner that Trump set the tone for his fractious supporters. He invoked the memory of the city's riotous 1968 Democratic convention.
"Responsibility starts at the top," Cruz said."Any candidate is responsible for the culture of the campaign. When you have a campaign that affirmatively encourages violence, when you have a campaign that is facing allegations of physical violence against members of the press, you create an environment that only encourages this sort of nasty discourse."
Mayhem Erupts
When the cancellation announcement was made to the thousands inside an arena at university, supporters of Trump booed and chanted "USA!" and "We want Trump!"
Video from the scene shows a protester storming the dais and ripping up a paper Trump sign before being dragged off stage.
Police seemed outnumbered in their attempts to break up scuffles. Everywhere, people are seen recording the ruckus on their smartphones. One protester held a sign reading "We are not rapists," a reference to Trump's June campaign announcement in which he said Mexico is sending rapists and criminals to the U.S.
Tussles continued for 15 minutes before the crowd trickled out and reassembled outside.
As attendees streamed out, protesters were lined up on both sides of the street, chanting and sometimes heckling disappointed Trump supporters. About a dozen Chicago police officers on horseback slowly herded the crowd from the pavilion's main entrance.
"Who won? We won!" protesters chanted as police on horseback stood by and helicopters hovered above.
Protesters and supporters of Trump have clashed increasingly in recent weeks, including earlier Friday in St. Louis. Trump has been faulted by opponents for not doing more to tone down the rallies and at times supporting violence. In the past, he's told supporters at events that he'd like to punch a protester in the face and also pledged to pay legal fees if anyone got in trouble.
The arena at UIC seats about 7,000 and was near capacity. In the hours before the rally was scheduled to begin, law enforcement escorted out about a dozen protesters. Outside, opponents chanted, "Hey-hey, ho-ho, Donald Trump has got to go."
One Trump supporter expressed anger as she left the venue.
"It was disgusting -- they were like animals," said Kathy Pitts, a suburban Chicago resident. "Even if you don't agree with him, he has a right to be heard."
Single Voice
Earlier in the evening, U.S. Representative Luis Gutierrez, a Democrat from Chicago, rallied several hundred Trump opponents from a stage across the street from the arena.
"We have assembled as men and women, gay and straight, black and white, Muslim, Christian, Hindu and Jews, from every part of the world," he said. "We have assembled here today to say with one voice: no to Donald Trump's hate speech in the city of Chicago."
Isaac Silver, 32, a bricklayer from Chicago, was holding a homemade sign written in black marker on a piece of cardboard that read, "We Reject Trump's Divide and Conquer Bigotry" as he stood in a crowd outside the arena.
"When I heard that he was coming to speak, I thought it was a huge outrage and insult to the people of Chicago," Silver said. "This is an immigrant city. I think Donald Trump has used his presidential campaign as a platform for misdirecting feelings of insecurity and using that to incite violence against immigrants, Muslims, all kinds of people."
Trump's visit played out during a final rush of campaigning ahead of five big-state primaries on Tuesday that include Illinois, Missouri, North Carolina, Florida and Ohio.
Before it's here, it's on the Bloomberg Terminal.
LEARN MORE