Trump's Great Moderation: The 12th Republican Debate By the Numbers
The GOP front-runner focused less on his rivals and more on uniting his party, while Rubio failed to make a big splash.
by and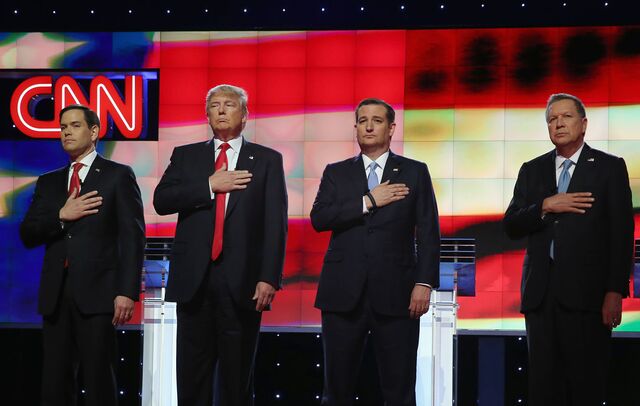 "It was time," Donald Trump told a CNN commentator after Thursday's Republican debate. Time for the unconventional candidate, who has led the GOP presidential field for almost eight months, to finally embrace a front-runner's traditional role of unifying his party.
Trump began the debate with an opening statement that referenced himself just once, and book-ended his performance with a call for détente in the raucous Republican race. "I just say embrace these millions of people that now for the first time ever love the Republican Party," Trump said in his closing statement, "and unify. Be smart and unify." Throughout the debate, the front-runner talked more about the party and the country than ever before.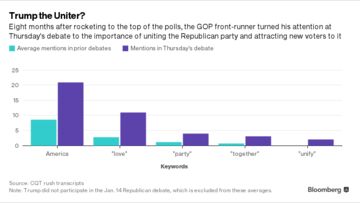 Texas Senator Ted Cruz and Florida Senator Marco Rubio also answered calls from the likes of Republican National Committee spokesman Sean Spicer to "tone down the rhetoric." Attacks flew in the same directions as at the last debate—from Cruz and Rubio against Trump, with Trump returning fire—but with less frequency and ferocity.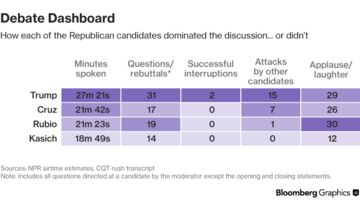 Thursday's debate, led by CNN's Jake Tapper, was remarkably genteel, with only two interruptions by a candidate who wasn't first prompted by a moderator. "I cannot believe how civil it's been up here," Trump said at one point. 
Fewer personal spats (which feature lots of words like "you," "me," and "he") left more time for the candidates' presidential plans, expressed in terms of "us" and "we." In the other party, Vermont senator Bernie Sanders' surprise win in the Michigan primary has pushed Democratic debates in the opposite direction—further into he-said-she-said territory, giving Republicans an opportunity to close the "we" gap on Thursday.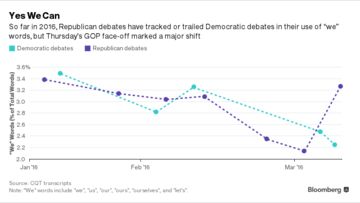 The mannerly tone of the Republican debate may have ultimately hurt Rubio and Ohio Governor John Kasich, who each face a make-or-break home-state primary next Tuesday, by giving them fewer chances to interject and have their voices heard. 
In the end, Rubio roughly tied with Cruz for second place in total speaking time (more than 21 minutes, as measured by NPR), as well as share of the Twitter conversation (around 15 percent) and share of Google search interest (17 percent). He also scored the second-most moderator questions and granted rebuttals (19 to Cruz's 17), while leading the other three candidates in most audience applause and laugh lines (30), as recorded in a rush transcript analyzed by Bloomberg. All told, it was a solid debate performance, but unlikely to offset the double-digit deficit Rubio will have to overcome in Florida to beat Trump, according to state polls collected by RealClearPolitics.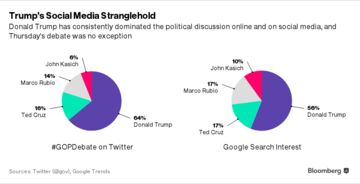 Prediction markets certainly don't expect Rubio to pull it off: Aggregator site PredictWise is currently giving him just a 13-percent chance of winning Florida, and an even more negligible three-percent chance of clinching the nomination (less than Cruz or Kasich), down from around 60 percent five weeks ago. Fantasy politics game Ballotcraft, whose users bet virtual money on political outcomes, is only slightly more optimistic: Its focus group named Rubio the candidate who best improved his nomination odds in Thursday's debate (to roughly 27 percent, but it was a temporary bump; as of this morning they are back down to roughly 25 percent), even though he remains the candidate most likely to drop out of the race next (around 60 percent).
As for Kasich, he's already said that winning Ohio will be a do-or-die moment for his campaign. Despite ranking dead last in every debate-performance metric that Bloomberg tabulated, Kasich has one notable advantage over Rubio going into March 15 voting: He is less than 3 points behind Trump in Ohio, and actually leads in the latest state poll.
Before it's here, it's on the Bloomberg Terminal.
LEARN MORE