Trump Campaign Arrives in Chicago Trailing Incidents of Violence
by and
Blacks, Hispanics protest following attacks on demonstrators

Front-runner denies he incites followers, blames local police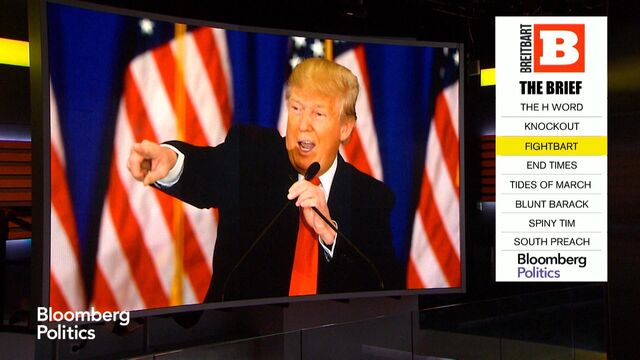 Donald Trump's raucous campaign tour makes its first stops today in U.S. cities still wrestling with racial tension spawned by police shootings, just as his rallies have turned increasingly violent.
Four days before primaries in Illinois, Ohio and Missouri, Trump will address supporters in St. Louis, a short drive from Ferguson, which erupted in 2014 after a grand jury didn't indict a white officer who shot an unarmed black teenager. Hours later, the Republican front-runner has a rally in Chicago, where Mayor Rahm Emanuel is dealing with the fallout of a video showing an officer shooting a black teenager 16 times.
"Chicago is like nowhere else right now," said Marshall Hatch, pastor of New Mount Pilgrim Missionary Baptist Church and an activist on the mostly black west side. "There's going to be significant protest activity."
For months, Trump has used ethnically charged rhetoric that draws big applause lines. Demonstrators often interrupt his rallies, and his supporters taunt and sometimes attack them. On Wednesday, a black protester was sucker-punched in Fayetteville, North Carolina. Authorities later charged 78-year-old John McGraw with assault, but not before he told a TV crew: "Yes, he deserved it -- the next time we see him, we might have to kill him."
During Thursday night's Republican debate, Trump was asked whether he'd set a tone that incites violence. "I hope not. I truly hope not," he replied. "I certainly don't condone that at all."
Video of the North Carolina incident showed sheriff's deputies detaining the man who was struck, ignoring his attacker as rally-goers hurled abuse at the protesters. Trump said blame for such chaos falls to local authorities.
"It's usually the municipal government, the police because I don't have guards all over these stadiums," he said.
When a questioner noted that Trump once said he'd like to punch a demonstrator in the face, he said, "We have some protesters who are bad dudes."
Wallace Echo
The Reverend Jesse Jackson, the Chicago-based civil rights leader, said he hasn't seen a presidential campaign similar to Trump's since that of George Wallace, the former Alabama governor, though he said Wallace's campaign was far from the center of political discourse.
"This is clearly mainstream," he said.
The number of demonstrators at the Chicago rally may be far greater than at previous events. The venue, the Pavilion on the University of Illinois at Chicago campus, seats about 7,000. A Facebook page "Trump Rally Protest - Chicago," which urges people to reserve seats to displace his supporters, by late Thursday had drawn 10,000 people who said they were going to demonstrate.
Chicago Police spokesman Anthony Guglielmi said the department is working closely with the Secret Service. "People can expect to see a very heavy police presence," he said.
The rally has drawn calls to protest from black leaders who denounce what they say are Trump's bigoted remarks, and from Hispanics angered that he has characterized Mexican immigrants as murderers and rapists.
Hispanics compose about 30 percent of Chicago's 2.7 million people. Activists see an opportunity to resist Trump's call for mass deportations and the building of a wall along the border with Mexico.
"We will not allow Donald Trump to come to Chicago without raising our voices to denounce his bigotry, his hatred and his prejudice," U.S. Representative Luis Gutierrez, a Democrat from Chicago, said during a March 7 press conference.
Raw Emotions
Trump is venturing into uncharted waters, said Sylvia Puente, executive director of the Latino Policy Forum, which presses Hispanic political and social concerns.
Emotions in Chicago remain raw after November's release of the dash-cam video showing an officer shooting 17-year-old Laquan McDonald. Protests in the nation's third-largest city mirrored those following police shootings in Ferguson and Cleveland, where Trump is scheduled to visit Saturday.
"I'm not sure he's had a rally in a true, blue state or a large urban environment" that's heavily populated by immigrants, Puente said.
Apart from the expected protest, Trump has had more than his share of controversy in heavily Democratic Chicago, whose last Republican mayor, William Hale Thompson, left office in 1931. In 2011, Trump joined conspiracy theorists who challenged the validity of the birth certificate of the city's most prominent politician, Democratic President Barack Obama.
Emanuel, Obama's former chief of staff, fought unsuccessfully in 2014 to prevent Trump from slapping 20-foot tall, silver letters spelling out T-R-U-M-P on the side of the billionaire's downtown skyscraper. Emanuel called it "architecturally tasteless."
Trump also has battled with the Ricketts family after Marlene Ricketts, wife of TD Ameritrade founder Joe Ricketts, contributed $3 million to an anti-Trump super-PAC.
Governor Who?
Unlike previous Republican candidates, Trump has few ties to big-name party officials. In an interview published March 6 in the Chicago Sun-Times, Trump said he's unfamiliar with Republican Governor Bruce Rauner, a billionaire former venture capitalist.
"Rauner? Who? Don't know him," Trump told the newspaper. One of Trump's rivals, Texas Senator Ted Cruz, was to appear Friday at an Illinois Republican Party fundraiser in honor of Rauner.
Still, Trump leads in surveys of Illinois voters. A Chicago Tribune poll conducted March 2 through 6 had him at 32 percent, with 22 percent for Cruz, 21 percent for Senator Marco Rubio, and 18 percent for Governor John Kasich.
At UIC, Chancellor Michael Amiridis sent a message to students, faculty and staff last week, stating that Trump's appearance on the 29,000-student campus doesn't represent an endorsement.
"The answer to speech that one does not like or finds offensive is more speech and not censorship," he wrote
In a reply, some professors and employees demanded to know what training UIC police had to ensure protesters weren't mistreated.
"We are deeply distressed," they wrote, "that this event threatens to create a hostile and physically dangerous environment to the students, staff, faculty and alumni who come out to express their opposition."
Before it's here, it's on the Bloomberg Terminal.
LEARN MORE