Sanders Preparing for Battle Over Ohio's 17-Year-Old Voters
by
Younger voters have swarmed to Sanders and his `revolution'

Threshold voters are 17 during the primary, 18 by Election Day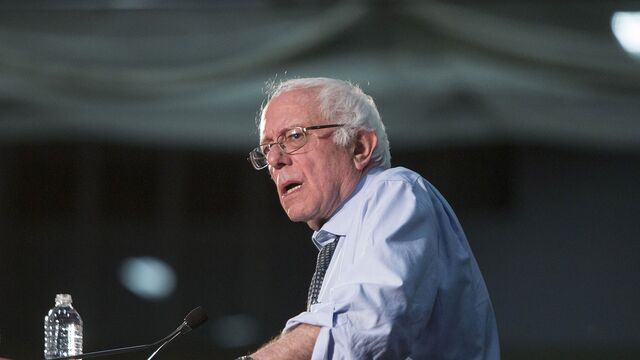 Bernie Sanders is going into battle for Ohio's youngest voters.
A federal judge in Columbus is weighing the Democratic presidential candidate's request for an order allowing 17-year-olds to vote in the state's March 15 primary if they'll be 18 by Election Day.
Ohio, a key general election swing state, is among about two dozen states that allow so-called threshold voters to cast primary ballots to increase turnout among young adults. Ohio's law was passed in 1981, but its meaning is now in dispute.
Secretary of State Jon Husted, a Republican, reinterpreted the law to block threshold voters from the polls, Sanders said in a suit filed March 8. According to Husted, 17-year-olds can vote to nominate a candidate but not in a presidential primary where delegates are elected instead of nominated. Husted asked the judge Friday to dismiss the case, arguing he was following established practices and that Sanders had waited too long to sue.
"They're trying to make it seem like that's the way it's always been, but it's not," Sanders's communications director, Michael Briggs, said in a phone call. Lawyers for Sanders may appear in court as soon as today, he said. "It's a fast-moving situation."
Surprise Victory
The junior senator from Vermont isn't taking any votes for granted after his surprise victory over Hillary Clinton in Michigan's primary this week. The win was driven in part by Sanders's popularity with younger voters, many of whom are attracted to his call for a revolution against the wealthy elite. Sanders got the support of 81 percent of those aged 18 to 29 in the Michigan primary, according to CNN's exit polls.
Groups aligned with Democrats are fighting court battles in several states to turn back what they say are Republican attempts to hinder voter turnout by minorities and young people who lean Democratic. The effort has focused on swing states.
In North Carolina, minority voters went to trial to overturn a strict voter restriction law. In Alabama, a federal judge is weighing the state's request to dismiss a lawsuit filed in December by an NAACP chapter over a 2014 voter-ID law. The judge in February rejected the group's bid for an injunction. In Virginia, a trial over that state's voter-ID law ended this month.
Impact Minorities
Sanders argues the Ohio age restriction will have a greater impact on minority voters who make up a larger percentage of younger voters. He also says that voters who participate in the primary are more likely to turn out on Election Day.
Husted's predecessor, Democrat Jennifer Brunner, advertised the law heavily to young people with a campaign called "Vote at 17," according to the compliant.
Ex-Ohio State Senator Nina Turner, a Democrat who ran against Husted for secretary of state, said Ohio law is clear that 17-year-olds may vote in presidential primaries.
"We should be encouraging young people to get involved in elections, not shutting them out," Turner said in a statement about the lawsuit.
An Outrage
"It is an outrage that the secretary of state in Ohio is going out of his way to keep young people -- significantly African-American young people, Latino young people -- from participating," Sanders said in a statement when the lawsuit was filed.
Husted says he's using the same rules that were followed in past primaries, under both Democratic and Republican administrations in Ohio, whose Republican governor, John Kasich, is also running for president. They can vote, but not on every issue, he said.
"17-year-olds can vote in the primary, but only on the nomination of candidates to the General Election ballot," Husted said. "They are not permitted to elect candidates, which is what voters are doing in a primary when they elect delegates to represent them at their political party's national convention, or vote on issues like school, police and fire levies."
Sanders addressed that claim in his complaint, saying Ohio's law "does not distinguish between primary elections in which candidates are nominated directly and primary elections in which candidates are nominated indirectly via the 'election' of proxy delegates."
Husted "has no sufficient justification for this unequal treatment," Robert G. Cohen, Sanders's lawyer, said in the filing. "This is an artificial and suspect distinction drawn for the first time."
The case is Smith v. Husted, 2:16-cv-00212, U.S. District Court Southern District of Ohio (Columbus).
Before it's here, it's on the Bloomberg Terminal.
LEARN MORE