Grades Are In
Report Card: Trump Unscathed in 12th Republican Debate
On the eve of potentially decisive primaries, billionaire's rivals play it shockingly safe.
by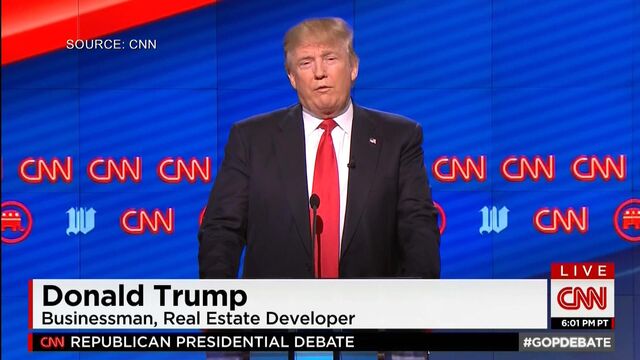 Never has there been a luckier front-runner. Donald Trump's three opponents not only declined to launch fierce attacks, but largely left him alone at Thursday night's Republican debate in Miami, Florida—for different reasons. Marco Rubio was forced to return to a positive message in the chastening wake of his failed antic and raunchy riffs against the billionaire. Ted Cruz played it safe much of the evening in an effort to hasten his wish for a 1-on-1 race. And hostile offense has never been John Kasich's brand. Even when Trump bragged about hiring foreign workers … crickets. The three underdogs rehashed some standard talking points and borrowed Trump's rhetoric on issues such as trade and deal making, but none had a significant soundbite moment.

Scored with a smart opening statement celebrating Republican turnout in the voting to date. Cool-headed and sedate, he played it safe himself, counterpunching the bare minimum when Cruz and, less frequently, Rubio, took their shots. Got ample time to tout his favorite broad themes, animated by toughness and optimism. Critics will howl, but, specifics aside, he sounded sufficiently reasonable and generally informed to win the nomination.

Confident and consistent but not warm and fuzzy. Tangled gently with Trump on a range of issues 30 minutes in, but quickly retreated, and only sporadically returned to fight-mode until an aggressive run near the finale.  Some fine moments but nothing anyone will remember by Friday COB.

More fiery than in some previous debates, but, in keeping with his character and his agenda, remained unsullied and upbeat. Touted his knowledge and experience, but lost one of his edges in the absence of sustained bickering by his rivals. Successfully made himself available to voters looking for a centrist, electable governor, but no hard sell.

After tough backlash, dropped his personal attacks on Trump and returned to earnest and broad policy critiques. Overcompensated to the point of dampening his trademark sizzle. Got stronger in the second half, but likely more in the eyes of a cadre of elites than a mass of voters. Needed a transformational, breakthrough performance from wire-to-wire, and instead showed only flashes of inspiration.
Note: Grades reflect many aspects of the candidates' performance, including style, substance, and crowd reaction, and whether a candidate seemed to improve or hurt his or her overall standing based on the debate.
Before it's here, it's on the Bloomberg Terminal.
LEARN MORE