Kumbaya
Donald Trump, Fierce in Past Debates, Shows His Cautious Side
There were few fireworks in Thursday night's Republican debate, and that benefitted the front-runner.
by and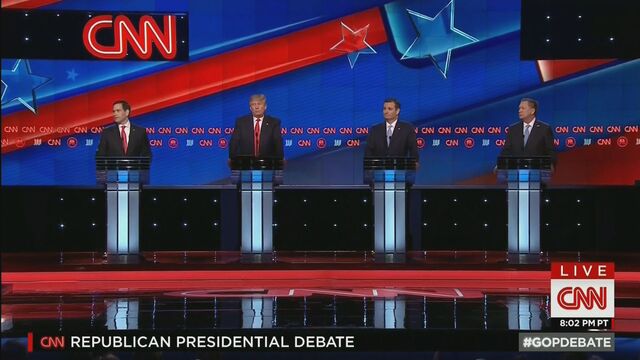 Donald Trump, who rode a wave of anger to the top of the Republican field, delivered an unusually measured debate performance Thursday, trading personal attacks for an all-encompassing message of unity.
"People come with tremendous passion and love for the country," Trump said, answering a question about one of his supporters sucker-punching a protester at a recent rally. "When they see what's going on in this country, they have anger that's unbelievable."
The unlikely front-runner sought to re-brand his rise in the nomination race, long attributed by his ability to tap into a disaffected conservative base, by highlighting strong Republican turnout in the primary as "one of the biggest political events anywhere in the world."
On the verge of building an insurmountable delegate lead with contests next week in Ohio and Florida, Trump seems intent on combating criticism that he lacks a presidential temperament.
"Maybe it shows I don't have to be so, let's say, flamboyant," Trump said Friday morning on Fox & Friends.
There was no "Little Marco." No "Lyin' Ted." When challenged by his rivals on the debate stage Thursday, Trump brushed them back briefly, as though they weren't worthy of his response. It was a cautious performance from a candidate known for the exact opposite.
None of the other final four contenders—Marco Rubio, Ted Cruz and John Kasich—seemed especially eager to challenge him. By the end, the candidate who once refused to participate in a GOP debate was offering nothing but praise for all involved.
"I thought it was a very elegant debate. I thought it was very substantive," he told CNN afterwards. "We needed this kind of a debate. We needed this kind of a tone, and I'm glad it took place tonight."
That softer tone during the debate at University of Miami's BankUnited Center was a surprising change of course in a Republican presidential primary season that has been colored by candidates cursing, attacking each others' height and hand size, and trying to outmuscle one another on tough talk about illegal immigration.
"This was the most strategic of the debates by far," said David Johnson, a former executive director of the Florida Republican Party. "No one wants to make a mistake, and for Trump that means deep breathing and peace. He didn't let anyone get him angry, and that helped the rope a dope strategy."
Johnson said Trump took a page from the playbook of Woody Hayes, the legendary Ohio State football coach known for his "three yards and a cloud of dust strategy" of winning games by taking the lead, playing defense and not making mistakes on offense.
"Helps in Florida," Johnson said, "but also in Ohio and North Carolina, Illinois and Missouri."
Mac Stipanovich, a longtime Republican operative in Florida, agreed, saying Trump "clearly believes he can coast to a win, and he's reducing the heat."
Still, there were commonalities with debates past. Trump avoided giving specifics, despite being pressed a number of times, regarding Social Security reform. And he was again quick to suggest criminal activity in business sectors where political pressure or new policies would bring lower costs. On Thursday, that was pharma.
"We don't bid things out. We don't bid out, as an example, the drug industry, pharmaceutical industry, and the reason is they have a fantastic lobby. They take care of all the senators, the congressman," Trump said. "Nobody is going to be taking care of me. I don't want anybody's money. I will tell you something. We're going to go out to bid in virtually every different facet of our government. We're going to save a fortune."
But most striking was the downshifting among the candidates when it came to direct attacks on each other.
The switch was most apparent for Rubio, the first-term senator from Florida who is an underdog in his own state's primary election on Tuesday. Rubio had spent the past two debates tormenting Trump—talking over him, challenging him on almost every answer—that debate moderators often had to repeatedly ask him to let the New York businessman speak. But Rubio's approach often included mocking Trump, a strategy he now admits to regretting.
"When it comes to foreign policy in particular, I think last night you did see some sharp distinctions and I did think I was able to make them without calling anyone a name," Rubio said Friday on CNN's New Day.
Cruz, another first-term senator from Texas, appeared most willing to take on Trump. On trade, Cruz said Trump was "right about the problems, but his solutions don't work." On foreign policy, Cruz criticized Trump for wanting to remain neutral in the ongoing conflict between Israel, on the nation's strongest allies, and the Palestinians. He called Trump's language "incendiary."
"The answer is not to yell, 'China bad, Muslims bad,'" Cruz said. "You've got to understand the nature of the threats we're facing and how you deal with them."
In his opening remarks, Trump urged the Republican Party elites to get behind his candidacy. "The Republican establishment or whatever you want to call it should embrace what's happening," Trump said, saying his campaign has inspired millions of new voters to participate in primary contests.
"They're voting out of enthusiasm, they're voting out of love," Trump said, promising that he could beat the Democratic nominee "soundly."
After the debate, Democratic National Committee Chair Debbie Wasserman Schultz told reporters that she views Trump as the presumptive Republican nominee.
"Absolutely," she said at the debate venue. "They have the nominee that they deserve, that they've earned."
Republican National Committee chairman Reince Priebus seemed to set the tone early, telling the audience before the debate that any of the Republican candidates would make a better candidate than either Democratic presidential front-runner Hillary Clinton or Senator Bernie Sanders.
"This party is going to support the nominee, whoever that is, 100 percent," Priebus said.
But with Trump's measured performance, he made a play to consolidate that support sooner rather than later, and was sure to let the audience know that he would announce the endorsement of formal rival Ben Carson on Friday at the billionaire's Mar-a-Lago estate in Palm Beach. 
Given that Trump likened Carson to a child molester during the campaign, the nod is yet another sign that many in the party see his nomination as all but inevitable. 
—With assistance from Terrence Dopp, Kevin Cirilli and James Nash.
Before it's here, it's on the Bloomberg Terminal.
LEARN MORE