Why Marco Rubio Is Florida's Not-So-Favorite Son
Failure to maintain political relationships, misunderstanding the shifting electorate, and other consequences in Florida of the senator's six-year quest for the GOP nomination.
by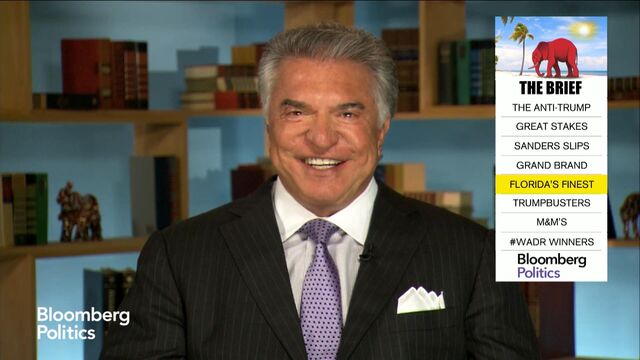 Marco Rubio has been effectively running for president for the past six years. It may end up costing him a much-needed victory in his own home state—and with it, any hope of the Republican nomination. 
For all of the Florida senator's attention to the national political scene—getting out front on an immigration issue party leaders identified as a priority, backing away when conservative activists rejected it, campaigning for other Republican candidates, orchestrating his own immigration apology tour along the way—Rubio has left his most important voters—the ones who've actually pulled a lever for him—unattended. And now, as Rubio needs his home state more than ever, he's finding they've moved on, too. Two recent polls in advance of the Florida primary next Tuesday show Rubio getting doubled up by New York businessman and former reality TV show host Donald Trump.
"We've had a hard time getting him to visit the grassroots," Michael Barnett, the Palm Beach County Republican chairman, said about Rubio. "We've invited him to be our Lincoln Day speaker every year, and he always turned us down for one reason or another. He has his priorities."
His absence in his own state has been noticed. While other senators, including Iowa Republican Chuck Grassley and New York Democrat Charles Schumer, make a point to visit every county in their state each year, no goal exists for Rubio. A political calendar maintained by News Service of Florida shows Rubio has held just a handful of public events each year he's been in office, which include his book tour stops and campaign rallies for other candidates.
"I am the mayor of the third-largest city in this state. I have never met Marco Rubio," Tampa Mayor Bob Buckhorn, a Democrat, said on MSNBC on Monday. "He has never taken the time, either in Washington, D.C. or in Tampa."
At Rubio's rally in Sarasota on Tuesday, even supporters wished Rubio had better answers for his absences.
"He definitely should have been here more, been present and really addressed Floridians," Denise Kassal, a 54-year-old a hospice nurse. "He's trying to unify the country but he should have unified his state first. He should have said: 'I'm leaving but I'm leaving for you and I'll be back.' That would have helped."
Rubio's inattention to Florida has left him little help from the state's other top Republican officeholders and donors who initially backed former Florida Governor Jeb Bush. Many of these influential Republicans, if you buy the theory that life imitates art, see a certain justice in watching this Shakespearian tragedy come to a conclusion with Rubio's bloodied candidacy crawling to the finish line on election night on Tuesday in his own backyard.
"I was put off by the fact that Marco didn't endorse Jeb," said Al Hoffman, a Florida real estate developer and former U.S. ambassador to Portugal. "I held fundraisers for his re-election campaign, and that's when he told me he'd support Jeb when the time came. But that's ok. He'd going to do what he wants to do."
When Bush dropped out, there was hardly a rush to Rubio among Floridians. Many of his donors remain on the sideline, as does Bush, who is unlikely to endorse before Tuesday and took meetings Thursday with Rubio rivals Ted Cruz and John Kasich. Rubio, who met with Bush on Wednesday, also won't get endorsements from the top two Republican offices holders in the state, both of whom were elected to their first statewide office on the same ballot as Rubio.
Florida Governor Rick Scott, the former chief executive of HCA hospital chain who fought the Republican establishment to win office, identifies more with the brash billionaire. Attorney General Pam Bondi is also, somewhat astonishingly, said to have a closer relationship with Trump than Rubio.
The problem is deeper than simply failing to maintain relationships. Rubio may have lost his feel for the pulse of the electorate, which may ultimately prove to be his biggest hurdle in Florida.
Rubio, like many of his rivals, underestimated Trump's staying power and overestimated his own juice with the base. He refused to take on Trump early in the race, apparently believing that a waiting game would be most effective. And when he finally did, it was a grating comedy routine that made fun of Trump for having small hands and suggesting front-runner wet his pants during a debate. In the process, he no longer resembled the carefully manicured image he and his team spent years protecting, but more like a WWF wrestler who hides under the ring during a royal rumble, only to shock the crowd by popping up at an opportune moment. It was a lurch, hard for voters to understand, which is never good for a politician.
And Rubio's status as Anointed One and Future of the Republican Party had definite limits. The GOP base has repeatedly sent Rubio mixed signals, by regularly protecting their boy king but ultimately stopping short of elevating him fully to the throne. Consider that in 2012, presumptive Republican nominee Mitt Romney had to halt his campaign in order to quell a rebellion from the base over a news report that Rubio hadn't been vetted as a potential running mate. Even as recently as September, conservatives booed Trump at the Value Voters summit in Washington when he called Rubio a "clown."
Now the most rabid conservatives are looking elsewhere. At a rally in Orlando on Saturday, Trump filled the stands with more than 10,000 people and featured one speaker after the next who just eviscerated Rubio while the crowd cheered every word.
"Little Marco Rubio," Trump said, using the sneering honorific he's bestowed on the 44-year-old senator. "He never shows up anywhere. I don't know what the hell. What does he do with all of his free time?"

Rubio has the mind of a political strategist, and his most significant career accomplishment was in 2010 when he identified the deep distrust among conservatives for the state's moderate Republican governor, Charlie Crist, and waged an unlikely but successful primary challenge against him for the state's open U.S. Senate seat that year. He was identified as the first senator from the Tea Party in a New York Times Magazine profile that year.
But many of those men and women who helped that campaign—from his donors to volunteers—have since scattered, seeking others who they see as more committed to the conservative cause and fueled less by their own ambition.
"Marco's lost touch with his first line of support," said Mac McGehee, a Jacksonville paper company executive who was co-chairman of the finance team for Rubio's Senate campaign and now supports Ted Cruz's presidential bid. "He's lost touch with a lot of the people that initially came out and supported him."
McGehee said he felt burned by Rubio's work on the 2013 immigration reform, which provided a path to citizenship for undocumented immigrants, and questioned the senator's effectiveness.
"It seems like his term in the Senate has been a calculated effort for the presidency," he said. "It looks like he's been running for the presidency for six years."
Rubio's campaign manager, Terry Sullivan, suggested just that at a recent meeting with donors in New York.  Sullivan told donors that he was tasked "years ago" with the job of gaming out Rubio's presidential campaign, according to audio of the meeting published by Breitbart.com.
Rubio absence from the Senate has been an issue for months on the campaign trail. He's missed more votes than any other U.S. Senator, and rarely attends committee hearings. 
"That's why I'm missing votes, because I am leaving the Senate," Rubio said during a September debate at the Ronald Reagan Library in Simi Valley, California. "I'm not running for re-election, I'm running for president."

In the Senate, Rubio has not been as devoted to Florida causes as some at home would wish. He was largely silent on 2014 bill that sought to halt skyrocketing flood insurance rates in Florida before ultimately supporting it. He's been a nonfactor on Everglades issues, one of the top priorities in Florida, said Eric Draper, executive director of Audubon of Florida.
"Rubio has never been particularly helpful on Everglades issues in Washington," Draper said, pointing to the state's Democratic Senator Bill Nelson and Republican U.S. Representative Mario Diaz-Balart as examples of the bipartisan work on the issue in the state. "The Florida delegation has almost been undivided on this issue. But Rubio has been a real disappointment."
Standing under palm trees outside the West Miami Regional Library, just a few miles from Rubio's home, Juan Fiol wave signs for Donald Trump in almost the same spot he did six years ago for Rubio's Senate campaign.
Dressed in jean and a black "Estoy con Trump" t-shirt, Fiol said he's confident Trump is doing well in Rubio's hometown based on his informal poll of people who come out of the early voting polls and give him either a thumbs up, or the middle finger.
A Rubio volunteer walks to her car and shouts to Fiol that he's going to owe her $100 soon. The bet? Not that Rubio may win Florida, but that Trump will ultimately run the country as president.
"I volunteered for Marco, made calls, knocked on doors, waved signs for him in that Senate race," Fiol said. "But then he went to the Senate and became someone else, not what he promised. I'm not happy about that."

—With assistance from Terrence Dopp.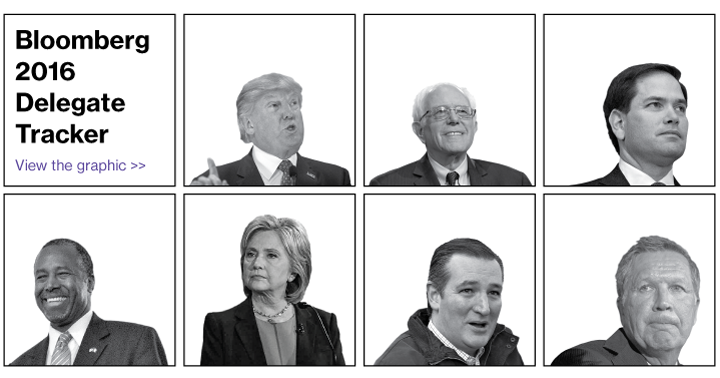 Before it's here, it's on the Bloomberg Terminal.
LEARN MORE