Obama and Republicans Trade Fire Over Nominee to Replace Scalia
by and
Republican obstruction hurts perception of court, Obama says

Democrats are playing politics with issue, Grassley charges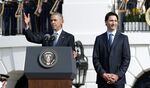 President Barack Obama said Thursday that Senate Republicans threaten the credibility of the Supreme Court by obstructing his nominee to replace Justice Antonin Scalia, and Senator Chuck Grassley charged that Democrats were playing politics with the vacancy.
Partisan warfare over the court seat is raging up and down Pennsylvania Avenue in Washington, with the backdrop of the presidential election only intensifying the stakes. Should Obama succeed in replacing Scalia, a conservative appointed by President Ronald Reagan, the court would undoubtedly tilt leftward.
"I'm going to do my job and then my expectation's going to be, will the Senate do its job as outlined in the Constitution," Obama said Thursday at a joint news conference at the White House with Canadian Prime Minister Justin Trudeau. "I'm confident that whoever I select, among fair-minded people, will be viewed as an eminently qualified person. It will then be up to Senate Republicans to decide whether they want to follow the Constitution and abide by the rules of fair play that undergird our democracy and ensure the Supreme Court doesn't become one more extension of our polarized politics."
Grassley, the Republican chairman of the Judiciary Committee, which would hold hearings on any nominee, vigorously defended his position that no Obama selection should be considered this year. He said he would not be swayed and that Democrats were playing politics by demanding a hearing and votes for a nominee Republicans would never confirm.
"Why all this 'outrage' about a hearing? Why the 'demands' for a hearing that everyone knows would never result in a confirmation?" Grassley said. "It's because the other side is committed to using this process to score as many political points as possible. That's it. Plain and simple."
Obama has privately interviewed potential choices as he nears a decision on a nominee. The announcement could come as soon as next week, with the Senate scheduled for its spring recess at the end of the week and Obama leaving March 20 for Cuba and Argentina.
Grassley Opponent


Grassley said his position would hold even for a judge from his home state of Iowa. He was indirectly responding to reports that in considering potential nominees, the White House has vetted Jane Kelly of the 8th Circuit Court of Appeals, who was unanimously confirmed to her current job by the Senate.
Democrats have seized on Grassley's obstruction to recruit a top-tier opponent to challenge his re-election this year, former Iowa Lieutenant Governor Patty Judge. She met this week with Senate Democrats, and Minority Leader Harry Reid called her "one Judge Senator Grassley can't ignore."
The senior Democrat on Grassley's committee, Patrick Leahy of Vermont, dismissed the chairman's argument, saying that refusing to hold a hearing on a Supreme Court nomination would be unprecedented. In every instance, even when the Judiciary Committee opposed a Supreme Court nominee, the nomination was reported to the full Senate for consideration, Leahy said.
"I'm sorry that you feel that somehow this attention is directed at you and it's about you. It's not. It's about the Constitution," Leahy said to Grassley.
During the Senate Judiciary Committee's first business meeting since Scalia's death, Grassley quoted at length from a 1992 Senate floor speech by Vice President Joe Biden, who chaired the Judiciary panel at the time. Biden had urged President George W. Bush to consider not nominating a replacement should a Supreme Court opening arise before elections that year, in which Bush was defeated by Arkansas Governor Bill Clinton.
"Chairman Biden was making the point that all of us know to be true, but only some of us are willing to admit: considering a Supreme Court nomination in the middle of a presidential campaign would be all politics, and no Constitution," Grassley said in prepared remarks.
Short List
Other likely candidates under consideration by Obama, according to people familiar with the process, include Sri Srinivasan of the U.S. Court of Appeals for the District of Columbia Circuit; Merrick Garland, chief judge of the same appeals court; Paul Watford of the 9th Circuit Court of Appeals and Ketanji Brown Jackson, a district court judge in the District of Columbia.
Attorney General Loretta Lynch, a former Brooklyn federal prosecutor promoted by some civil rights advocates who have urged Obama to nominate the first black woman to the court, withdrew herself from consideration earlier in the week. She said the confirmation process would interfere with her current duties.
Obama said Thursday that Supreme Court justices are ideally "objective" and "able to execute their duties in a way that gives everybody, both the winning party and the losing party in any given case, the sense they were treated fairly."
"That depends on a process of selecting and confirming judges that is perceived as fair," he said.
Obama said that his nominee will "recognize the critical role" the Supreme Court plays "in protecting minorities and making sure the political system doesn't skew in ways that systematically leave people out."
'New Rule'
Senator Lindsey Graham of South Carolina acknowledged that Republicans, by obstructing a nominee in Obama's final year, would set a precedent prohibiting future presidents from naming Supreme Court justices at the end of their terms.
"That's going to be the new rule," he said.
Graham said he would vote for a qualified nominee by Hillary Clinton, if she is elected president, even though he said he expected she would pick somebody more liberal than Obama's choice.
Democrats warned of chaos from a deadlocked 4-4 Supreme Court, which could leave in effect conflicting appeals court rulings in different parts of the country. But Grassley said there have been multiple times in history where the Supreme Court had a vacancy for more than a year.
"The sky didn't fall," Grassley said.
Before it's here, it's on the Bloomberg Terminal.
LEARN MORE