Fight Night
Trump Embraces Unity While Batting Away Rivals in Subdued Debate
Flanked by his rivals for the party's presidential nomination, Trump turned in a measured, restrained performance unlike his showing in the debates that came before.
by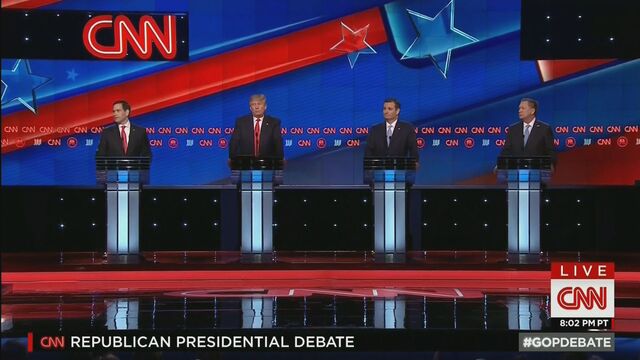 The final four candidates for the Republican nomination mostly got along during the first half of the latest debate, striking a more civil tone underscored by calls for unity by the party's national chairman and by insurgent front-runner Donald Trump.
Flanked by his rivals for the party's presidential nomination, Trump turned in a measured, restrained performance unlike his showing in the debates that came before.
"So far, I cannot believe how civil it's been up here," Trump said with a smirk.
Under questioning from CNN moderator Jake Tapper about recent episodes of violence at his rallies, Trump said he hoped his tone wasn't contributing to the incidents. "I heard about it. I don't like it. When they see what's going on with this country, they have anger. There is some anger. There is also great love for the country, but I certainly don't condone that [violence]."

He also said, "We have some protesters who are bad dudes. They have done some bad things," and that it's often up to local law enforcement to step in and break up the protests. The group Black Lives Matter has protested at some recent Trump rallies over his comments on Muslims and immigration.
Earlier in the debate, senators Marco Rubio of Florida and Ted Cruz of Texas turned on Trump, in the hopes they could prevent the billionaire from building an insurmountable lead during Tuesday's primary contests in Florida, Ohio and elsewhere.
"Presidents can't just say what they want. It has consequences, here and around the world," Rubio said in a rebuke to Trump's attack on Islam.
Trump replied, "We've had a lot of consequences, including airplanes flying into the World Trade Center," he said. ''You can be politically correct if you want."
"I'm not interested in being politically correct, I'm interested in being correct," the Florida senator replied.
The night began with Reince Priebus, the party's national chairman, trying to put a positive face on the open warfare among Republicans.
"This party is going to support the nominee, whoever that is, 100 percent," he said.
Those unity appeals seemed to carry over into much of the debate, which was for long stretches was substantive, subdued and civil -- a sharp contrast to the two previous Republican debates, which devolved into cross-talk and insults over who sweats more and whether Donald Trump is manly enough. Tonight the candidates debated changes to immigration visa waivers, education policy and Social Security -- with Rubio saying the retirement age needs to be gradually raised to 70 and Trump promising to keep the program as it currently stands.
"We better deal with it or we are going to have to explain to kids why we left them them a disaster," Rubio said.
Trump also walked a difficult line on reforming the country's immigrant visa policy, which he himself has acknowledged taking advantage of in his real estate business. 
"Nobody knows the system better than me. I know the H1B, I know the H2B -- nobody knows it better than me. I'm a businessman," Trump said. "These are laws, these are regulations, these are rules we're allowed to do. And frankly, because of the devaluations, the monetary devaluations that other countries are constantly doing and brilliantly doing against us, it's very, very hard for companies in this country to compete. So I will take advantage of it -- they are the laws -- but I'm the one who knows how to change it."
Earlier, Trump also tried to sound a more conciliatory note, saying the often-fractious primary process is actually good for the Republicans because it's bringing converts who will stick with the party in November.
"One of the biggest political events anywhere in the world is happening with the Republican party. They're voting out of enthusiasm. They're voting out of love," Trump said. "Some of these people frankly have never voted before...We're taking people from the Democratic Party. We're taking people from independents."
"The Republican establishment, or whatever you want to call it, should embrace what's happening," he said.
Trump announced that retired neurosurgeon Ben Carson, who dropped out of the presidential contest, would endorse him on Friday. This is a blow to Cruz, who had courted Carson because they appeal to many of the same religious-minded voters.
The candidates met for their 12th debate, held at the University of Miami, just five days before one of the biggest primary slates of the campaign season.
Trump, Cruz, Rubio and John Kasich met in Florida, which is the biggest prize of next week's primaries that have more than 350 delegates up for grabs. Both Florida and Ohio are winner-take-all contests, and Trump currently holds an advantage in both, according to recent polls.
With 99 delegates available in Florida, pressure is on Rubio—the state's junior U.S. senator—to turn in a strong debate performance. Rubio, who has won just two of the first 26 nominating contests, may be facing elimination if he fails to win his home state. Recent polls have showed him well behind Trump in Florida.
With Rubio struggling to find traction, many in the party's pro-business wing have been trying to talk themselves into backing Cruz. The Texas senator -- who picked up an endorsement on Thursday from Mike Lee of Utah, the first senator to support him—has wasted few opportunities to rail against the party's establishment. But that outsider image he cultivated has been overshadowed by Trump.
Trump did not face questions during the debate about a reported dust-up between his campaign manager, Corey Lewandowski, and Breitbart News reporter Michelle Fields. The Washington Post reported on Thursday that Lewandowski grabbed Fields by the arm hard enough to leave bruises and make her cry in an attempt to keep her from asking Trump a question. Trump spokeswoman Hope Hicks has denied the account.

After the debate, Trump told reporters, "I don't think it ever happened. Because he was surrounded by Secret Service agents, many of them who were with me, and I didn't see anything happen. . . I can tell you, the Secret Service people don't seem to think that anything happened."
Kasich is also defending his home turf on Tuesday in Ohio, where he's governor. On Thursday, he picked up an endorsement from Ohio State University football coach Urban Meyer, and has also been endorsed by the Cleveland Plain Dealer and Akron Beacon Journal.
Former Florida Governor Jeb Bush, who ended his presidential campaign last month in South Carolina, is considering an endorsement in the race of someone other than Trump. He met with Rubio on Wednesday, and planned to meet with Cruz and Kasich on Thursday. Those close to Bush said it was unlikely he'd back a candidate before the state's primary.
The debate was hosted by CNN, Salem Media Group and the Washington Times, and was moderated by CNN's Tapper and Dana Bash, Salem radio host Hugh Hewitt, and Washington Times correspondent Stephen Dinan. 
Before it's here, it's on the Bloomberg Terminal.
LEARN MORE