Grades Are In
Report Card: Immigration Records Highlight Clinton, Sanders Miami Melee
The underdog Vermonter rode a wave after Michigan win and turned in a confident performance.
by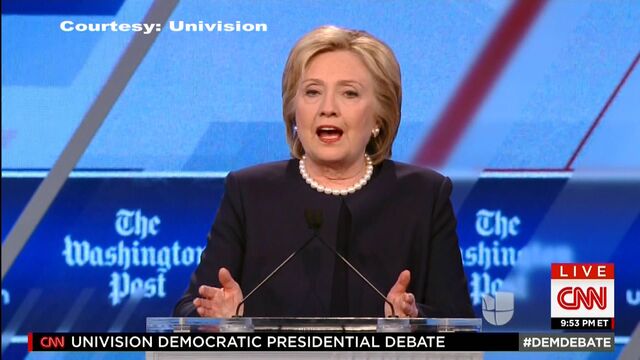 Early conflict over immigration records defined a night of spirited contention between two testy and determined combatants, although most of the disagreements covered familiar ground and employed rehearsed rhetoric. In the wake of Sanders' Michigan victory and continued fundraising prowess, both candidates (along with the supporters who cheer for them and the reporters who cover them) seemed resigned to prolonged political trench warfare.

Consistently more precise and energetic than in the most recent debate. Less negative, more natural, more earnest, and more on message than his opponent. Sometimes missed chances to pivot to his favored big-picture themes, given the specific moderator queries, but struck many progressive chords that got the audience revved up and cheering. Clinton's delegate lead looms large, but he showed why he is inspiring tens of millions of liberals across the country.

Initially positioned herself as the chief Democratic leader, focused on the GOP and party differences. Then shifted to dish out cherry-picked criticism of her rival's congressional votes (sometimes in a misleading fashion) —but often bristled when he swiped back at her. Was given noticeably tougher questions than Sanders, and offered serviceable if pre-packaged answers on topics such as her email server, voters' distrust of her, and Benghazi. Avoided any glaring oh-my moments that could have supercharged Sanders' newfound momentum, but didn't do anything to slow him down.
Note: Grades reflect many aspects of the candidates' performance, including style, substance, and crowd reaction, and whether a candidate seemed to improve or hurt his or her overall standing based on the debate.
Before it's here, it's on the Bloomberg Terminal.
LEARN MORE