Grassley Defends Vow to Block Debate on Supreme Court Nominee
by
Chairman says he won't budge, even if Obama picks Iowa judge

Senator faces fresh Democratic challenger in re-election bid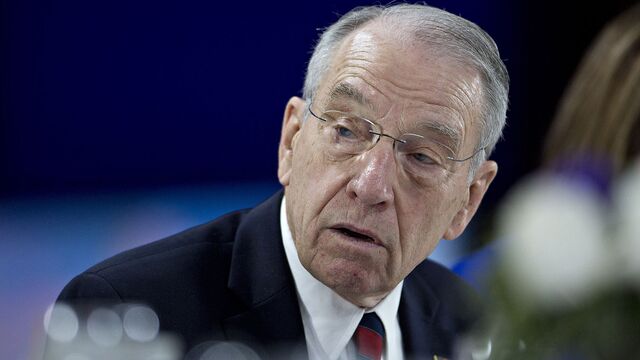 Senate Judiciary Chairman Chuck Grassley vigorously defended his vow to block hearings and votes on any Supreme Court nominee this year in a highly charged committee meeting Thursday.
The Iowa Republican said he would not be swayed, and accused Democrats of playing politics by demanding a hearing and votes for a nominee Republicans would surely block.
"Why all this 'outrage' about a hearing? Why the 'demands' for a hearing that everyone knows would never result in a confirmation? It's because the other side is committed to using this process to score as many political points as possible. That's it. Plain and simple," Grassley said.
Democrats have seized on Grassley's blockade, with former Iowa Lieutenant Governor Patty Judge announcing she will run against him as he faces re-election this year. Judge met this week with Senate Democrats, and Minority Leader Harry Reid called her "one Judge Senator Grassley can't ignore."
President Barack Obama is expected in the coming days or weeks to nominate someone to fill the Supreme Court vacancy created by the death of Justice Antonin Scalia. He is considering a number of possible candidates, including a federal appeals court judge from Iowa, Jane Kelly, according to a person familiar with the matter.
Constitutional Debate
The ranking Democrat on Senate Judiciary, Patrick Leahy of Vermont, dismissed Grassley's defense, saying that denying a hearing on a Supreme Court nomination would be unprecedented. In every instance, even when the Judiciary Committee opposed a Supreme Court nominee, the nomination was reported to the full Senate for consideration, Leahy said.
"I'm sorry that you feel that somehow this attention is directed at you and it's about you. It's not. It's about the Constitution," Leahy said to Grassley.
During the Senate Judiciary Committee's first business meeting since Scalia's death, Grassley quoted at length from a 1992 Senate floor speech by Joe Biden, who chaired the Judiciary panel at the time, urging President Bush to consider not nominating a replacement should a Supreme Court opening arise before the election.
"Chairman Biden was making the point that all of us know to be true, but only some of us are willing to admit: considering a Supreme Court nomination in the middle of a presidential campaign would be all politics, and no Constitution," Grassley said in prepared remarks.
Election-Year 'Cauldron'
Grassley made clear nothing would sway him, not even if Obama nominates an Iowa judge.
"In case there is any confusion over whether this obvious political ploy would work, let me be crystal clear: It won't," he said. "We're not going to drop any nominee into that election-year 'cauldron,' and I'm certainly not going to let it happen to an Iowan."
Leahy retorted that the Constitution requires Obama to nominate and the Senate to consider that nomination.
"The American people want us to do our job. We're paid to do our job," Leahy said.
But Grassley said he can't find any Democrat who disagreed with Biden in 1992 or any editorials attacking him either.
"So much for fairness," said Grassley, who has faced numerous editorials blasting his stance back in Iowa.
'Setting a Precedent'
Senator Lindsey Graham of South Carolina acknowledged Republicans were setting a precedent that would block consideration of any nominee by presidents in their final year in office.
"We are setting a precedent here today, Republicans are," he said. "That's going to be the new rule."
Graham also added that he would vote for a qualified nominee by a President Hillary Clinton, even though he expected she would pick somebody more liberal than Obama would send to the Senate.
Democrats warned of chaos from a deadlocked 4-4 Supreme Court, which could leave in effect conflicting appeals court rulings in different parts of the country.
But Grassley said there have been multiple times in history where the Supreme Court had a vacancy for more than a year.
"The sky didn't fall," Grassley said.
Before it's here, it's on the Bloomberg Terminal.
LEARN MORE