Sanders Scores Upset Win Over Clinton in Michigan Primary
by and
Clinton wins Mississippi's Democratic presidential contest

Sanders raises stakes for five-state showdown next week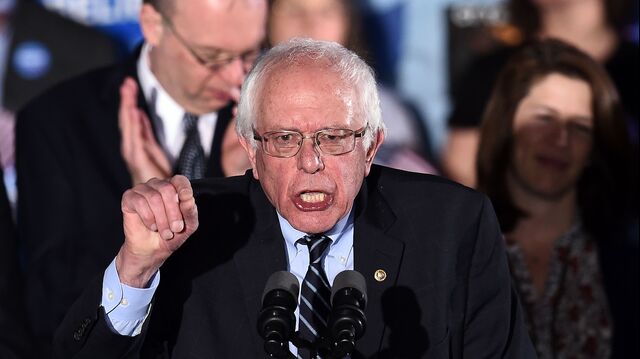 Bernie Sanders scored an upset win over Hillary Clinton in the Michigan Democratic primary, overcoming the double-digit lead she held in polls ahead of the vote and proving he can win in a diverse industrial state.
While Clinton won Tuesday's other contest, the Mississippi primary, the victory by Sanders in Michigan dents her front-runner status and helps him extend the campaign for the Democratic presidential nomination. It also exposed a weakness for Clinton with attracting white, working-class voters who will be a prime constituency in industrial states for the general election in November.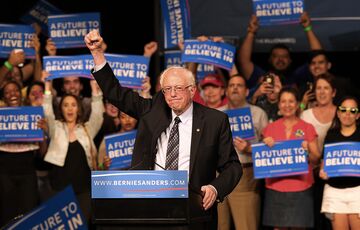 With 99 percent of precincts reporting, Sanders had 49.9 percent of the vote to Clinton's 48.2, according to the Associated Press. In Mississippi, Clinton dominated, taking 83 percent of the vote to 16 percent for Sanders.
The Mississippi win helped Clinton expand her overall delegate lead on Tuesday, according to the Associated Press. Republican front-runner Donald Trump said Wednesday that he still expects to face her in the general election but that the Michigan loss is a bad harbinger for the Democrat.
"She'll definitely get the nomination -- this was just a bump. But losing Michigan is more than a bump in the general because it says the people don't want her," Trump said on CNN.
Heading into the Michigan balloting, Clinton had a lead of more than 20 percentage points in an average of recent polls compiled by RealClearPolitics. But Sanders, a Vermont senator, hammered his message of a rigged economy benefiting the wealthy at the expense of the middle class. He also linked her to trade deals that have resulted in lost manufacturing jobs, which resonated in a state dominated by the auto industry.
The outcome sets up defining contests on March 15 in states including Ohio, Florida, and Illinois, where Clinton hoped her momentum coming out of Michigan would allow her to garner enough delegates to create an all-but-insurmountable delegate lead.
In a hastily called press conference outside his hotel in South Miami, Florida, before the race was called, Sanders thanked voters and supporters in Michigan who backed him despite his lagging polls and pundits who said he was finished.
"What tonight means is that the Bernie Sanders campaign, the people's revolution that we are talking about, the political revolution we are talking about, is strong in every part of the country," he said.
Clinton, addressing supporters in Cleveland, didn't mention the Michigan vote and instead talked more generally about the contrasts between the race she's running with Sanders and the Republican campaign.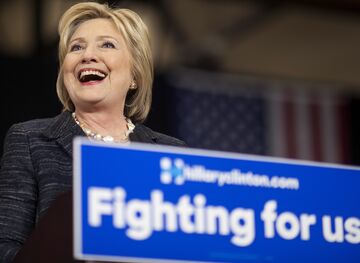 "This has been so far a campaign focused on the issues and I'm proud of the campaign that Senator Sanders and I are running," she said.
Clinton's campaign brushed aside the defeat and stressed that the former secretary of state is still on track to win the nomination and is ready to start focusing on the campaign against the Republican nominee.
"There's a lot at stake so we would like to wrap it up as soon as soon as possible," Jennifer Palmieri, Clinton's communications director, said. "But we also understood that Senator Sanders will have a lot of resources and he's got a lot of committed support. So that's not up to us."
Exit polls in Michigan showed Sanders winning 54 percent of men and 67 percent of voters 44 and younger. While Clinton won a majority of the black vote, 65 percent, they represented a smaller proportion of the electorate than in the Southern states she swept in previous weeks.
Clinton's victory in Mississippi was broad-based. She won 90 percent of black voters and 65 percent of whites, according to exit polls published by CNN. She also won every age group, 79 percent of men and 83 percent of women, exit polls showed.
Clinton went into the night with a delegate lead of 1,134 to 499, including superdelegates, elected officials and other party leaders who can switch allegiances, according to an Associated Press tally. By Wednesday morning, Clinton had extended her total delegate advantage over Sanders to 650. A total of 2,383 delegates is needed to win the nomination.
Before it's here, it's on the Bloomberg Terminal.
LEARN MORE