Lynch Asks White House Not to Consider Her for Supreme Court
by
Attorney general cites urgent issues at Justice Department

Republicans have vowed to thwart Obama's nominee in Senate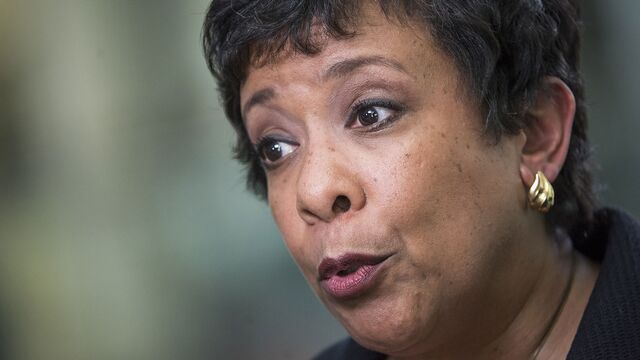 Attorney General Loretta Lynch asked the White House to remove her name from consideration for the U.S. Supreme Court seat opened by the death of Justice Antonin Scalia.
While saying it was an "honor" to be considered for the court, Lynch said at a "Women in the World" event in Washington late Tuesday that the nomination process would interfere with her current work.
"The nomination process has inherent limitations on what you can and can't do, particularly when you're in a policy position," Lynch said during an interview with Tina Brown at the event. "I love this job, I am so fulfilled by what I am doing. There's so much that I want to push through and cross that goal line before the end of this administration."
Lynch was among those frequently mentioned by some Democrats as a potential court nominee by President Barack Obama following Scalia's death. While selecting Lynch might have generated enthusiasm among Democratic voters in an election year, it also likely would harden resistance among Republicans in the Senate. She was confirmed by the Senate as attorney general in a 56-43 vote in April.
Majority Leader Mitch McConnell of Kentucky and other Republican senators have said they don't plan to hold hearings on a nominee put forward by Obama to fill the vacancy, citing the presidential elections later this year.
'Deeply Grateful'
"While she is deeply grateful for the support and good wishes of all those who suggested her as a potential nominee, she is honored to serve as attorney general, and she is fully committed to carrying out the work of the Department of Justice for the remainder of her term," Melanie Newman, a spokeswoman for the Justice Department, said in an e-mailed statement. "Given the urgent issues before the Department of Justice, she asked not to be considered for the position."
As a career federal prosecutor, Lynch wouldn't have a history of court decisions that could have been targeted by critics during a nomination process. But her work as attorney general could also have created some political headaches for the administration.
The attorney general recently came under fire from Silicon Valley after the Justice Department asked a judge to order Apple Inc. to help the FBI break into an iPhone used by a gunman who carried out a December shooting in San Bernardino, California. Apple and other Silicon Valley firms have said doing so would effectively create a backdoor breaking the encryption that secures their products.
Republicans also have been critical of Lynch for her department's support of Obama's executive action on immigration. A federal court has blocked implementation of the president's move, which would have deferred deportation for as many as 5 million undocumented immigrants.
Some Republican lawmakers also have criticized Lynch for not appointing a special prosecutor to oversee the investigation into former Secretary of State Hillary Clinton's use of a private e-mail server.
Jane Kelly, a federal appeals court judge in Cedar Rapids, Iowa, also is being vetted by the administration for a potential high court nomination, a person familiar with the process has said.
Before it's here, it's on the Bloomberg Terminal.
LEARN MORE