Kasich and Sanders Have Outperformed Polls, But Can They Pull Off Upsets in Michigan?
They face steep odds, according to one measure.
by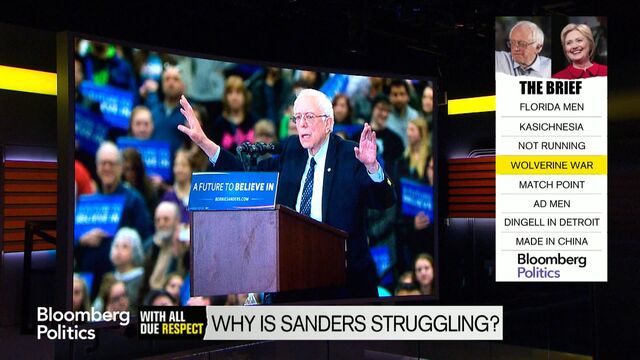 It's now possible to compare presidential candidates' performance in the polls to their performance on the ballot in more than a dozen states that have voted so far, and a Bloomberg Politics analysis shows the steep challenge John Kasich and Bernie Sanders face in Tuesday's Michigan primary.
Kasich is closest on Donald Trump's heels, trailing him by 12.3 percentage points in a Michigan poll average compiled by RealClearPolitics on Tuesday morning. To beat Trump, Kasich doesn't have to do as well as he did last week in Vermont (where he outperformed his poll average by 20.4 points), but needs to do better than he did in Virginia (where he still outperformed his poll average, but only by 2.4 points). Virginia, a purple state, is a better comparison to the Wolverine State.
To be sure, the quality and number of surveys varies from one state to the next, with several states excluded from the analysis due to a dearth of recent polling, so comparing averages is more illustrative than predictive. But it does shed some light on where candidates have managed to surprise in the past, relative to the polls, and where they stand heading into Tuesday's contest.

On the Democratic side, Hillary Clinton leads Sanders by 21.4 points in the RealClearPolitics average. Sanders hasn't yet made up such a deficit on an election day. The closest he came was last week in Oklahoma, where he outperformed his poll average by almost 11 points.

The candidate who's best outperformed his poll averages? Ted Cruz, at 5.9 points across 16 contests. His high: a nearly 27-point over-performance in Kansas on Saturday, which helped propel him to a 25-point win over Trump. If repeated, such a Cruz shocker could hand him upset wins in both Michigan and Tuesday's second most important state in terms of delegates, Mississippi, where Trump leads by 24 points in the only only February poll cited by RealClearPolitics.
Sanders, meanwhile, has a daunting 44-point deficit to make up in the Magnolia State, where Clinton enjoys strong support among African-American voters.

Before it's here, it's on the Bloomberg Terminal.
LEARN MORE