Treasury Isn't Moving to Sanction Russian Rocket-Engine Maker
by
Engines are depended on by Pentagon for satellite launches

McCain says Putin cronies control maker of RD-180 engines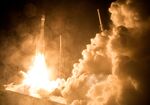 The U.S. Treasury Department has reaffirmed that it's not imposing sanctions on the Russian company that makes rocket engines used to launch U.S. national-security satellites, providing the latest twist in a two-year dispute.
Since Vladimir Putin's intervention in Ukraine, U.S. Senator John McCain has campaigned against continued purchases of the engines made by NPO Energomash. McCain, chairman of the Senate Armed Services Committee, says the company is "controlled by two sanctioned cronies" of the Russian president, Sergei Chemezov, chief executive officer of Rostec State Corp., and Deputy Foreign Minister Dmitry Rogozin.
A "recent restructuring of Russia's space enterprise," which put NPO Energomash under Russia's space agency Roscosmos, hasn't led to "an affirmative determination to designate those entities" as subject to economic sanctions, John E. Smith, acting director of Treasury's Office of Foreign Assets Control, wrote last week in response to a Defense Department inquiry. That left Treasury's position unchanged from a letter in May 2014.
The RD-180 engine has been used for years by United Launch Alliance LLC, a joint venture of Boeing Co. and Lockheed Martin Corp., to launch Atlas V rockets for the Defense Department.
While control of NPO Energomash or Roscosmos by Chemezov or Rogozin "could be a potential basis" to block U.S. purchases and impose sanctions, "such a blocking would occur only where" Treasury's Office of Foreign Assets Control "has made an affirmative determination," Smith wrote on March 1 to Brian McKeon, the Defense Department's principal deputy undersecretary for policy.
The Pentagon and Congress began an effort in 2014 to develop an alternative to the RD-180, helping to bankroll U.S. companies in the effort.
Air Force Secretary Deborah James told a House panel last week that meeting a congressional mandate to field a new engine by 2019 "is ambitious," requiring development, integration and certification. "To get all of that done, we certainly believe it's beyond 2019," she said.
While McCain has sought to permit no more than nine more RD-180 engines to be used, the Air Force says it needs as many as 18 before a U.S. version is ready. Appropriators voided the limitation sought by McCain in the fiscal 2016 omnibus spending bill.
Before it's here, it's on the Bloomberg Terminal.
LEARN MORE