Grades Are In
Report Card: Clinton and Sanders Fight to Another Debate Draw
The skilled Democratic combatants turn in another intense performance.
by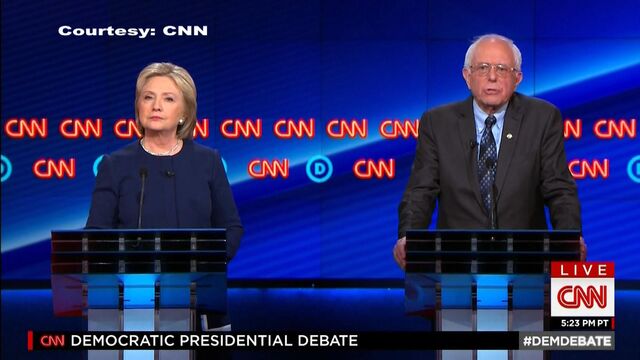 The usual rhythms of Clinton versus Sanders—feisty, crotchety, substantive, exasperated but respectful—were replicated in another one-on-one debate. New topics (Flint's heart breaking and outrageous water crisis, the Ex-Im bank) joined with familiar ones (Wall Street, trade, guns) that were batted back and forth with testiness and heat. Both Democrats went out of their way to avoid answering some of the tougher questions, but did not seem to pay a price for their evasions.

While raspy-voiced and visibly weary, was nonetheless game as she showed off her mastery of the historical record, her opponent's votes and quotes, and myriad policy issues. Was determined not to give an inch to Sanders or the moderators. Resolutely and blatantly dodged several questions, including one about her e-mail server controversy. Pivoted less frequently to the GOP candidates this round, focusing chiefly on her Democratic rival. Despite the ticking clock in her favor and delegate lead, followed a Clinton family dictum: the best defense is a good offense.

Relaxed and in command, he was better prepared and more comfortable than in early debates—no longer easily rattled by Clinton's expert maneuvers, aggressive moderators, the format, or the grand stage. Still, lacked a strategy to score a definitive win and was for some too tetchy with his opponent on several occasions. Many good tactical moments on core issues but built no mosaic of contrast to knock down the front-runner.
Note: Grades reflect many aspects of the candidates' performance, including style, substance, and crowd reaction, and whether a candidate seemed to improve or hurt his or her overall standing based on the debate.
Before it's here, it's on the Bloomberg Terminal.
LEARN MORE