Christie Takes Vacation as New Jersey Transit Rail Strike Looms
by
Unions negotiating with less than 1 week to walkout deadline

Strike-contingency plan could accommodate 38% of rail riders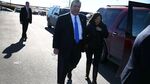 Less than a week before a strike deadline for the nation's second-busiest commuter railroad, Governor Chris Christie is heading for vacation with his wife.
Christie, the 53-year-old Republican who ended his run for president last month, will be celebrating his 30th wedding anniversary Tuesday, he told reporters in Newark. New Jersey Transit and 11 of its rail unions, meanwhile, were gathering at a hotel in the city to negotiate a labor agreement five years after the most recent one expired.
The unions have set a deadline of 12:01 a.m. on March 13 to strike if an accord isn't reached. New Jersey Transit's contingency plans, which rely on extra bus service, can accommodate just four in 10 train commuters. About 65,000 people will have to make alternate arrangements, the agency said, and can anticipate backups of as much as 25 miles on major roadways including the New Jersey Turnpike and Interstate 78.
"I'm never truly on vacation," Christie said Monday after visiting a charter school. "I'm away and I'm hoping to have a little bit of time to relax, but as long as I'm carrying a phone with me, I'm governor of New Jersey, as I've been saying now for the last year."
His wife, Mary Pat Christie, a bond trader who left her job at Angelo Gordon & Co. to be more available to him and the couple's four children as he campaigned, "has made a great deal of sacrifices over the course of the last year or two with my absences, " he said.
Christie said last week he likely will be gone three or four days and will be back by the end of this week, before the strike deadline.
Before it's here, it's on the Bloomberg Terminal.
LEARN MORE