Biden Says U.S. Will Wipe Out The Evil That Is Islamic State
Mahmoud Habboush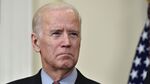 Vice President Joe Biden said the U.S. will "wipe out this evil," in reference to Islamic State militants in Iraq and Syria.
Biden, addressing American troops in the United Arab Emirates, said the U.S. has carried out 1,800 airstrikes against the al-Qaeda breakway group since October. "We have to squeeze the heart of Daesh in Iraq and Syria," he said, using an Arabic acronym for the group.
Biden is on a Middle East trip, where many view the U.S. commitment in the fight against Islamic State with skepticism given the administration's reluctance to advance plans that would lead to the deployment of ground forces. In addition to the U.A.E., the vice president will also visit Israel, the Palestinian territories as well as Jordan.
Before it's here, it's on the Bloomberg Terminal.
LEARN MORE