Trump Stays in Front as Cruz Raises Pressure With Split Decision
by
Clinton wins Louisiana primary, Sanders Takes Nebraska, Kansas

Cruz says he's party's best alternative to defeat Trump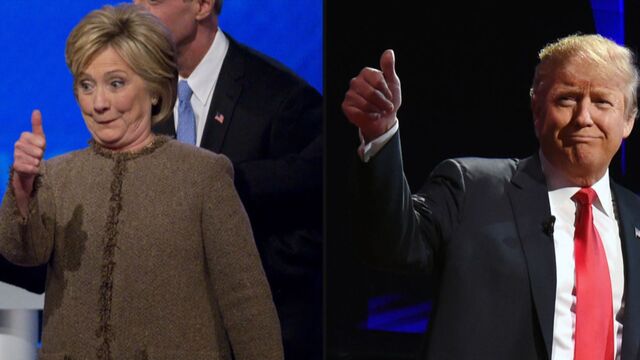 Donald Trump and Ted Cruz got a split decision from Republican voters in four states Saturday that didn't dramatically change the nomination race but did expose unrest among party conservatives who want an alternative to the celebrity real estate mogul as their presidential nominee.
Hillary Clinton, meanwhile, scored an overwhelming win over Bernie Sanders in Louisiana's delegate-rich primary that lets her maintain a solid lead for the Democratic nomination even as the Vermont senator won caucuses in Kansas and Nebraska.

Trump defeated Cruz in the Louisiana primary by 41 percent to 38 percent and in the Kentucky caucuses by 36 percent to 32 percent, according to the Associated Press. Cruz prevailed in caucuses in Kansas by 48 percent to 23 percent and in Maine by 46 percent to 33 percent. Florida Senator Marco Rubio and Ohio Governor John Kasich finished third or fourth in the states, prompting Trump to call for Rubio to drop out of the race.
The results of Saturday's voting for both parties raises the stakes for Trump's and Clinton's challengers to make a stand in the next round of contests on Tuesday and the slate of five state primaries on March 15.
Cruz Scores
While Trump held on to his front-runner status in the Republican race, Cruz's wins show that he may be able to rally support from some conservatives who've been pushing back against Trump over his rhetoric and changing positions, said Ron Bonjean, a Republican political consultant who's not aligned with any of the campaigns.
"Trump is still on the path toward the nomination," Bonjean said. "But what seems to be clear is that conservatives are turning to Cruz in order to try to stop the front-runner."
The votes in Saturday's Republican contests were the first tallied since a public rupture last week that's pitting supporters of Trump against a collection of establishment Republican figures trying to block his path to the 2016 presidential nomination.
Two Candidates
Speaking to supporters and reporters in Florida after the results were in, Trump said "we should come together and stop this foolishness." He highlighted the large turnout in the races and the voters he is attracting to the party and said he would beat Cruz in a two-candidate match-up.
"I would love to take on Ted one on one," Trump said.
How the U.S. Elects Its Presidents
Cruz said his victories on Saturday and his successes in four other states earlier demonstrate that he can defeat Trump in a smaller field of candidates.
"What we saw on Super Tuesday is what we're seeing today, which is that there is only one candidate who can and has beaten Donald Trump repeatedly," Cruz said in a speech on Saturday in Boise, Idaho. "We're going to win the nomination."
"If we're going to beat Donald Trump, we've got to be united. Our campaign has beaten Donald Trump in seven states across the country."
Civil War
The simmering Republican civil war boiled over on March 3 when Mitt Romney, the party's 2012 nominee, called Trump a vulgar bully unfit to be president and said his policies would drive the U.S. into recession. Romney urged Republicans to vote strategically as a way to deny Trump the 1,237 delegates needed for the nomination. If successful, that may force a contested convention in Cleveland in July, when delegates could pick a different standard-bearer for the November general election.
The biggest loser of the night may be Rubio who was vying with Cruz to be Trump's main challenger. He held three rallies in Kansas on Friday and had the backing of Governor Sam Brownback but only managed to draw 17 percent of the vote. He finished third in two other states and last in Maine. Rubio, who's only win came in the March 1 Minnesota caucuses, now is staking his campaign on the March 15 primary in his home state of Florida, where he's trailed Trump in the polls.
Still, he told reporters that he's prepared for a protracted nomination fight and that he "feels good" about the calendar for primaries and caucuses after Saturday.
Florida Primary
In response to Trump's call for Rubio to quit the race, spokesman Alex Conant said Trump "knows that Marco has the momentum in Florida and is afraid because he knows losing those 99 delegates to Marco will be a turning point in this race."
Kasich campaigned Saturday in Michigan, which has its primary on Tuesday. The Ohio governor said he hopes for a strong showing in his neighboring state. Kasich has said he'll drop out of the presidential contest if he doesn't win Ohio, and is gearing up for a convention fight if he prevails.
According to an Associated Press tally as of midnight, Trump had a total of 378 delegates compared with 295 for Cruz, 123 for Rubio and 34 for Kasich, with 1,237 needed to claim the nomination.
Clinton's Margin
In the Louisiana Democratic primary, Clinton was counting on support from black voters, who make up 54 percent of registered Democrats in the state. She ran up up an almost three-to-one margin over Sanders to take the lion's share of the state's 51 delegates.
Sanders won by a wide margin in Kansas, taking 68 percent of caucus votes to Clinton's 32 percent, to get a majority of the 33 delegates available there. In Nebraska it was a closer contest with Sanders winning 57 percent to 43 percent for Clinton. There were 25 delegates at stake in the caucus there.
The Clinton campaign had sought to lower expectations in Kansas and Nebraska, saying this week in a memo from campaign manager Robby Mook that Sanders has "clear advantages and is investing heavily" there and that Clinton has a larger lead in pledged delegates than Obama ever had in his victorious 2008 primary with Clinton.
Sanders claimed momentum going forward, despite his delegate deficit.
"It looks like at this point we won a very good victory in Nebraska, a very good victory in Kansas and that adds to the victories that we have won so far," Sanders said in Michigan, which holds the next big test for Democrats on Tuesday.
With populous states like New York, California and Illinois still to vote, Clinton had 1,121 of the 2,383 delegates needed to win as of midnight, according to the AP tally that includes superdelegates. Sanders has 479.

Before it's here, it's on the Bloomberg Terminal.
LEARN MORE