Clinton Sees 'No Basis' for Indictments in E-Mail Server Probe
by
Candidate faced questions after former staffer given immunity

She criticizes retroactive classification of some messages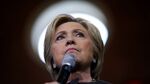 Hillary Clinton said there's "no basis" for indicting anyone after one of her former aides was reportedly granted immunity in the U.S. investigation of her use of a private e-mail server when she was secretary of state.
The Democratic presidential front-runner put a positive interpretation Sunday on reports that Bryan Pagliano, who helped set up the e-mail server in Clinton's New York home, was granted immunity by federal prosecutors.
"I'm delighted that he has agreed to cooperate," Clinton said in an interview on CBS's "Face the Nation." "I think we're getting closer and closer to wrapping this up."
During her tenure at State, Clinton used the private e-mail address to send personal and work correspondence, which she has since said she regrets. She said she took such a step as a matter of convenience and exchanged more than 60,000 such messages from 2009 to 2013. About half were of a personal nature, she said. The resulting probe into whether the practice resulted in inappropriate handling of classified communications has dogged her presidential campaign.
Clinton, who said Sunday that she has "been more transparent than anybody I can think of in public life," also criticized government decisions to retroactively designate some of the e-mail traffic as classified. She said it warrants "a hard look at the inter-agency disputes and the arguments over retroactive classification."
Republicans have stayed on the attack over the e-mails, with Reince Priebus, chairman of the Republican National Committee, saying Sunday that Clinton is "dodging immunity agreements" with federal investigators.

Before it's here, it's on the Bloomberg Terminal.
LEARN MORE