Trump Softens Immigrant Visa Stance After Cementing Front-Runner Status
And he made no apologies for it.
by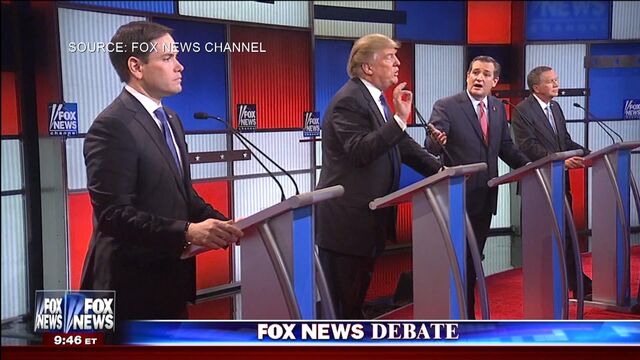 Two days after cementing his front-runner status for the Republican presidential nomination, Donald Trump softened his position on legal immigration in Thursday's debate, and made no apologies for it.
"I'm changing. I'm changing. We need highly skilled people in this country," the billionaire said. "And if we can't do it, we'll get them in. And we do need—in Silicon Valley, we absolutely have to have. So we do need highly skilled."
"I'm changing it, and I'm softening the position because we have to have talented people in this country," Trump said.
Trump was responding to a question by Fox News moderator Megyn Kelly about the contradiction between the immigration policy blueprint on his website, where Trump says lifting the cap on H-1B visas would "decimate" U.S. workers, and an earlier CNBC debate, when Trump spoke favorably about U.S. visas.
In the debate, Trump said visa restrictions for high-skilled workers should be relaxed because international students who go to the best American colleges are subsequently forced to leave, even though they want to stay and work. "For that purpose," he said, "we absolutely have to be able to keep the brainpower in this country."
The pivot gives Trump a somewhat more pro-immigration view than Alabama Senator Jeff Sessions, an ardent critic of H-1B and other visa programs, who recently endorsed Trump over rival Ted Cruz. It also puts Trump in line with the Chamber of Commerce as well as Silicon Valley, which strongly supports looser visa rules and tends to cut large checks in the general election.
The debate comes two days after Trump won seven of 11 states that voted on Super Tuesday, securing a large lead in delegates and prompting panicked Republican elites to shift to a last-ditch effort to block his nomination at a contested convention.
While admittedly softening on legal immigration, Trump made clear he was not budging on illegal immigration. "I'm going to build a wall," said Trump, who has also vowed to deport all of the estimated 11 million people in the U.S. illegally. He defended the need for political leaders to negotiate deals.
"The wall's 50 feet high. Is it going to be 45 feet? That could very well be," he said. "We need give and take in government."
Trump's speech announcing his presidential bid last year in June, in which he sparked a firestorm by likening undocumented Mexican immigrants to rapists, quickly catapulted him to the front of the Republican field, where he has remained since July. Polls show that GOP voters trust him far more than his rivals to handle immigration.
Soon after the debate, Trump released a statement partially walking back his comments by making clear he'd impose restrictions on the H-1B program, a subject of scorn on the right, describing it as "neither high-skilled nor immigration."
"I remain totally committed to eliminating rampant, widespread H-1B abuse," Trump said in the statement. "I will end forever the use of the H-1B as a cheap labor program, and institute an absolute requirement to hire American workers first for every visa and immigration program. No exceptions."
Before it's here, it's on the Bloomberg Terminal.
LEARN MORE