Cruz Serves Up Spoilers on Contested Convention and Rubio's Florida Hopes
The Texas senator flatly rejects the idea of a contested convention, warning that it would lead to a "manifest revolt."
by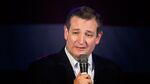 Ted Cruz flatly rejected the idea of a contested convention on Friday at the Conservative Political Action Conference, warning that it would lead to a "manifest revolt" against Republican establishment figures who have floated the idea as a last-ditch vehicle to stop front-runner Donald Trump.
At a question-and-answer session with Fox News host Sean Hannity, the Texas senator said Trump must be defeated at the ballot box.
"Any time you hear someone talking about a brokered convention it is the Washington establishment in a fevered frenzy. They're really frustrated because all of their chosen candidates, all of their golden children, the voters keep rejecting. And so they seized on this master plan," Cruz said mockingly at the conference in Maryland. "We go to a brokered convention and the D.C. power brokers will drop someone in who is exactly to the liking of the Washington establishment. If that happens we will have a manifest revolt on our hands."
The strategy, floated by Republican elites such as as Mitt Romney and supported by many Republican strategists, involves starving Trump of delegates by encouraging voters to support rivals best-suited to win particular states, such as Rubio in his home state of Florida and Governor John Kasich in his home state of Ohio.
Cruz wasn't sold. "If you want to beat Donald Trump here's how you do it: You beat Donald Trump with the voters," he said.
Former Republican presidential candidate Carly Fiorina made a similar argument.
"If we want to defeat Donald Trump, we cannot turn to the establishment once again and ask them to guide the citizenry to the right answer," she said in prepared remarks. "If we want defeat Donald Trump, we must defeat him at the ballot box, by offering citizens conservative solutions to the problems in their lives."
Also on Friday, Cruz revealed that he has opened up 10 offices in Florida this week, a late play in a state that is increasingly seen as a must-win for Senator Marco Rubio. The offices will be in Pensacola, Jacksonville, Tampa, Umatilla, Rockledge, Lakeland, Fort Myers, Naples, Boca Raton and Miami.
In a press release, Cruz's campaign said the move was part of "a serious commitment to competing hard in the winner-take-all Sunshine State primary on March 15th."
Recent surveys give Trump with a double-digit lead over second-place Rubio and some 30 points ahead of Cruz. So Cruz's late surge of activity seems unlikely to result in more delegates, though Rubio's share of the vote could take a hit.
Trump spent the night of Super Tuesday this week in Florida, and plans to arrive in the Sunshine State on Saturday for a rally in Orlando and a press conference in West Palm Beach. Rubio plans to campaign frequently in Florida ahead of the primary, and his campaign and super PAC are making significant investments to win the state where a defeat could doom his ailing campaign.

Before it's here, it's on the Bloomberg Terminal.
LEARN MORE