Any Questions?
How Bret Baier Is Preparing for the Detroit Debate
Fox News' chief political anchor discusses the challenges of moderating a Republican presidential brawl.
by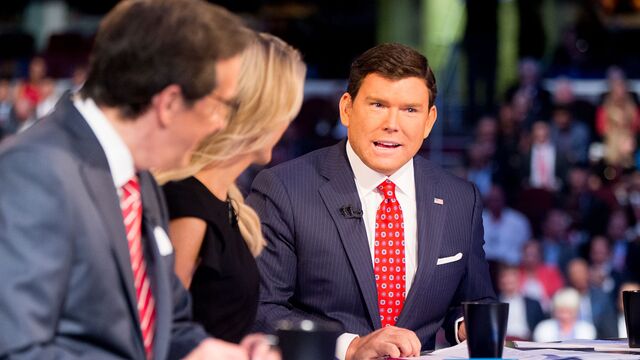 The last time Bret Baier moderated a Republican presidential debate, Donald Trump was a last-minute no show. Now, a month later, the Fox News chief political anchor is taking a fool-me-twice approach to preparing for Thursday night's showdown in Detroit.
"We have obviously prepared for all contingencies," Baier said Wednesday.
For weeks, the "brain room" at the New York office of Fox News has been preparing binders with every answer to every question that the candidates have been asked on a debate stage, separated by topic. There are other, thicker, binders he's been carrying around with research on policy topics and what the White House hopefuls have said in interviews and on the trail.
But in the midst of heated primary elections across the country—Michigan votes on March 8—recent debates have been remembered less for their well-crafted questions and more for the blood sport of candidates' schoolyard bickering. With Ben Carson announcing he would sit out Thursday's debate, and with Trump's rivals running out of time to stop him from winning the nomination, more fireworks are likely.
In an interview with Bloomberg Politics, Baier spoke about how he plans to handle the escalating aggression between Republican candidates, and how he's been preparing to have Trump back behind the podium.
Bloomberg Politics: How much chaos did Trump cause with his decision to boycott your January debate in Iowa?
Bret Baier: It was crazy. We prepared for a number of weeks, questions and choreography, based on him being at the center of the stage and he wasn't. So we redid the blueprint of questions. And then, about three hours before, we got word that he may still come. And then we didn't find out until 20 minutes before the debate that it was official that he was not coming. So we had two stacks of questions: one the choreography and questions with Trump and one without Trump.
Did the results of Super Tuesday change your approach at all for Thursday's debate?
Obviously, it solidified Trump as the overall leader and the guy who is best positioned to get the GOP nomination, so I think we kind of had that going in anyway. For all the talk about Trump and debate, it's really the other two guys that I think will be the horses at the gate. You know, ready to jump and probably try to attack the front-runner who they're trying to take down. So we're going to let those things breathe, but also keep it on the rails.
The crosstalk and bickering at the last debate got out of control. How will you handle that if it happens again?
I really think it's a balance that you figure out at the debate. You know it when you feel it. I think there will be times when we let things evolve, but eventually we have to get back to the topic at hand. You can have a fiery debate, but to have a fiery debate with substance is really what we're looking for. That's what I want the headline to be on Friday. Anything close to that would be good.
So you'll step in?
Eventually the bell doesn't do its job and they ignore the bell and you have to step in. Yeah, sure.
Do you expect complaints about equal time?
I think fair time is a better way to say it. I'm not going to put a number on it, the number of questions asked, but as far as seeing the same amount of talking time, a lot of times the biggest contrasts and exchanges happen, obviously, between the top-tier candidates who are legitimately making a case they have at least a path to the nomination. So we'll see. It's going to be as fair as we can make it, let's put it that way.
How much do you tinker with questions up until that last minute?
We're all news people, so we want the newsiest questions. If some news event happens, it changes the question. It may even create new questions. This is my eighth debate—five last election and this is the third this cycle—and I know we've added questions up until the hour before the debate. Right up until the line.
How much does the location of the debate factor into your questions?
For every debate, the city or region factors in in some way. Yeah, I'm not giving up too much to say that I'm going to expect some Michigan-related questions. It's also important to point out that Michigan is a big delegate prize, and it's potentially a general election state where a Republican nominee, positioned the right way, could compete here against Democrats.
Before it's here, it's on the Bloomberg Terminal.
LEARN MORE