Trump and China Threaten Economy, Columbia Threadneedle CIO Says
by and
American presidential race outcome will be `a negative event'

Mark Burgess says China heightens risk of upcoming recession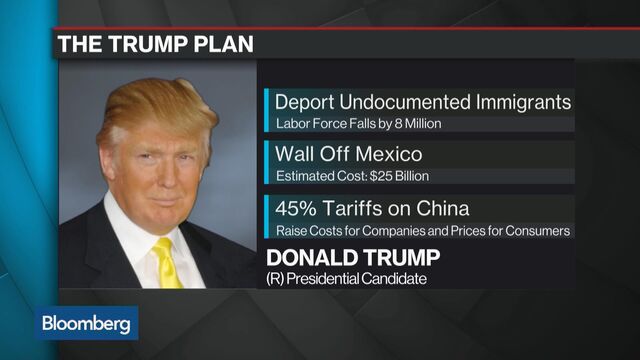 Donald Trump, China and the possibility of a British European Union exit all pose significant threats to an already shaky economic outlook, according to Mark Burgess, chief investment officer for Europe, Middle East and Africa and global head of equities at Columbia Threadneedle Investments.
"The outcome of the U.S. election is going to be a negative event," Burgess said. Given the confluence of risks, "we've got the lowest exposure to risk assets that we've had for some time, because of the uncertainty."
Markets have gyrated through early 2016 as slower growth in emerging markets and concerns over the potency of central bank policy shake investor confidence. Now, as economic risks loom ever larger, the volatile investing environment could continue.
"There is a lot to worry about," Burgess, who is based in London, told Bloomberg News in an interview in Frankfurt. Columbia Threadneedle has $472 billion under management globally.
Burgess said he's overweight on Japanese equities and "modestly overweight" equities as a whole -- given that interest rates are likely to stay low for some time, supporting stock prices -- but is underweight on bank stocks.
'Truly Terrifying'

The U.S. will elect a new president this November, and Democrat Hillary Clinton and Trump, a Republican, came out of U.S. Super Tuesday primary voting this week as clear favorites for their parties' nominations. While markets haven't reacted negatively, Burgess is pessimistic about the fallout from either administration.
"Some of the comments that he's made are truly terrifying for any rational human being, whether you're a market participant or not," Burgess said of Trump. Clinton "has been consistently anti-business over the last couple of years," so "she will be the least-bad outcome, but it won't be a good outcome," he said.
Meanwhile, British citizens will head to the polls on June 23 to vote on whether the U.K. should remain in the European Union. An exit would be a "shock" that could harm the global economy, finance chiefs from the Group of 20 said at a meeting last week.
"It would be very damaging for the U.K. economy, and I think it would be very damaging for Europe, were Brexit to happen," Burgess said. "Europe is flawed, but we're better off for being part of it."
China Factor
Politics aren't alone in clouding the outlook: the world's second-largest economy is shifting from an investment-driven to a service-driven model as its growth slows, putting downward pressure on commodity prices and rattling global exporters.
"There is the potential for China to end badly, and that could have profound consequences," Burgess said. The nation has to work through the unwinding of a misallocation of capital, "and that is both deflationary and slows growth."
If risks escalate, central banks may fail to come to the rescue. The 19-member euro area is already unlikely to meet its inflation target of just under two percent in the medium term, Burgess said, despite its negative interest rates and bond-buying program.
Deflationary Pulse
"I can't see why euro-zone inflation picks up anytime soon," he said. "Every time it feels like you make a step forward, there's a deflationary pulse comes at you from somewhere in the world where you weren't expecting it."
In the U.S., the Federal Reserve already has historically low rates and a large balance sheet, limiting its tools in the event of a downturn.
"It's one of the reasons why global investors have been so skittish over the last six months; China's impact on the global economy both in terms of deflation and growth means that recession is a bigger possibility globally than it was six months ago," Burgess said. "Investors are asking themselves: 'What on Earth do they do if we go back into recession?'"
Before it's here, it's on the Bloomberg Terminal.
LEARN MORE