Super Pago Pago Has Voters on Edge of Their Huts: Read My Lips
Getting to choose the candidate you can't vote for in November.
by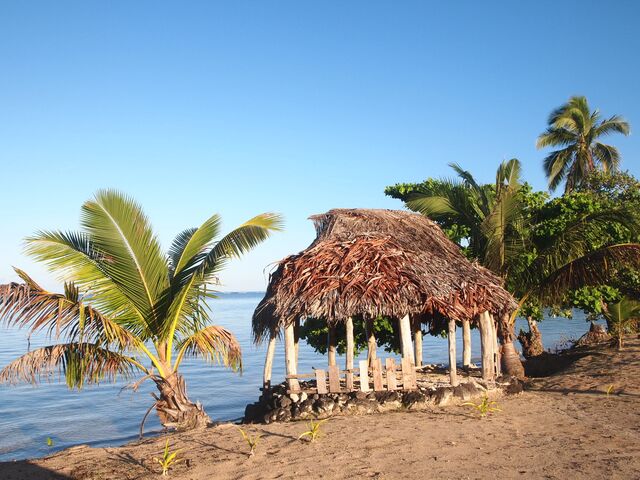 Those pampered voters of New Hampshire, the ones who hug every presidential candidate twice and then still have trouble making up their minds, would have a hard time adjusting to American Samoa. And it's not just the lack of snow.
Candidates simply don't fly 4,800 miles to campaign in the island chain, where Democrats caucus today to divvy up six delegates. That's less than 1 percent of the 880 Democratic delegates up for grabs today, most of them in less-far-flung places like Texas, Minnesota and Virginia, which don't need to beg candidates to come a-calling:
The excesses and oddities of America's presidential-selection process have been piling up lately. Try this quirk on for size: The residents of American Samoa, Puerto Rico, Guam, the U.S. Virgin Islands and the Northern Mariana Islands can't vote for president in November, yet they hold caucuses and primaries to help choose the Republican and Democratic nominees.
American democracy in American Samoa, in other words, is like filling hundreds of water balloons, then being forced to watch other people launch them.
The reason for this uneven state of affairs is that the political parties, not the law, decide how they want to choose their presidential candidates.
The citizenship status and voting rights of the 4 million residents of America's territories -- 90 percent of whom live in Puerto Rico -- is a serious issue that's been tackled by lawyers and some of our deepest thinkers, like John Oliver. Let them worry about all that, as we learn about life in the South Pacific.
"Beautiful mountains and beautiful beaches, coral reefs. You go snorkeling every day after work," says Sean Morrison, a Houston-born attorney who ran the 2012 Democratic caucuses in America Samoa as executive director of the local party. "It's fantastic. Then you have the Samoan cultural system, which is not just part of daily life but part of political life and legal life. There are Samoan traditions that are 3,000 years old that are still there: a chief system, land that's still communally owned, village elders sitting in their fales, which are huts or roofed areas, and they make decisions for the village."
There was little drama among Democrats in 2012, when Barack Obama ran unopposed for re-election. About 200 people participated in the caucus that year. "People are really invested" in primary caucuses, Morrison says. "That's their vote for president, basically."
Today's Democratic caucus will be held in the capital, Pago Pago, at the Veterans Memorial Center. For those who don't know, that's "across the street from ANZ Amerika Samoa Bank at the Tafuna Industrial Park," Samoa News reminded readers in its lead story yesterday. (American Samoa Republicans will hold their caucus three weeks from now at the nearby Toa Bar & Grill.) There's just one caucus location in the entire island chain, so those not on the main island of Tutuila, or living on the island but far from the capital, are out of luck.
Hillary Clinton and Bernie Sanders are both expected to call in to address the caucus. In recent days, Chelsea Clinton made a seven-minute video targeting the island's voters -- "We are counting on you, American Samoa" -- and Sanders supporters had the chance to discuss strategy with a Sanders campaign organizer via Skype.
Only one candidate has "boots on the ground," reports Andrew Berquist, the party's current executive director. That's not Clinton or Sanders, but Roque "Rocky" De La Fuente, a San Diego businessman who is running as the only Hispanic in the Democratic race and has dispatched two campaigners to American Samoa. Maybe he's determined to outdo his performance in the New Hampshire primary, where he received 95 votes and finished eighth.
An impressively thorough caucus previewer at DailyKos.com predicts that Clinton will win at least four of the six delegates up for grabs today. (Under the extremely specific rules of the caucus, a candidate who breaks 58.3 percent of the vote gets five delegates; at 85 percent, the candidate gets all six delegates, plus, probably, a free pizza from Papa John's.) The island's Democratic superdelegates -- American Samoa has those, too -- have already broken four for Clinton, one for Sanders.
Most of the Republican candidates have sent representatives in advance of their caucus later this month, Berquist says, and he acknowledges that their race is drawing much of the interest.
"Trump is discussed here and fairly often -- most of us on the Democratic side are scratching our heads," he says. Trump "says some of the most extreme and controversial things, yet goes higher and higher in the polls. I often think the campaign has to be some big elaborate joke."
Maybe American Samoa isn't so distant after all.
*****
Jon Bramnick, Republican leader of the New Jersey state Assembly, won the title of "Funniest Lawyer in New Jersey" with a stand-up routine at Rascals Comedy Club. So maybe he was just joking when he explained to the New York Times why he's joining Chris Christie in Donald Trump's corner.
"I intend to support the governor's choice here, because Trump has the most nexus with New Jersey," said Bramnick, who may have designs on trying to succeed Christie as governor. Trump "has golf courses here. He knows New Jersey pretty well. There's no real connection between the other candidates and New Jersey."
If you're actually going to choose a president based on how Jersey he is, some guidance might be helpful. Here, a rundown of the remaining Republicans' Jerseyness, from One Jughandle (Get Outta Here) to Four Jughandles (Sit, Have a Slice).
TRUMP: Bought New Jersey Generals football team, tried to make the "small potatoes" league huuuge, and fumbled. Once had three Trump-branded casinos in Atlantic City, which have gone through four bankruptcies since the early 1990s. Insists he saw thousands of New Jersey Muslims celebrate the 9/11 attacks.
VERDICT: That tan is coming from somewhere, but it ain't the Seaside boardwalk. TWO JUGHANDLES
JOHN KASICH: Included New Jersey people in "Courage Is Contagious," his book "about everyday Americans helping to reshape America." Sample: "Though she worked in New Jersey, she often went to New York, where she began to notice the growing number of street people."
VERDICT: Flattery will get you everywhere. Just don't lay it on too thick. THREE JUGHANDLES
MARCO RUBIO: Says in his book, "I've enjoyed my friendship with Frank Lautenberg, a Democrat from New Jersey."
VERDICT: A friendship with one New Jersey senator (who's no longer around to verify it) does not a friend of New Jersey make. ONE JUGHANDLE
BEN CARSON: Shared Trump's memory of thousands celebrating 9/11 in New Jersey, before unsharing it. Scarcely mentioned New Jersey in any of his many, many books.
VERDICT: Living less than 100 miles from New Jersey but barely acknowledging it is a very New York thing to do. TWO JUGHANDLES
TED CRUZ: "Fell in love" with Princeton University's "idyllic, picturesque" campus as an undergraduate (class of '92). Was assigned, as his freshman year roommate, "a liberal student from New Jersey" who "spent much of his time treating me with contempt." That roommate still despises him.
VERDICT: A college roommate who still trolls and insults you, 25 years later? Totally Jersey. FOUR JUGHANDLES
(Read My Lips is a column dedicated to the proposition that men and women in the corridors of power will say or do things for which they might be sorry.)
Before it's here, it's on the Bloomberg Terminal.
LEARN MORE