Antisocial Media
How Trump Stays on Top By Dominating the Conversation
The Republican front-runner's endorsement from Chris Christie stamped out Marco Rubio's debate momentum ahead of Super Tuesday.
by and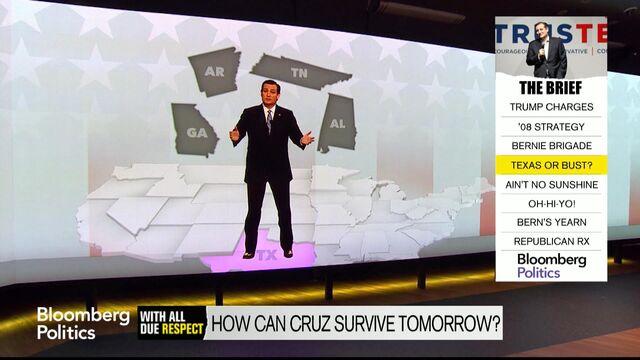 Donald Trump's political genius is his ability to control the news cycle and thereby prolong his months-long status as the Republican front-runner. In part, he does this by continually attacking and mocking his rivals for the nomination, and as Super Tuesday has approached, Florida Senator Marco Rubio is Trump's latest victim. 
Of late, however, Rubio has turned to Trump's strategy. In Thursday's CNN debate, the Florida senator delivered a rapid-fire string of attacks on Trump, which he followed with a Dallas rally on Friday where he suggested that Trump had wet his pants during the debate, and repeatedly labeled him a "con artist." 
This looked like the start to a much-needed pre-Super Tuesday push for Rubio, and even resulted in a clear social media bump for the senator. Rubio managed to capture roughly half as much Twitter attention as Trump during the debate, up markedly from before it. The attention peaked again during Friday's rally, which many TV networks carried.

Yet as Rubio tried to capitalize on this newfound energy, Trump was secretly preparing to unleash a counterattack in neighboring Fort Worth: an endorsement from New Jersey Governor Chris Christie, who suspended his own presidential campaign earlier this month. The new alliance drove Rubio's share of the Twitter conversation back down to nearly pre-debate levels.
Tweeting the Trump Revolution
Even before he rolled out the surprising Christie endorsement, Trump had responded to Rubio on Twitter. He used the social media site to brand him a "lightweight choker," targeting the senator's youth and his disastrous performance at an earlier debate in New Hampshire. Trump's attacks on Rubio have grown routine, according to a Bloomberg Politics analysis of public Twitter data. 

From last June through December, Trump's Twitter assaults were mostly directed at establishment standard-bearer Jeb Bush, with a shift to Rubio in November, when Trump first debuted the "lightweight choker" label.

Starting in January, Trump revved his Twitter tirade engine to full throttle, going from practically zero attacks on either Rubio and Cruz to roughly 15 and 25 in the past week, respectively. The volume of Trump-on-Rubio tweets in the past seven days has been higher than in any prior week of the campaign. All this while simultaneously staging a final all-out social media charge against Bush, who's since dropped out of the race. 
Trump's penchant for Twitter takedowns is all the more notable for his ability to shape the news cycle and define his rivals in 140 character snippets. Since last summer, Trump has sent 127 tweets criticizing Texas Senator Ted Cruz, often accusing him of lying, or reminding readers of Cruz's Canadian birth. He's also tweeted 116 times against Bush, over everything from his support for the Common Core educational standards to the campaign role of his mother, former first lady Barbara Bush, to the damaging portrayal of Bush as "low energy."

Stealing Rubio's Thunder
All told, Trump's Twitter-Christie one-two punch effectively deflated Rubio's hopes of dominating the pre-Super Tuesday media narrative following his feisty debate performance. Whereas the Rubio-versus-Trump battle did gain some traction on Friday, with nearly 500 news headlines mentioning both candidates, it was undercut by the 300 or so news stories with Christie in the headline, almost all related to his surprise endorsement. By Saturday, Christie stories outpaced Rubio-Trump headlines. 

Trump's post-debate media strategy even slashed Rubio's odds of winning the Republican nomination, according to prediction market Pivit.

Hashtag Wars
By the weekend, the online conversation had evolved beyond the Rubio spat and the Christie endorsement to a Twitter referendum on the front-runner himself. On Friday evening, anti-Trump tweeters—including many Rubio and Cruz supporters—coined the hashtag #NeverTrump, indicating that they wouldn't support him even as the Republican nominee in the fall. On Saturday morning, Trump supporters countered with #AlwaysTrump, and on Sunday night, John Oliver's satirical news show, Last Week Tonight, launched #MakeDonaldDrumpfAgain, referring to the billionaire's historical family name.

The back-and-forth among Republican elites has mirrored the battle on Twitter. Alabama Senator Jeff Sessions, whose state votes on Super Tuesday, endorsed Trump on Sunday night—after conservative commentator Erick Erickson adopted #NeverTrump on Saturday morning. Former New Jersey Governor Christie Todd Whitman, a Kasich endorser, eschewed the hashtags and went on Bloomberg's With All Due Respect and other Monday news broadcasts to admit that she would, if necessary, vote for Hillary Clinton over Donald Trump in November.
—Bloomberg contributor Adam Tiouririne of Logos Consulting Group advises senior business leaders on high-stakes communication and researches language, leadership, and the media.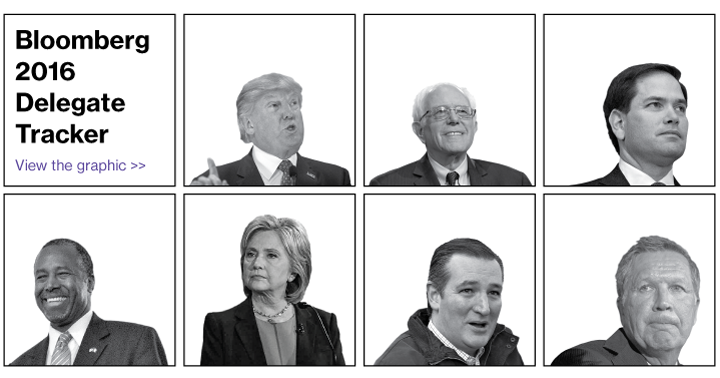 Before it's here, it's on the Bloomberg Terminal.
LEARN MORE