Cruz Supporters Resist #NeverTrump Wave, Fearing Clinton Win
A survey of 20 voters at a Cruz rally on Monday in Houston.
by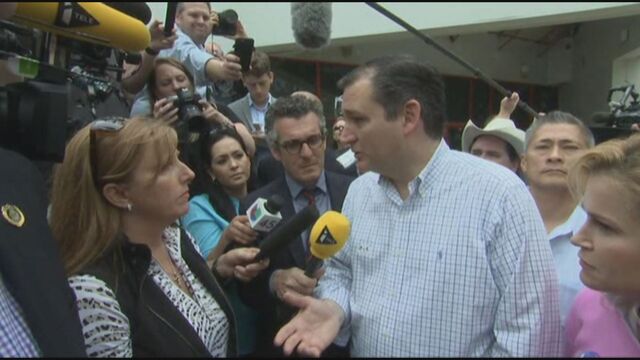 On Super Tuesday eve, a crowd of more than 1,000 Texans filled an auditorium at Houston Baptist University to hear their favorite son speak. They were overwhelmingly Ted Cruz supporters; many had already voted early for him in the Republican primary.
The crowd could be seen as ground zero for for a Donald Trump resistance—especially since they strongly value ideological purity, and Trump once backed abortion rights and was a registered Democrat. Yet when asked about an emerging movement of conservatives refusing to vote under any circumstances for the GOP front-runner, loosely organizing under the social media hashtag #NeverTrump, many of them were not convinced.
Their hang-up was the dreaded scenario: a general election match-up pitting Trump as the GOP's standard-bearer against one of the Democratic candidates, Hillary Clinton or Bernie Sanders.
Bloomberg Politics surveyed 20 Cruz voters at the rally, most of them adorned in Cruz shirts or "Choose Cruz" stickers and carrying "TrusTED" placards. Eleven said they would vote for Trump if he were the nominee. An additional three were on the fence. Just six said they wouldn't vote for Trump against Clinton or Sanders; four of those voters said they'd write in Cruz in that scenario.
Cruz's campaign manager, Jeff Roe, didn't have an opinion on the movement. "I don't know anything about it," he told Bloomberg Politics before the rally. Would Roe vote for Trump if he's the nominee? "I'm voting for Ted Cruz," he said. Cruz himself has pledged to back the eventual nominee.
Cruz's supporters were more willing to consider the scenario.
Yes Trump
"I'd definitely vote for a Republican in the general election," said Elliott Newman, a Cruz voter in Houston who described Trump as acceptable. And the #NeverTrump crowd? "They aggravate me. Because they're giving away the election if they do that. We don't want that to happen."
Daniel Garza, a Cruz supporter from San Antonio, agreed. "I think we need to get behind Trump if he's the nominee," he said. "Because Hillary or Bernie Sanders can't win."
Marc Jones of Houston also said he'd vote for Trump. "Of course," he said, arguing that the Never Trump movement "makes no sense. To me that's not a wise choice."
Brad Simpson, who said he believes Trump is "lying" about his policy vision for the country "to get people excited," still intends to support Trump if he's the nominee, viewing him as preferable to a Democrat. "I would vote for him, although I wouldn't want to," he said. "It looks like it may end up that way."
He doesn't have much patience for the #NeverTrump crowd. "I think they're crazy," Simpson said. "I know a lot of people like that, and I'm trying to get them not to do that. Because even if Trump is the nominee, you have to vote the conservative—or somebody who says he's a conservative." Those who don't vote for Trump in that scenario, he added, are "just voting for [Bernie] Sanders or Clinton."
Tim Taft of Houston would like to see Cruz as the nominee, but he's unequivocal that he'll vote for Trump if he wins, saying he doesn't want to repeat the mistakes of conservatives in the past.
"I just don't agree with them. They're making the same mistake a lot of Republicans made in the last few elections," said Taft, whose wife chimed in to say he's a descendant of President William Howard Taft. "Where maybe they were very conservative or evangelical and they didn't come out to vote for Mitt Romney. I think that was a huge mistake. We're paying for that every day. Those people who stay home will pay the price along with all of us."
Maybe Trump
"I'm still working through that, honestly," said 20-year-old Philip Morrow, a Cruz supporter, when asked who he'd pick in a Trump vs. Clinton election. But just seconds later, Morrow indicated he was leaning Trump. "I would have to, obviously, because hopefully the restrictions of being, technically, a Republican president would have him do less damage."
"If [Trump] wants my vote he's going to have to get saved," said Maria Hammerlein of Houston, who was wearing Cruz gear. She said she's most put off by Trump's remark that he had never asked God for forgiveness.
Adriana Byrum, also of Houston, wants to see if Trump alters his views as the nominee before deciding whether to back him in November.
"I think the way the election has been so far, with Trump being attacked for changing his mind so often, there's still potential for him to change his mind," she said. "So I'll have to see what he has to say."
#NeverTrump
The hashtag #NeverTrump went viral after a blog post last week by conservative radio host Erick Erickson, who has since been joined by numerous Republican strategists and ordinary conservatives online. Since then, it has often been a trending topic on Twitter.
Trump, wrote Erickson, "would be an authoritarian despot, deeply destructive to the ideals of this nation and the constitutional principles of the republic, and he would destroy the remains of the Republican Party and much of the conservative movement." It was a decisive about-face from last July, when Erickson pledged to support Trump if he won the nomination, and represents the panic setting in among movement conservatives as the New Yorker nears the prize.
By Sunday, even Marco Rubio was playing along, despite pledging last year to support whoever wins the Republican nomination.
At Cruz's rally in Houston, some voters agreed.
"Never Trump. I am on the Never Trump bandwagon," said Jason Diebold. He said he'd write in a third-party candidate if Trump is the nominee. "I don't owe the party anything. The party owes me," he said, adding, "If they nominate Donald Trump, then the party's left me."
Trump, he fretted, would "destroy the party—he becomes the head of the Republican Party if he's the nominee." As a result, Diebold said, "I don't feel guilty about not supporting that candidate. My vote is my voice, and I will give my vote to someone else. And if Hillary Clinton wins the presidency anyway, well at least I still have a party."
He wasn't alone in promising to reject Trump in a general election.
"I would not vote for him," said Clint Bittick, a 68-year-old disabled veteran, adding that he'd prefer to write in a conservative candidate like Cruz than back Trump. "I think he would be a moderate and wouldn't stand for those values, because he's never stood for those in the past. It's always been about business and him."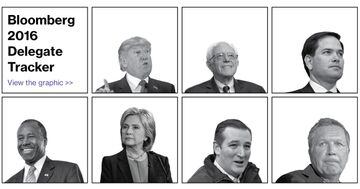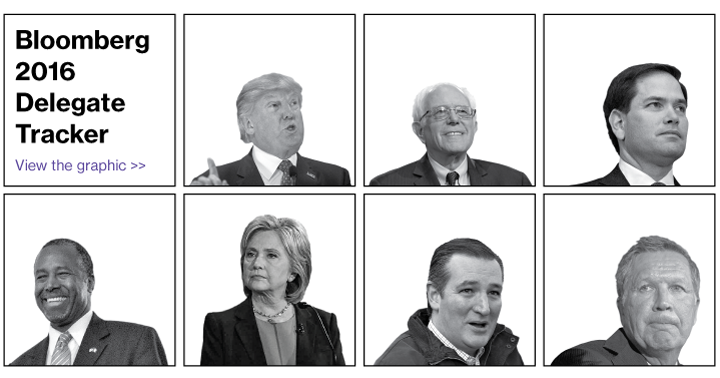 Before it's here, it's on the Bloomberg Terminal.
LEARN MORE