Christie Says Job in Trump White House Wasn't Endorsement Goal
by
Governor opens up after blocking news-conference questions

Christie heading out of state again after last year's absence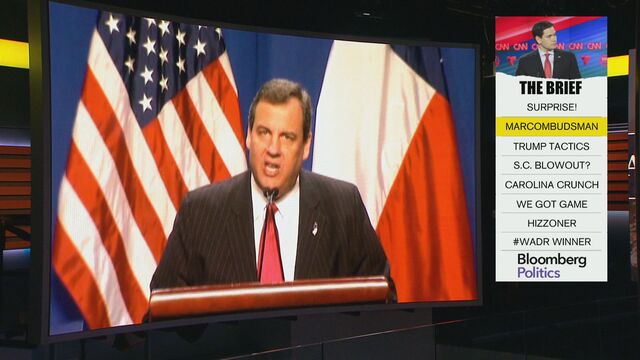 New Jersey Governor Chris Christie said he wasn't motivated by job prospects when he endorsed Republican presidential front-runner Donald Trump.
"I did not go there to bargain with him," Christie said Monday during his monthly "Ask the Governor" call-in program on WKXW-FM, broadcast from Ewing, New Jersey. "No one campaigns for vice president." He declined to say whether he would be interested in that role, or in a Cabinet position.
The 53-year-old governor will appear with Trump in Ohio and Kentucky on March 1, known as Super Tuesday, as voters in 11 states choose among five Republican candidates. Christie called himself Trump's "highest-level endorser," and said he is available "for him to hear my points of view."
Christie stunned some supporters Feb. 26 with a surprise appearance in Fort Worth, Texas, to endorse Trump, saying the real-estate investor and realty-TV star is the candidate most likely to defeat Democrat Hillary Clinton. Christie dropped out of the race Feb. 10 after finishing sixth in the New Hampshire primary.
On the campaign trail, Christie had criticized Trump's call for a wall on the U.S.-Mexico border, lack of a plan for Social Security and views on Muslims as a security threat.
"I was running against him then," Christie said during the radio show Monday.
Permission Denied
Christie called reporters to his outer office earlier Monday to announce the nomination of David Bauman, a Superior Court judge, for the state's highest court. An aide told reporters that the governor -- whose press sessions typically last more than an hour and embrace the day's news plus other issues -- would take questions on that topic only. Christie cut off each question that strayed from the Supreme Court matter.
That didn't stop two dozen reporters from trying to solicit explanations for his support for Trump, a move branded by Hewlett-Packard Inc. executive Meg Whitman, his onetime campaign co-chairwoman, as "an astonishing display of political opportunism."
"Because I don't want to," the governor told a reporter who asked why he wasn't responding. He cut off other questions, saying, "Permission denied," "That's off topic," "You have been stopped" and "No chance."
Tucker Martin, spokesman for America Leads, a super-political action committee that supported Christie for president, said he hoped that the endorsement "doesn't help Trump one bit."
"Not because of the governor, who I was proud to support, but simply because I don't want anything to help Trump whatsoever," Martin said by e-mail.
Painful Remedies
It's unclear whether New Jersey Republicans will follow Christie's lead.
One loyalist, Senator Kevin O'Toole, said in an interview that he was supporting Trump, "a natural second choice" to a Christie presidency. Michael Doherty, a senator who has criticized Christie for not being more fiscally and socially conservative, was an early Trump endorser, and said the governor "can recognize a winner."
Assemblyman Jack Ciattarelli, a Republican from Hillsborough, said the endorsement, with its campaign duties, will be a distraction for Christie, who spent the majority of his time outside New Jersey last year. The state is four months from exhausting a multibillion-dollar pool of highway and rail money and has yet to resolve a pension crisis that's contributed to a total of nine downgrades by three credit-rating companies during Christie's tenure.
"A lame-duck governor is in a great position to provide some of the more painful remedies," Ciattarelli said by telephone.
Before it's here, it's on the Bloomberg Terminal.
LEARN MORE