Thomas Asks Questions From Supreme Court Bench for First Time in 10 Years
by
Justice asks almost a dozen questions in gun-possession case

Thomas hadn't asked question from bench since February 2006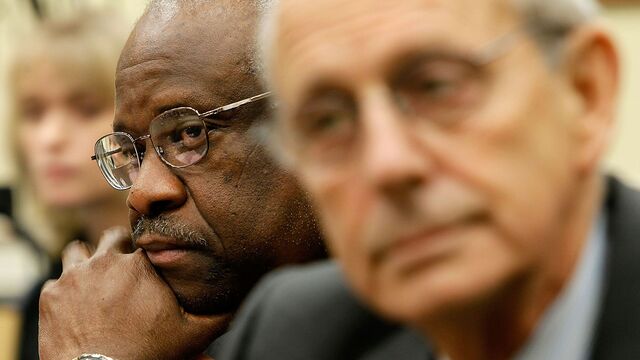 Justice Clarence Thomas broke his decade-long silence during U.S. Supreme Court arguments, asking almost a dozen questions as the court considered a federal law that bars firearm possession by people convicted of misdemeanor domestic violence.
The court Monday debated whether that law applies to two men convicted under a Maine law that broadly defines domestic violence to include reckless conduct, as well as intentional force.
Thomas leaned forward and spoke just as Justice Department attorney Ilana Eisenstein was preparing to leave the lectern after finishing her presentation in favor of the ban.
"Ms. Eisenstein, one question," Thomas said. "Can you give me another area where a misdemeanor violation suspends a constitutional right?"
Thomas's queries Monday came 16 days after the death of Justice Antonin Scalia, a fellow conservative who had been one of the court's most active questioners. Thomas currently sits next to Scalia's empty chair, which is adorned with black wool crepe.
Multiple Questions
Thomas has said he thinks his colleagues ask too many questions during arguments. On Monday, he not only broke his streak, but followed up when he wasn't satisfied with Eisenstein's first answer. He asked the lawyer whether the gun ban was permanent and questioned whether it was defensible when the misdemeanor didn't involve the use of a firearm.
He also wondered aloud whether First Amendment rights could be similarly restricted, asking about a publisher who violated a hypothetical law governing the use of children in advertising.
"Could you suspend the publisher's right to ever publish again?" Thomas asked.
The exchange continued until Justice Anthony Kennedy finally offered what he said was a "partial answer" to Thomas's question, pointing to a law that requires sex offenders to register before they can travel across state lines.
Narrow Scope
Thomas's questions went beyond the relatively narrow scope of the case. When the court agreed to hear arguments in October, the justices limited their review to a question of statutory interpretation and said they wouldn't consider arguments that the federal law is unconstitutional. It's not unusual for justices to ask questions that aren't directly before them.
Thomas gave the appearance last week that he was poised to ask a question in a case involving state power-plant subsidies, leaning forward near the end of the argument but ultimately saying nothing.
Thomas had last asked a question in a Feb. 22, 2006, argument in a South Carolina death penalty case. He also made a joke about Ivy League law schools in 2013 and regularly speaks from the bench when he is announcing an opinion.
The 10-year gap was the longest for Thomas, who joined the court in 1991. He used to be an occasional, though not frequent, questioner from the bench, interjecting in a 2002 argument about cross burning and a 2003 session on affirmative action.
Before it's here, it's on the Bloomberg Terminal.
LEARN MORE