Shorthanded U.S. High Court Grapples With Life After Scalia
by
Prospect of deadlocks looms as eight justices resume work

Will they smooth over difficulties or highlight them?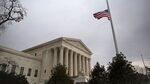 The Supreme Court has a lot of decisions to make, and not the kind it's used to.
Two weeks after Justice Antonin Scalia's unexpected death, the court must decide how to cope with what could be an extended vacancy and how to handle cases that might leave them split 4-4. The justices began offering clues Monday, rejecting about 500 appeals without comment, and they will issue opinions for the first time since Scalia's death on Tuesday.
As Senate Republicans work to block any nominee from President Barack Obama, Chief Justice John Roberts and his colleagues will be deciding whether to smooth over the difficulties that come with an eight-member court, or shine a spotlight on them.
The biggest questions surround the handful of current cases that offer the prospect of a 4-4 split. Among them are appeals argued in 2015 over union fees and consumer lawsuits, and still-to-come clashes involving undocumented immigrants and Obamacare's contraceptive rules.
In the event of a tied vote, the lower court ruling is upheld without setting a nationwide precedent or providing reasoning on either side. A string of 4-4 decisions might suggest that the court can't fully function shorthanded, and provide fodder for Democrats who say Senate Republicans are duty-bound to hold a vote on Obama's as-yet unnamed nominee.
One possibility for those cases: The court could strike a compromise, issuing a narrow opinion that could command at least five votes.
4-4 Ties 'Undesirable'
"The prospect of numerous 4-4 ties or dismissals would be undesirable to the court," said Gregory Garre, an appellate lawyer at Latham & Watkins LLP who served as President George W. Bush's top Supreme Court lawyer. "My sense is that the court will want to roll up its sleeves and try to find ways to resolve the cases before it, even if ultimately they will be kicking some broader issues down the road."
Compromise will be easier in some circumstances than others. In the union fees appeal, the court is considering whether to overturn a 1977 precedent and let public-sector workers refuse to pay a share of the cost of collective bargaining. The remaining eight justices all but locked in their views on that issue in a 2014 case, with four on each side.
If those positions hold, the justices will have decide when to announce the deadlock. They could do so as early as Tuesday, when the court is scheduled to issue opinions. In theory, they could issue multiple 4-4 decisions that day, underscoring what's at stake with the vacancy.
Contraception Case
Another option would be to bump some or all of the deadlocked cases over to be argued again in the nine-month term that starts in October, in the hope that a new justice can participate. The catch is that a ninth justice might not be confirmed for more than a year, if named by Obama's successor, and might not join the court even in time to hear arguments next term.
Re-argument nonetheless might hold appeal in the Obamacare contraception case. Lower courts disagreed about the rights of religious groups, who say they don't want to facilitate contraceptive coverage they consider immoral. A 4-4 tie would leave that divide intact, and mean the president's signature health-care law would apply differently depending on the part of the country. The court will hear arguments March 23.
Similarly, a second argument might avert at least the appearance of a dysfunctional judiciary on the president's plan to defer deportation for millions of undocumented immigrants. The court is planning to hear arguments in April. A deadlock may effectively kill the plan because it would uphold a 2-1 federal appeals court decision against the program. The complication is that re-argument almost certainly would come too late to revive the plan before Obama leaves office in January.
"Deal With It"
Justices Stephen Breyer and Samuel Alito last week played down the notion that the court won't be able to do its work. Breyer noted that only a small fraction of the court's cases are decided by a single vote, while Alito cited instances in previous centuries when the court by law had an even number of justices.
"We will deal with it," Alito told an audience at Georgetown University's law school.
Some attorneys who practice before the Supreme Court accept Alito's characterization and say they don't expect the justices to overthink matters.
"I tend to think that, by and large, life will go on without a conscious effort inside the court to make adjustments," said Jeffrey Wall, an appellate lawyer at Sullivan & Cromwell LLP and former law clerk to Justice Clarence Thomas.
Subtle Changes
Still, Wall said the court might make subtle changes to another aspect of its work: the cases it accepts for argument.  Under the court's rules, four members' votes are needed to agree to hear a case. The eight justices will have to decide whether to simply turn away cases that are likely to deadlock them.
"They're not going to want to take up issues that are extremely divisive if they don't have a full complement of the court," Wall said. The justices granted no new cases in a 32-page list of orders Monday.
How the justices act ultimately may depend in part on how long they perceive the vacancy showdown will last.
"I suspect they will do what they can to minimize 4-4 affirmances and will likely avoid cases that they think would come out 4-4," said John Elwood, an appellate lawyer at Vinson & Elkins LLP and former law clerk to Justice Anthony Kennedy. "But because they might have a new colleague next term, it may not affect their grant decisions that much. It will be interesting to see."
Before it's here, it's on the Bloomberg Terminal.
LEARN MORE