Sanders Claims $42 Million Haul in February, About Double Previous Month
by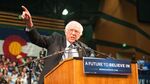 Democratic presidential candidate Bernie Sanders raised $42 million in February, his campaign said Tuesday.
The Vermont senator, who has set grassroots fundraising records this cycle, raised $21.3 million in January, compared to $14.9 million raised by the party's front-runner, Hillary Clinton. The leading Republican fundraiser in January, Ted Cruz, took in $7.6 million.
Sanders' announcement came on the verge of Super Tuesday voting, when 11 state contests will determine about one-third of the delegates needed to win the nomination.
Though Sanders has lost three of the first four nominating contests -- including South Carolina on Saturday -- his massive fundraising could sustain his campaign for weeks or months.
"I'm going to hold a fundraiser right here, right now, across America," Sanders said in his televised victory speech after the New Hampshire primary on Feb. 9, going on to raise $7.1 million in just over 24 hours.
Before it's here, it's on the Bloomberg Terminal.
LEARN MORE