Christie Blocks Reporters' Questions After Trump Endorsement
by
Back on job, but 'I don't want to' discuss other topics

N.J. governor's press conference limited to judge nomination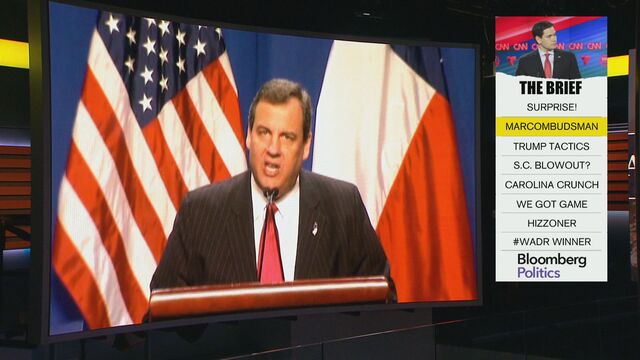 Chris Christie cut off reporters who asked about his endorsement of Republican presidential front-runner Donald Trump, insisting that he'd take questions only about a New Jersey Supreme Court nominee.
The 53-year-old governor on Monday made his first Statehouse appearance before the Trenton press corps since he quit the race Feb. 10 after finishing sixth in the New Hampshire primary. On Feb. 26, he stunned some supporters with a surprise appearance in Fort Worth, Texas, to declare Trump most likely to defeat Democrat Hillary Clinton.
Christie called reporters to his outer office Monday to announce the nomination of David Bauman, a state Superior Court judge, for the state's highest court. An aide told reporters that the governor -- whose press sessions typically last more than an hour and embrace the day's news plus other issues -- would take questions on that topic only. Christie cut off each question that strayed from the Supreme Court matter.
That didn't stop two dozen reporters from trying to solicit explanations for his support for Trump, a move branded by Hewlett-Packard Inc. executive Meg Whitman, his onetime campaign co-chairwoman, as "an astonishing display of political opportunism."
"Because I don't want to," the governor told a reporter who asked why he wasn't responding.
On the campaign trail, Christie had criticized Trump's call for a wall on the U.S.-Mexico border, lack of a plan for Social Security and views on Muslims as a security threat. On Sunday, Christie struggled to explain Trump's policies and his newfound support for them.
Before it's here, it's on the Bloomberg Terminal.
LEARN MORE